Production of Apple's 'iPhone 8' said to be affected by unspecified Samsung OLED problems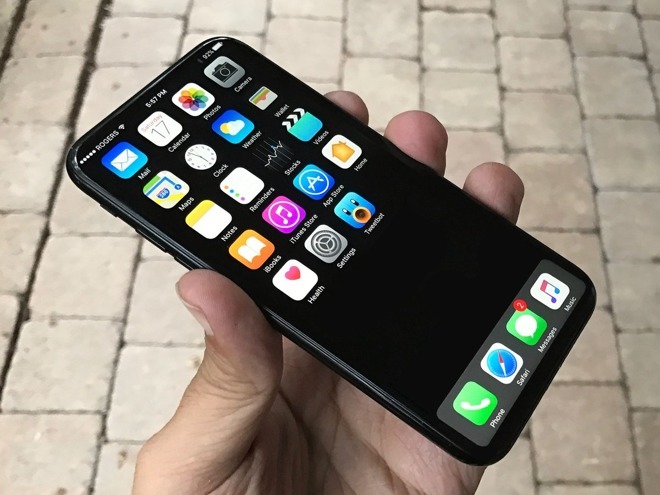 Another supply chain source suggests that the "iPhone 8" supply in 2017 will be profoundly hamstrung has emerged, but for a different reason — tight supplies of the the Samsung OLED screen.
A new report from the Nikkei Asian Review cites Samsung as one of the reasons why there may be delays in shipments of large quantities of the "iPhone 8" beyond "normal" constraints faced every winter. Previous reports pegged low yields of the fingerprint sensor for any potential availability delay.
"There might be a one to two month delay in Samsung's production of OLED panels for Apple," said analyst at research company IHS Markit Brian Huh to the Nikkei Asian Review. "Samsung originally plans to begin churning out OLED panels in May but now the schedule will likely be pushed back to the end of June or sometime in July."
Other reasons claimed to be potentially holding up the deice are overheating issues in wireless charging modules, the much smaller printed circuit board having low yield issues, and possibly 3DNAND flash supply.
"The placement of orders is much more aggressive than the previous two years but not as high the year when they rolled out iPhone 6 in 2014," said a memory chip industry executive. "The demand from this year's iPhone looks healthy but the memory chip suppliers are a bit concerned whether the upcoming iPhone's migration to advanced 3D NAND flash memory chips would be smooth enough to avoid tight supply or a shipment delay."
The report claims that the first batch of "iPhone 8" devices will see customers hands in late October or early November.
On Monday, Analyst Ming-Chi Kuo cautioned investors that Apple's anticipated flagship "iPhone 8" could be in extremely limited supply in 2017, thanks to the expected adoption of a number of new technologies. As a result, customers could wait, or shift interest to the "iPhone 7s" family of phones which are expected to be released at the same time, potentially capping iPhone shipments in the holiday quarter.
The "iPhone 8" is predicted to sport an edge-to-edge OLED panel with a 5.1-inch user space — the rest dedicated to virtual buttons. Slimming or removing the bezels would allow Apple to cram a larger battery into a form factor similar in size to the 4.7-inch iPhone 7. Also expected is a new 3D facial scanner .
With a complete redesign said to be forthcoming in the device implementing a curved glass back with wireless charging, some reports have pegged the starting price of the "iPhone 8" at more than $1,000.