Apple's Tim Cook talks tech with accessibility advocates for Global Accessibility Awareness Day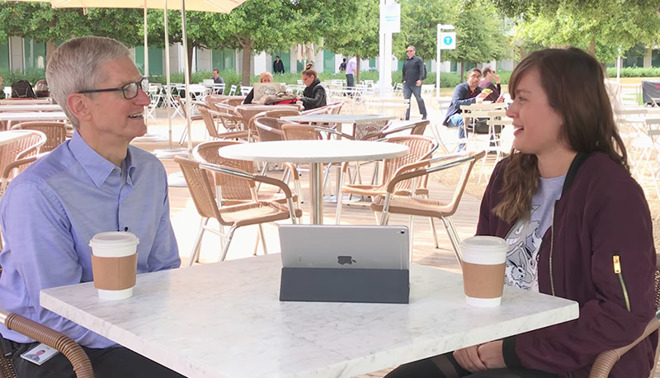 AppleInsider may earn an affiliate commission on purchases made through links on our site.
In recognition of Global Accessibility Awareness Day, Apple CEO Tim Cook this week invited three accessibility advocates and bloggers to the company's Cupertino, Calif., campus, for discussions on how Apple technology impacts their daily lives.
Cook shared coffee with legally blind filmmaker James Rath, deaf awareness activist Rikki Poynter and actress Tatiana Lee, who as born with Spina Bifida. Rath, Poynter and Lee all shared videos of their time at Apple on their respective YouTube channels on Wednesday.
Rath, who regularly produces videos for his YouTube channel, spoke with Cook about vision related accessibility options offered on platforms like iOS and Mac. He also discussed Apple's general stance on accessibility.
"For us, we believe very deeply that accessibility is a human right," Cook said. "And we try very hard to make all of our products accessible for everyone because of that. It's a basic value."
Apple does not think in terms of return on investment, but rather "just and right," Cook said. The company's goal is to get its products into the hands of anyone who wants to use them.
Rath uses a variety of iOS accessibility features throughout the day, including zoom, voice over, speech selection and more. When asked about features he uses, Cook said his iPhone is always set to trigger Night Shift. Cook also relies on other accessibility menu functions to change screen contrast as he has difficulty with certain colors.
Cook went on to describe HomeKit and what he calls the democratization of the smart home. Prior to integration in iOS, automated home accessories were strictly the domain of the wealthy. HomeKit brings that capability to the masses.
Poynter, who started out as a beauty vlogger on YouTube, is now an advocate for deaf accessibility and the need for closed captioning. In her sit-down interview, seen above, it appears Poynter is using an iPad to translate Cook's words into text in real time.
During the talk, Cook asked if Poynter uses Apple TV, which features a number of accessibility functions including closed captioning and Siri voice control. Poynter also noted that iTunes movies and TV shows normally boast closed captioning and subtitles.
As for hardware, Poynter uses a MacBook to accomplish her daily duties and just recently began wearing Apple Watch again after a hiatus.
Cook delved into Clips, Apple's first-party video tool for creating social media content. The app boasts Siri dictation assets for automatically inserting captions and other text as overlays on short video clips.
Clips was also a topic of discussion in Cook's interview with Lee, who runs AccessibleHollywood.com and was featured in an Apple commercial promoting accessibility last year.
As a wheelchair user, Lee said she appreciates Apple's efforts to build rolling activity tracking into watchOS, which allows her to monitor gym workouts alongside day-to-day transportation. Reiterating information presented at the release of watchOS 3, Cook said it took the Watch team months to tweak wheelchair tracking algorithms to account for different user strokes.
Cook's discussions underscore Apple's dedication to users who rely on accessibility features not only to access products like iPhone, but use technology to lead rich lives in a fast changing world. As usual, the executive touted Apple's commitment to delivering the best possible experience to all customers, a tenet he described as a core value instilled by company cofounder Steve Jobs.