iOS quarterly market share grows in China as Apple's iPhone outpaces local vendors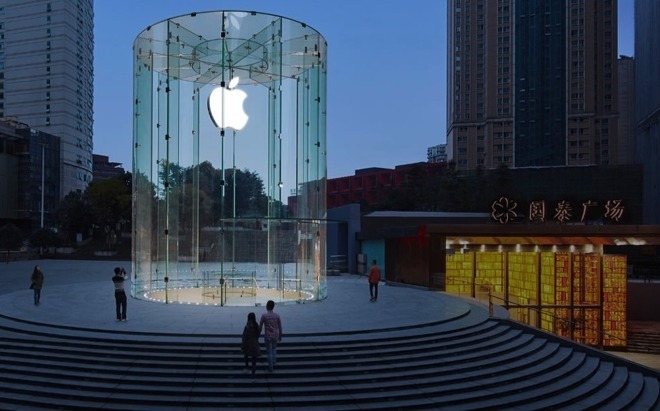 AppleInsider may earn an affiliate commission on purchases made through links on our site.
Apple is increasing the market share of iPhones and iPads in a number of key markets, according to a report from Kantar Worldpanel ComTech, with iOS noted as posting a strong period-on-period gain in urban China after sales of the iPhone 7 and iPhone 7 Plus outpaced those of local rivals Oppo and Huawei.
In the three-month period ending in April, Kantar Worldpanel's report claims the iOS market share in Urban China rose to 16.2 percent, up from the 12.4 percent share in the previous quarter, which was the lowest recorded for Apple in China since early 2016. While encouraging, this still represents a year-on-year decrease of 3.8 percent.
Tasmin Timpson, strategic analyst director for Kantar Worldpanel, notes "iPhone 7 and 7 Plus sales recovered slightly" in the quarter, representing 8.5 percent of smartphones sold in the region, and "outpacing both Huawei and Oppo models."
According to the year-on-year smartphone operating system sales share chart in the report, Android saw a year-on-year increase of 4.3 percent, from 79.1 percent in the three months ending April 2016 to 83.4 percent in the same period in 2017. The market share of Windows dwindled from 0.5 percent to 0.2 percent in the same period.
Apple has fought hard to gain more of the smartphone market in China in recent months, with CEO Tim Cook confirming in March that Apple is planting deep roots in the country, and had helped create almost 5 million jobs in the region. The company has also gone out of the way to appease its critics in the country, working with regulators and government officials over a range of issues, such as the streaming app crackdown.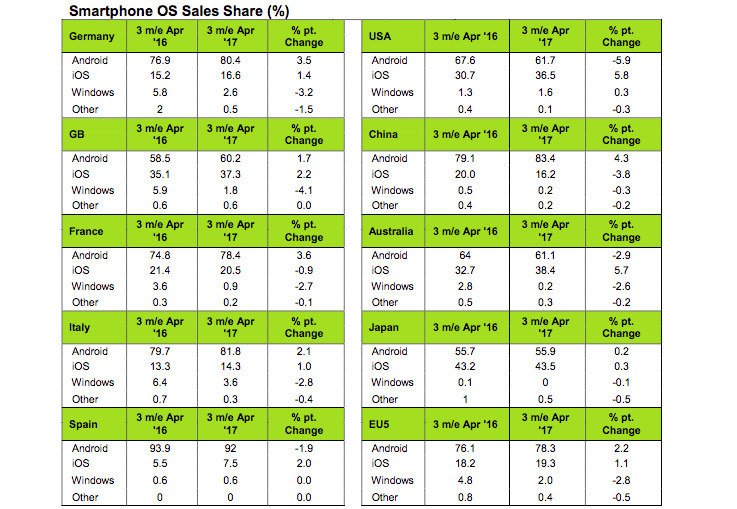 The changes have not been limited to appeasing the government, with local culture and customs nudging the Cupertino firm to alter its policies. This month, Apple updated its App Store rules to allow apps to use tipping functions, in response to controversy over a crackdown of social networks in China that enabled users to provide tips to content creators, bypassing Apple's ecosystem.
Apple's efforts have not been without reward, with iPhones reportedly having a firm grip on the premium smartphone market in the region, accounting for 80 percent of smartphones worth at least $600 in research published in May. In April, another report claimed Apple's App Store in China had overtaken the United States in terms of revenue, making the App Store the biggest app marketplace in China.
In the United States, the market share story is reversed, with Apple increasing its market share year-over-year by 5.8 percent, achieving 36.5 percent of smartphone sales for the quarter ending in April 2017. By contrast, Android is seen to be losing ground by a similar share, down year-on-year by 5.9 percent to 61.7 percent of the market.
According to early indications for the current quarter, the iPhone 7 and iPhone 7 Plus remain the top sellers in the United States for the May period, with a combined share of 20.1 percent. Main rivals Samsung are set to reached a combined market share of 8.1 percent for the Galaxy S8 and S8 Plus smartphones, behind the 8.8 percent share of the Galaxy S7 and S7 Edge.
Of the seven other countries detailed in the report, the iOS market share increased year-over-year in Germany, the United Kingdom, Italy, Spain, Japan, and Australia, with a 0.9 percent contraction in market share in France. For the five major European markets, the report notes iOS increased its market share by 1.1 percent to 19.3 percent, up from 18.2 percent the previous year.