Fender partners with Apple for Apple Music curated playlists featuring its guitars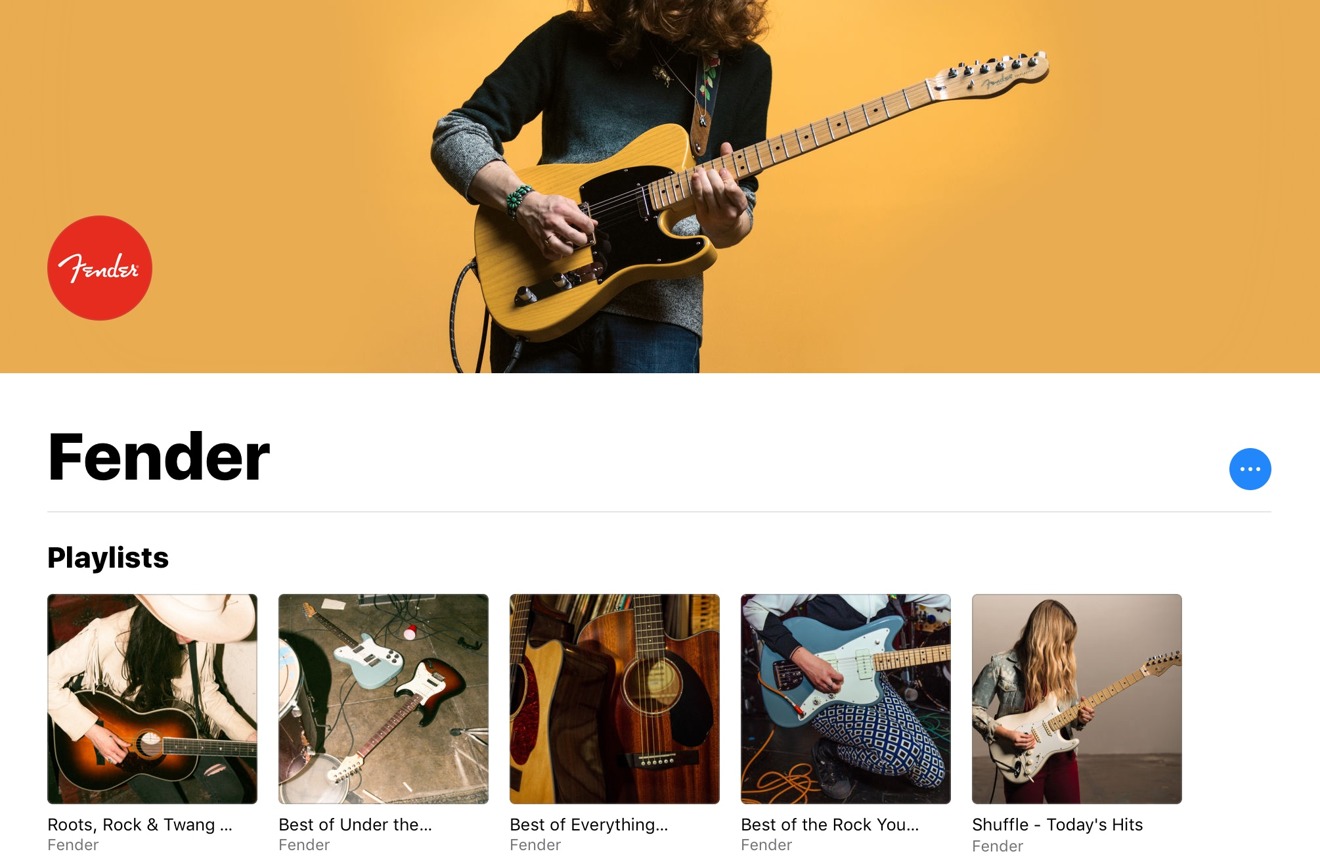 Guitar manufacturer Fender has become the latest major brand to become an official playlist curator for Apple's services, with five unique playlists accessible via Apple Music featuring notable artists and songs spanning more than seven decades that showcase the firm's instruments.
The Fender playlist page provides five different playlist themes, with each spanning rock and roll, country and western, jazz, hip-hop, and R&B genres. The company claims the playlists are wide-ranging, featuring music from classic rock icons and emerging artists, along with more experimental guitar works.
The "Roots, Rock & Twang - A Mix" playlist will blend Americana, Country, and Rock tracks into a single list, with "Shuffle - Today's Hits" offering more modern tracks. The "Best of the Rock You Need to Know" list features rock and blues-style tracks said to energize the listener's day, with those wanting to hear more acoustic guitar tracks able to listen to "The Best of Everything Acoustic" list.
Lastly, the "Best of Under the Radar" playlist will collect together tracks from up and coming artists and bands that the guitar producer favors, most likely those using its products for music creation.
"We're pleased to partner with Apple, to bring a Fender-curated music experience to long-time Fender fans and those just discovering the brand," said Fender CMO Evan Jones. "These five new playlists honor a diverse range of iconic artists and visionaries, and an emerging generation of artists, who are driving guitar and music forward."
Fender joins a list of over 60 curators providing playlists for Apple Music users to consume, with the current brand roster including lists from Nike, Complex, Rolling Stone, Disney, and the BBC, among others.
In May, Fender introduced a new line of Mustang GT guitar amps with Wi-Fi and Bluetooth connectivity, allowing them to be customized from an iPhone, as well as for streaming music. By using the FenderTone companion app, musicians can select different presets to change the tone of the amplifier, allowing for the use of the same presets as celebrities from bands including Anthrax and the Red Hot Chili Peppers.