Touch ID problems in Apple's 'iPhone 8' predicted to limit launch shipments, won't affect China sales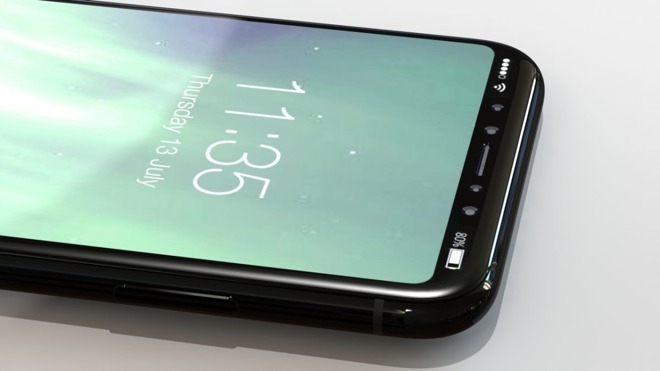 An analyst historically extremely critical of Apple believes that "iPhone 8" shipments, apparently constrained by late resolution of in-screen OLED Touch ID issues, will impact third quarter shipments for Apple, but won't have much impact on its marketshare, particularly in China.
Image credit: Nodus and Gordon Kelly
In a note to investors on Tuesday, seen by AppleInsider, Jun Zhang from Rosenblatt Securities writes that full production of the "iPhone 8" won't begin in earnest until the end of September. Zhang continues to believe that Apple won't give up on Touch ID in favor of a facial recognition sensor, and that any apparent issues will be worked out before the product launches.
The report predicts that Apple will produce 25 million "iPhone 8" units in September, and another 60 million in the holiday quarter. As with the last prognostications from the analyst in late May, there appears to be no awareness of differentiation between the "iPhone 8" and the also-rumored "iPhone 7s" family device in the report.
The analyst has failed to predict any production at all for the device, with a line item in a chart displaying a plus variant of the "iPhone 8" instead. While the plus model is labeled for the iPhone 7 and "iPhone 8," no such item exists for the iPhone 6 or iPhone 6s family, suggesting the analyst is either not fully aware of Apple's product lines or shipment history, or as simply combined legacy plus models under one umbrella.

The latest report stands in opposition of the previous one from the company, that believed that Chinese manufacturers would take advantage of any delay in the iPhone 8 to seize marketshare. This time around, the analyst believes that Oppo and Huawei have made cuts in production compounding with an "iPhone 8" delay and leading to a slower than expected third calendar quarter in China.
Notably, Rosenblatt Securities has maintained a $120 price target for shares of AAPL since September 6, 2016, despite the fact that the company has been trading above the $120 mark since January, and currently sits above of $150.
The "iPhone 8" is rumored to be the first Apple phone with an OLED panel with 5.1 inches of usable space, and a bottom strip of virtual buttons. Also rumored to be included is a new 3D facial scanner, possibly supplanting the Touch ID user identification system, though Zhang maintains hope that the fingerprint sensor will remain.