'Apple Watch Series 3' rumored to boast all-new form factor [u]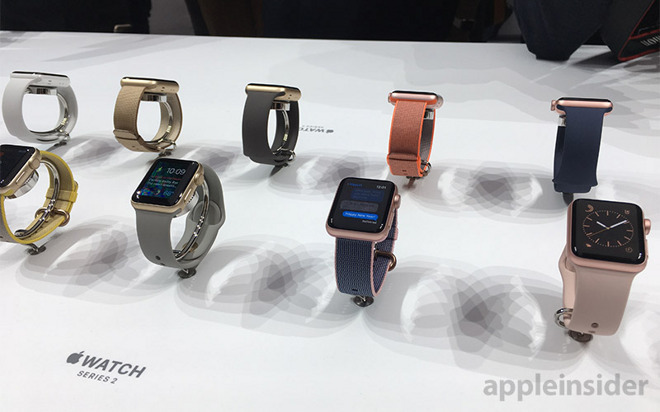 On the heels of news that Apple intends to release an LTE-equipped Apple Watch model later this year, a new rumor surfaced claiming the smartwatch line will receive its first design refresh since launch in 2015.
In a post regarding Bloomberg's report on the so-called "Apple Watch Series 3," well-connected blogger John Gruber, without citing sources, said the device is due for an aesthetic revamp.
"No mention in Businessweek's report, though, of the all-new form factor that I've heard is coming for this year's new watches," Gruber writes. "That tidbit came from an unconfirmed little birdie, though, so I wouldn't bet the house on it."
The launch of a redesigned Apple Watch in 2017 would follow Apple's usual two-year design incubation period for portable devices. Since the debut of iPhone in 2007, the tech giant has employed a tick-tock design cycle for products like iPhone and iPad. A more lengthy period is applied to other hardware like Mac.
Today's rumor lines up with predictions KGI analyst Ming-Chi Kuo published early last year. Before Apple Watch Series 2 debuted, Kuo said the second-generation device would boast internal upgrades similar in fashion to iPhone "s" series variants. Those looking for a big redesign, like a slimmer profile, would have to wait until 2017, the analyst said.
Indeed, Apple implemented a number of minor component updates with Apple Watch Series 2 last September, including a GPS module, water resistant chassis, brighter display and faster dual-core S2 processor, but left aesthetics largely unchanged. A new material was also introduced in the white ceramic Apple Watch Edition, replacing the pricey solid gold models that debuted in 2015.
Whether the new form factor will continue to feature Apple Watch's iconic square shape is unknown. If the refreshed design is a vast departure from current offerings, perhaps a round-faced option — it could mean an end of support for existing accessories like Watch bands and straps.
Rumors about a third-generation Apple Watch remain sparse, though some have suggested the future device will feature advanced health and fitness capabilities like sleep tracking and glucose monitoring.
Update: This article has been updated with information clarifying the rumor's source.