Intel details 8th-generation Core i7, i5 processors suitable for MacBook, dual-core MacBook Pro refresh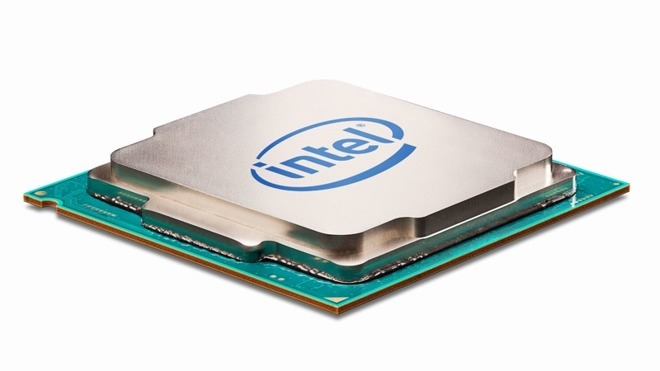 Intel launched its 8th-generation processors on Monday, starting with the with the new 'U-series' chips for notebooks boasting a 40 percent performance boost compared to the previous generation, though while this series is suitable for use in MacBooks and the dual-core MacBook Pro, it won't help provide users with a 32GB memory option.
Previously teased in May, the four processors launched by Intel on Monday are all meant for use in notebooks and all-in-one desktop systems, due to being designed with a thermal design power (TDP) of 15 Watts, meaning the processors run at low temperatures. Intel claims the new Core i5 and Core i7 chips can lead to notebook and tablet designs with up to 10 hours of battery life, as well as the performance boost, which is said to provide double the processing power of processors released five years ago.
All of the revealed processors are quad-core chips with support for 8 threads, and updated UHD 620 graphics, making it more suitable for playing back 4K video, video editing, and gaming. The Core i7-8650U and i7-8550U have 1.9 gigahertz and 1.8 gigahertz base clock speeds respectively, up to 4.2 gigahertz and 4.0 gigahertz when boosted, with the two also including 8 megabytes of L3 cache.
The two Core i5 chips, the i5-8350U and i5-8250U, sport base clock speeds of 1.7 gigahertz and 1.6 gigahertz, with boost increasing to 3.6 gigahertz and 3.4 gigahertz respectively. The L3 cache for the i5 pair is slightly lower at 6 megabytes, and while the GPU's base clock speed is the same as the i7 chips at 300 megahertz, the 1.15 gigahertz boosted GPU clock speed of the i7 is reduced down to 1.1 gigahertz for the i5 processors.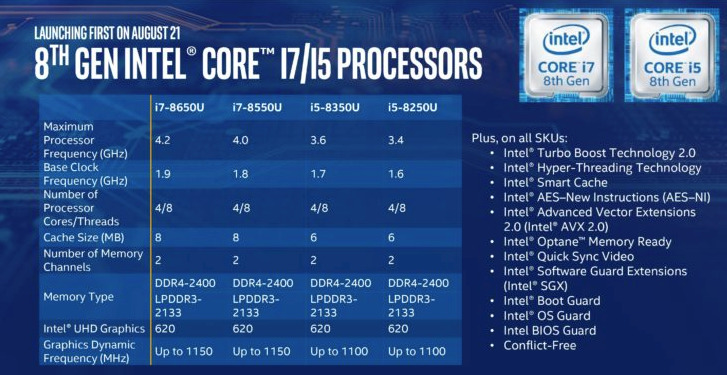 While the four processors are being introduced as "8th generation" by Intel, it is noted that these are not using the "Cannon Lake" architecture, but are in fact a refresh of "Kaby Lake." Reusing the current architecture, Intel has doubled the number of cores and threads, while also updating its 14-nanometer manufacturing processes to further improve upon the design.
These new processors have the potential of being introduced to the MacBook and MacBook Pro lines, replacing the dual-core processors used in the notebooks with more powerful versions while remaining within Apple's desired thermal limits.
Even if Apple does use these in a future refresh, as is currently expected for the 7th generation "Kaby Lake" chips, it is still unlikely to add 32-gigabyte options for the relevant notebook lines despite the change in processor. Neither of these four "Kaby Lake" processors includes support for LPDDR4, which would allow for quantities of memory to be used without needing a new RAM controller, potentially limiting MacBooks and MacBook Pro notebooks equipped with them to 16 gigabytes of memory.
It is possible that MacBook Pro customers could get 32 gigabyte options in a future MacBook Pro if Apple uses "Cannon Lake," a 10-nanometer architecture two generations later than "Kaby Lake" that offers both processing and power consumption improvements. Intel is thought to be shipping the first "Cannon Lake" processors either at the end of this year or at the start of 2018.
Intel previously used the "generation" concept to refer to a major change in architecture, such as the use of a new fabrication process or an optimization of the previous architecture. This will not be the case for the 8th generation, as this time it will cover the four U-series "Kaby Lake" processors as well as "Coffee Lake" desktop-class processors, with current speculation suggesting this may also include some "Cannon Lake chips destined for use in tablets and mobile devices.