HomePod hardware purportedly pops up in China and California ahead of December launch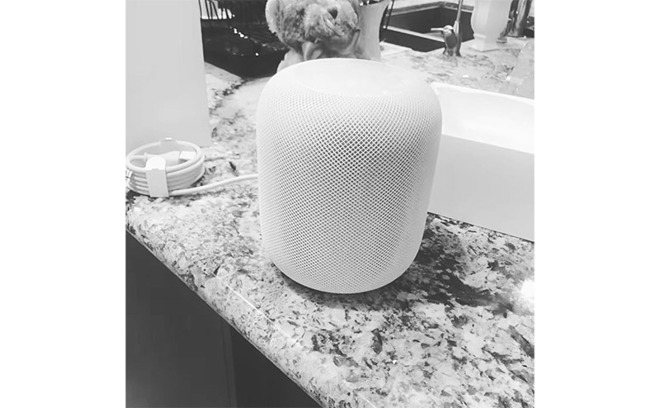 AppleInsider may earn an affiliate commission on purchases made through links on our site.
Though Apple is not due to open HomePod orders until December, versions of the hotly anticipated Siri-equipped speaker appear to be in testing by employees in the U.S., while one Instagram user seems to have snagged a unit in China.
Last week, Instagram "themrlinc" posted a photo of what appears to be a white HomePod speaker sitting on a marble counter.
A power cable matching the general design of those offered with other Apple products accompanies the device, but is not plugged into a wall outlet. Next to the supposed speaker is white packaging with minimal protective material, similar in fashion to boxes used to ship products like iPhone and iPad.
While there is a distinct possibility that the device shown off by "themrlinc" is a Chinese knockoff, Apple is likely circulating early units for testing ahead of a wide launch in December. That could indeed be the case, at least in California.
On Thursday, Andreessen Horowitz venture capitalist Benedict Evans was in Menlo Park and discovered his iPhone attempting to communicate with what looks to be a HomePod. The VC posted a screenshot of an iOS Control Center card displaying media output options for the BBC iPlayer Radio app.
As seen above, an audio device named "Kitchen" that pinged Horowitz's iPhone carries a basic icon resembling Apple's HomePod. The graphic's design lines up with Apple's usual line drawing icon aesthetic, the most recent of which debuted with AirPods.
Announced onstage at this year's Worldwide Developers Conference in June, HomePod is Apple's answer to intelligent home speakers like Amazon's Echo and Google Home.
With Siri support built in, the speaker is capable of answering basic user queries, controlling HomeKit-connected appliances and playing back media content. Like other Apple products, HomePod puts a premium on performance and design, with a 3D mesh acoustic fabric enshrouding a 7-tweeter pack, 6-microphone beamforming array and central up-firing subwoofer.
Apple said the device will be available sometime in December for $349, but has yet to cite a specific launch date. The company could provide more information at its special event next week.