Apple predicted to ditch Touch ID for Face ID with 2018 iPhone lineup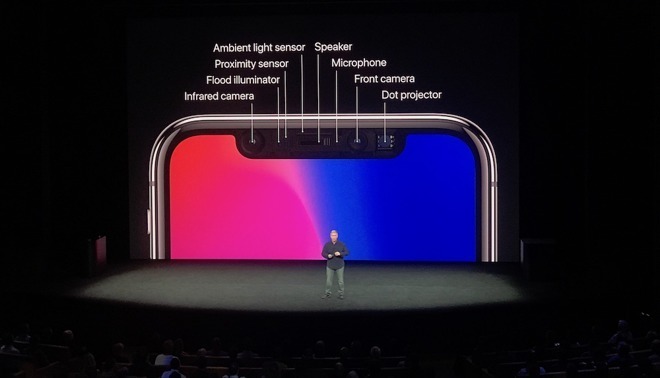 Apple is going all in on Face ID, according to well-connected KGI analyst Ming-Chi Kuo, who believes the company will completely abandon its Touch ID capacitive fingerprint recognition system in favor of the depth-sensing technology when it introduces next year's iPhone lineup.
In a note to investors seen by AppleInsider, Kuo says Apple will push its advantage over Android handset makers by integrating Face ID and its underlying TrueDepth camera system into all 2018 iPhone models, replacing current Touch ID technology.
The move would mark a dramatic shift for Apple, which has relied on Touch ID as a sole means of biometric user authentication its introduction in iPhone 5s four years ago. And where iPhone goes in terms of adopting new technology, other devices are sure to follow.
"We believe this change will allow all new models to realize a competitive advantage via differentiation, on the back of an integrated user experience of full-screen design and TrueDepth Camera/Facial recognition/Face ID/AR applications," Kuo writes.
Today's note echoes Kuo's claims from September, when the analyst said Apple would likely ditch Touch ID in 2018. That prediction came with one caveat: a positive public reception.
Aside from members of the media who got an early look at iPhone X at Apple's big iPhone event last month, no one outside of Apple has put the TrueDepth camera through its paces. AppleInsider was at the unveiling and went hands-on with iPhone X to find Face ID was as fast and accurate as advertised. We did note, however, that the system was at times finicky in acquiring a target face, which is not necessarily a bad behavior for a secure identification solution.
Though Apple's depth-sensing technology has yet to be proven in the court of public opinion, Android makers are already looking to adopt similar solutions, Kuo says.
Prior to the announcement of iPhone X and Face ID, the Android camp was focused on incremental upgrades to existing optical fingerprint recognition technology, specifically under-screen solutions. Perhaps not coincidentally, rumors last year pegged Apple as working on its own sub-screen Touch ID solution. Subsequent rumblings suggested the company nixed plans to integrate an embedded fingerprint recognition system after encountering insurmountable technical challenges. Reports countering those claims said Apple has been "all-in" on Face ID for over a year.
According to Kuo, certain Chinese brands might release under-display optical fingerprint readers in the first half of 2018, though shipments of such devices will be low due to supply constraints. Moving forward, Android-based 3D sensing technologies are expected to mature between the second half of 2018 and first half of 2019, which will lead to higher rates of adoption, Kuo says.
Kuo in a note earlier this week said he expects Apple to integrate the TrueDepth camera system into the 2018 iPad lineup, solidifying the technology's place in the company's existing mobile device ecosystem.