Toshiba settles dispute with Western Digital, clears way for Bain deal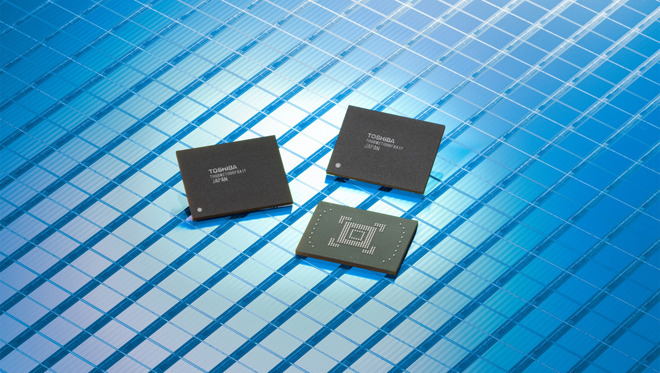 In a joint announcement issued on Tuesday, Toshiba and Western Digital said they will settle a dispute over the Japanese firm's plans to sell its memory chip unit to a consortium led by Bain Capital, signaling an end to the long-running saga is near.
The agreement is the latest development in Toshiba's hard fought battle to unload its NAND flash unit, a move designed to cover more than $9 billion in losses tied to its bankrupt U.S. nuclear power division Westinghouse.
After fielding offers from a number of potential candidates, including Foxconn and investment partner Western Digital, Toshiba in September opted to sell its memory unit to a Bain-led group for $18 billion.
Apple is reportedly part of the Bain consortium, and could chip in some $3 billion toward the sale. Other participants include Dell and South Korea's SK Hynix, itself a memory chip supplier.
As part of the agreement, Western Digital will drop U.S. arbitration claims that threatened to block Toshiba's sale to Bain, while Toshiba will rescind its lawsuit filed in Tokyo, Bloomberg reports. The two companies will resume joint investment activities, including plans to build two new chip plants in Japan.
Western Digital initially opposed the Bain deal, claiming Toshiba needed its authorization to sell the chip business. The U.S. company asserted the proposed sale could result in a leakage of proprietary technology to an industry competitor, namely SK Hynix.
Toshiba disagreed with Western Digital's assessment and in June filed a $1.07 billion lawsuit to keep the deal on track. The Japanese conglomerate turned up the heat last month, saying it would accelerate investment in an advanced chip facility while blocking investment from Western Digital. Such an arrangement would have denied the U.S. company access to vital memory chip supply.
"As we at some point in the process moved down the litigation path, that was not our preferred path, that was not what we wanted to do," said Steve Milligan, CEO at Western Digital. "We're very pleased to be able to resolve this and put it behind us."
Though Western Digital and Toshiba have hammered out their differences, the Bain deal is still subject to regulatory approval. To help persuade government regulators, the purchase will leave Toshiba and Hoya with a majority share of the resulting entity, keeping sensitive technology in Japanese hands.