Apple rolls out transit directions in Milwaukee, Wis., and Omaha, Neb.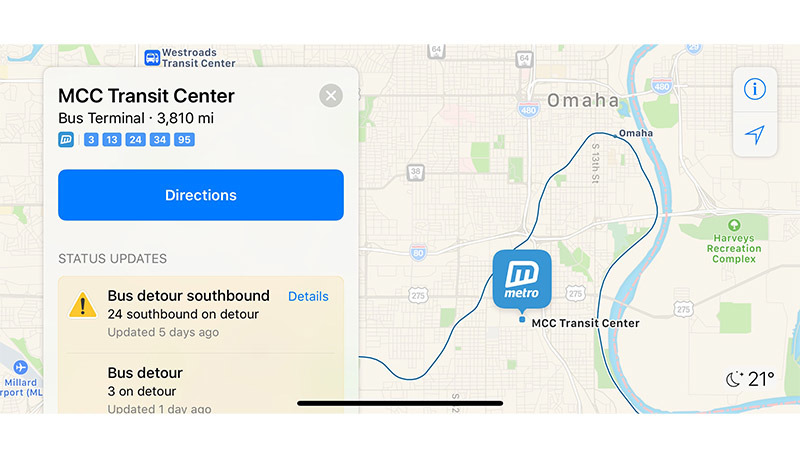 Continuing a buildout of its internal mapping platform, Apple recently activated public transit directions in Apple Maps for Milwaukee, Wis., and Omaha, Neb., granting users in those locations access to timetables and routes covering local bus operations.
The latest Apple Maps additions glean information from Omaha's Metro Transit and Milwaukee's Waukesha Metro, both of which operate bus routes throughout the two cities. Local bus services now appear alongside regional Amtrak train routes, a full listing of which was added in 2016.
Apple device users in Omaha and Milwaukee can plan trips, check bus schedules and create custom routes with Apple Maps. Both arrival and departure information are provided in-app, as are real time travel advisories like detours and traffic delays.
For example, Omaha's Metro Transit is currently showing rerouted lines due to planned construction, allowing users to factor in extra travel time when making plans.
Apple reinserted Transit data into iOS with the release of iOS 9. Previously, the tech giant relied on Google's mapping technology, which included transit directions and routing, to power the Maps app in iOS. Since ditching Google's service, Apple has built out its own navigation platform to include common feature like transit directions powered by IP acquired through purchases like HopStop and Embark.
The rebuilt Transit feature provides routes, departure times and other relevant data for buses, trains, ferries and other forms of public transportation. In addition to local schedules, users can access top-down views of select underground subway and train stations, though such assets are currently unavailable to users in Omaha and Milwaukee.
Following a limited launch in the U.S. and China, Apple is working to build out support for Transit by incorporating data from services operating in major metropolitan areas. Efforts have seen the integration of public transport information for municipalities across the UK, China and Japan.
Most recently, Apple's enabled access to public transport information for users in Tampa, Fla., in December.