Purported iPad model with edge-to-edge screen, no home button shown off in rendering [u: fake]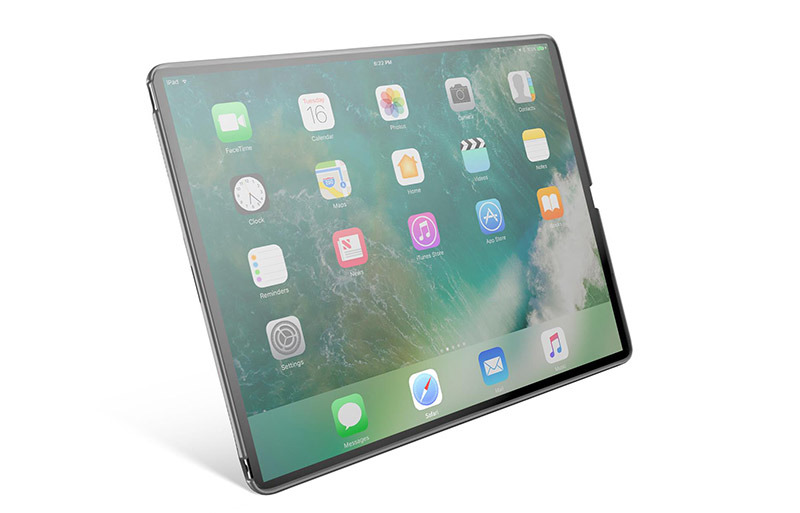 An image from famed hardware leaker Evan Blass on Thursday could offer one of the first looks at a rumored iPad model that replaces Apple's years-old home button with Face ID facial recognition.
Blass posted the image, which appears to be a digital rendering, alongside the cryptic message, "Seems to be something missing from this (encased) iPad.."
As usual, Blass did not reveal the content's origin, nor did he confirm that the iPad mockup was based on leaked information. Judging by his comment, however, it can be assumed that the render came from a case maker.
Aside from a "full-screen" display, not much can be gleaned from the image. The case looks to have speaker ports on what would be the iPad's top section near the sleep/wake switch and headphone jack, suggesting the model is an iPad Pro with stereo audio output. A Lightning cable cutout shows up at the other end of the case, but similar cutouts for Apple's Smart Connector and device volume controls appear to be missing.
Also absent are bezel cutouts for a TrueDepth camera array, suggesting the image is merely a render. Apple is unlikely to remove the Touch ID-equipped home button without replacing it with some form of biometric authentication, and Face ID is a shoe-in for integration. Though some believe Apple's next iPad will incorporate a sensor notch similar to that of iPhone X, such design compromises are unnecessary given the tablet's capacious internal volume.
Rumors of a TrueDepth-equipped iPad first landed in November. In incorporating the 3D-sensing technology introduced with iPhone X, Apple is expected to remove the longstanding home button from iPad, thus greatly reducing bezel size to create a nearly edge-to-edge screen.
Recent supply chain rumblings suggest Apple suppliers are primed for production, with revamped 10.5- and 12.9-inch iPad Pro models potentially headed to store shelves at the end of the second quarter. The estimated release timeline falls in line with Apple's annual product refresh cycle, as the current iPad Pro lineup debuted last June.
Update: It appears the image was doctored from marketing material for an existing case from manufacturer Speck. Blass has since deleted his tweet.