Apple officially discontinues AirPort router product line, available while supplies last [u]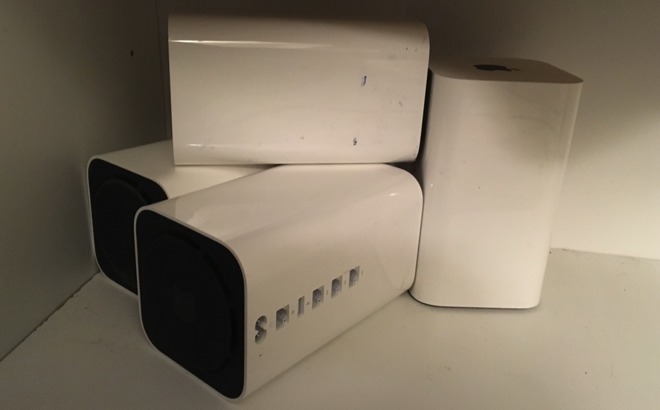 Apple on Thursday announced the official death of its long-running AirPort Wi-Fi router line, a development many believed to be an inevitability after the division responsible for its development was axed more than a year ago.
Apple confirmed the demise of its base station lineup in an email to AppleInsider, saying existing stock will be sold through the company's online and brick-and-mortar stores, as well as authorized resellers, until supplies are exhausted.
News of the discontinuation comes more than a year after reports claimed Apple broke its AirPort division apart, a sign that it planned to soon ditch the branded wireless hardware. At the time, employees working on AirPort development were supposedly reshuffled to other areas and projects within Apple, including Apple TV.
"The original AirPort wasn't really ours, we bought that," a person familiar with the situation told AppleInsider. "[Apple] supported that for a very long time, even after we built our own, re-organized the division, and some of the guys we brought on to advance the platform were twice-removed."
For many, AirPort's death comes as no surprise.
The last major upgrades arrived some five years ago when the AirPort Extreme and Time Capsule models received an aesthetic makeover and 802.11ac support. Apple touted a new "mini tower" design with a beamforming antenna array to aid in long-distance transmission. Apple's AirPort Express was last updated in 2012 with a design revamp and dual-band 802.11n compatibility. The portable Wi-Fi router never received 802.11ac treatment.
Apple dropped hints that AirPort was not long for this world in January, when the Linksys Velop series became the first third-party router to be sold through Apple's online and physical stores.
AirPort was introduced in 1999 and became a hardware mainstay for nearly twenty years, though its evolution often lagged behind partner Mac and iOS devices that routinely integrate cutting edge Wi-Fi communications technology.
Apple began to build out its AirPort line starting with the first AirPort Extreme in 2003. That was followed up by the AirPort Express in 2004 and the hard drive-equipped Time Capsule in 2008. It was Time Capsule that enabled seamless local backups via Time Machine in OS X, a feature that continues through to macOS High Sierra.
Update: Apple has posted a support document detailing its recommendations for choosing a Wi-Fi router to use with its devices. The company suggests hardware supporting 802.11ac, simultaneous dual-band networking, WPA2 encryption and MIMO or MU-MIMO support. Interestingly, Apple says mesh networks are a good choice for areas that are large or difficult to cover.