Kuo: 'Apple Car' likely to launch in 2023 to 2025, fuel $2 trillion company valuation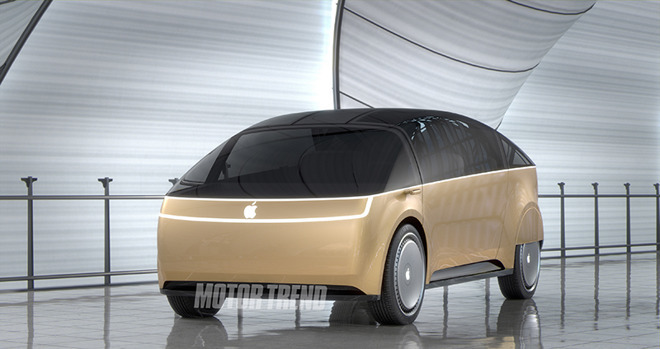 Noted Apple analyst Ming-Chi Kuo believes the Cupertino tech giant's autonomous vehicle aspirations — "Project Titan" — will be realized in a shipping consumer product as early as 2023, helping push the company toward its next trillion dollar valuation.
In a note to investors seen by AppleInsider, Kuo discusses how Apple is likely to reach its next trillion dollar market capitalization. The company became the first publicly traded U.S. company to reach a market cap of $1 trillion earlier this month on the heels of a record June quarter.
According to Kuo, Apple's quickly growing services arm, AR futures and its secretive Apple Car project are poised to propel the company toward a $2 trillion valuation.
Kuo has little insight into a rumored "Apple Car" aside from a predicted launch date between 2023 and 2025. How the analyst arrived at those numbers is unknown, but he expects Apple to take advantage of what he views as a tectonic shift in the automotive market.
In particular, the iPhone maker can leverage "potentially huge" replacement demands that are emerging in the sector due to the introduction of new technologies. Specific features are left unmentioned, but Kuo believes the current car market is ripe for change, much like the same smartphone sector was before iPhone.
"Apple's leading technology advantages (e.g. AR) would redefine cars and differentiate Apple Car from peers' products," Kuo writes. "Apple's service will grow significantly by entering the huge car finance market via Apple Car, and [...] Apple can do a better integration of hardware, software, and service than current competitors in the consumer electronics sector and potential competitors in the auto sector."
Apple's work on a fully autonomous vehicle is somewhat of an open secret in the tech world. Rumblings of an "Apple Car" began to proliferate in 2014, with reports at the time saying the tech giant planned to build an in-house designed vehicle from the ground up. Subsequent rumors claimed Apple went so far as to begin preliminary discussions to build an automotive plant in the U.S. before realizing the undertaking was more onerous than initially thought.
As part of what would become a constantly evolving project, Apple reportedly sought manufacturing partnerships with established carmakers like BMW, Mercedes-Benz, Nissan, McLaren, Magna Steyr and China's BYD Auto, but negotiations failed due to contractual disagreements. Among the quibbles was debate over who would "own the experience" and control driver data gleaned from onboard computer systems.
Apple's car effort was said to have grown like a well-funded weed, consuming resources from other departments within the company. At one point, the project counted well over 1,000 employees among its ranks, with specialists in automotive hardware to navigation software focusing on a complete rethinking of the automobile.
AppleInsider sources said the ambitious initiative began to unravel as disputes between team leaders like former project lead Steve Zadesky and top executives took root. Zadesky left Apple in 2016 and the project was handed over to longtime executive Bob Mansfield. Under Mansfield, the Titan team was stripped down to necessary personnel as the project refocused on software and supporting solutions.
Apple is now thought to be working on an autonomous employee shuttle pieced together from the remnants of Titan. Last week, however, former engineering executive Doug Field returned to Cupertino after a nearly five-year stint at Tesla, reviving hopes that an Apple Car might still be in the cards.
Beyond Apple Car, Apple is predicted to rely heavily on its services business to build out significant revenue streams. Because of their inherent portability, Apple services like Apple Music, iCloud and, to a lesser extent, the App Store and AppleCare, are able to thrive on a variety of hardware platforms.
In its most recent fiscal quarter, Apple recorded record services business revenues of $9.5 billion, shattering its previous record of $9.19 billion turned in during the last sequential quarter.
The category will in part be bolstered by redefining existing products with new user interface technologies like augmented reality and the aforementioned automotive project, Kuo says.
Finally, Apple's thrust into AR is expected to bear fruit in the near term. Specifically, Kuo points to the 2020 release of a so-called "Apple Glasses" AR goggle solution.
"Apple has always grown significantly after redefining existing and new products by innovating its UIs (e.g. Mac's mouse, iPod's click wheel and iPhone's multi-touch) in the past. We expect Apple will redefine the UIs of existing products by offering an AR experience created by the AR glass, which will likely be launched in 2020."
Apple is widely rumored to be developing a head-mounted AR device with high-resolution displays and advanced wireless data transmission technology for communicating with a separate processing box. Prior to Kuo, analyst Gene Munster pegged the wearable to launch in 2021.