New $1,200 MacBook, refreshed iPad Pro models could be announced during Apple's September event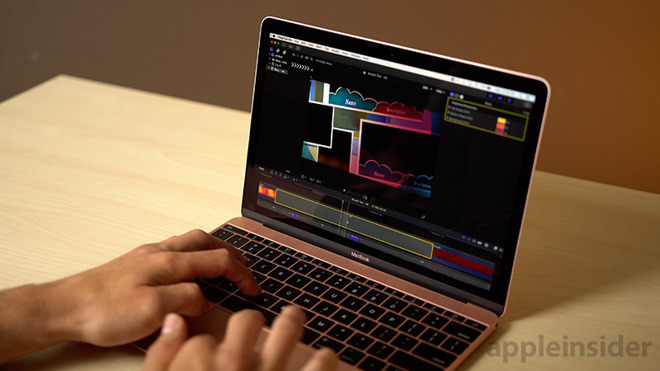 Apple will launch a refreshed entry-level MacBook next month, according to a report, with an updated model claimed will be revealed during the company's September event alongside new iPhones and other product announcements.
The new MacBook will use Intel's Kaby Lake processor, industry sources reportedly advised DigiTimes, The sources also expect the refreshed notebook to start from $1,200 for the base model, but did not advise on any potential specification changes, aside from the processor.
Claimed to be originally scheduled for a refresh in the fourth quarter of 2017, the MacBook update was apparently delayed due to Intel having issues with producing processors under a 10-nanometer process. After Intel confirmed it would wait until 2019 before mass producing the 10-nanometer processors, Apple allegedly reworked the MacBook's design to use the 14-nanometer Kaby Lake architecture, rather than put off the refresh for another year.
The report buoys rumors that Apple will be reviving its inexpensive MacBook lineup, and follows a similar report from earlier this month suggesting Apple partner Quanta would see shipments hit 10 million units in the December quarter, in part because of the new MacBooks. According to today's report, the MacBooks in question are anticipated to have a shipping volume of around 8 million units by the end of the year.
While Apple's September event is largely expected to include three new iPhones, including 5.8-inch and 6.5-inch OLED models and a cheaper 6.1-inch LCD version with Apple Pencil support, the report also suggests other hardware that could make an appearance during the presentation.
Apple will apparently detail the launch schedule of AirPower, Apple's wireless charging mat capable of providing power to multiple devices at the same time, which is touted in the report to cost around NT$5,000 to NT$6,000 ($161 to $193).
There may also be the appearance of new iPad Pro models, with the report suggesting a refreshed 12.9-inch model could be joined by an 11-inch version, the latter of which may replace the existing 10.5-inch variant. The iPad Pros are speculated to ship with a new 18-Watt power adapter using USB Type-C, which will help speed up charging of connected devices.
Current speculation for the iPad Pro refresh points to an edge-to-edge display that switches out Touch ID for Face ID and the notch, like the iPhone X, and rounded corners for the screen.