Apple may face even higher iPhone taxes, import restrictions in India market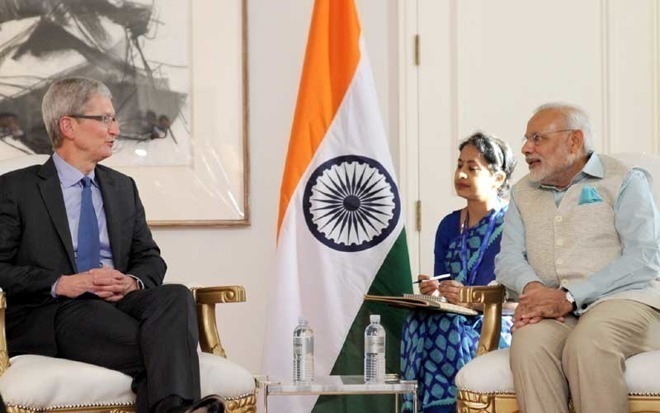 AppleInsider may earn an affiliate commission on purchases made through links on our site.
Apple may face tougher trading conditions in India in the future, after a top advisor to Prime Minister Narendra Modi insisted the country should restrict its import of luxury goods like the iPhone and tax them heavily, instead of raising interest rates to bolster the rupee.
In an interview, the Economic Advisory Council member Rathin Roy insisted the government needs to make it less appealing for the country's citizens to enjoy luxury goods, reports Bloomberg. "We need to actively send signals to disincentivize or discourage increase in consumption of what I describe as explicit luxuries," the adviser proclaimed.
These explicit luxuries include the iPhone, which Roy noted had seen increases in imports to India in recent times. As another example of luxury-based spending, Roy suggested the expenditure on overseas education and other services have also increased.
Roy's comments follow after an announcement by India's government on Wednesday that it had raised import taxes on a variety of goods, including jewelry and footwear, by $12 billion. The iPhone and similar goods have a good chance of being hit by future import tax rises, as electronics and gold are the country's biggest imports behind oil.
The four-year high of Oil is said to be making global funds nervous, groups who pulled $2.45 billion from local bonds and stocks in September 2017. Those withdrawals are claimed to have helped reduce the value of the rupee to record lows, making it the worst-performing currency in Asia according to economists.
A Bloomberg survey of economists reveals most would call for a 25-basis-point rate hike by the central bank, but Roy dismisses this, suggesting it isn't the right answer to fix the currency's poor situation. The government has also fought off attempts to short the currency, with measures to improve cash availability with banks forming part of the countermeasures.
The luxury goods rate increases would follow a similar path taken by Indonesia, another country with a current-account deficit. In Indonesia's case, the country took the opportunity to delay "import-heavy infrastructure projects" as well as increasing taxes on luxury goods imports.
While Roy's advice will be heard by Prime Minister Modi, it remains to be seen if it will be adopted by the country in the coming months as it tries to rectify the rupee. If India adopts the recommendation, Apple's existing efforts to increase sales in the country may be hampered.
Apple is currently awaiting permission to open full corporate-run retail outlets in the country, and has looked into opening premium franchise-owned outlets as a temporary measure. It may also be able to counter some of the import tax rises by expanding its existing iPhone production operations with assembly partner Wistron, which it uses to make the iPhone 6s for local sale.
Apple lost three local executives earlier this year, which the company replaced in August with a new head of operations. Michel Coulomb is reportedly pursuing an aggressive strategy to resuscitate iPhone sales, which have apparently dwindled to just 1 percent of the market.
A fight with the Telecom Regulatory Authority of India (TRAI) is an even bigger threat to its efforts, with a potential ban of iPhones from the country's mobile networks on the cards if the company does not comply with laws mandating the installation of an official anti-spam app. It is expected that Apple and the regulator will be going to court over the matter.