Apple, Huawei both using 7nm TSMC processors, beating out Qualcomm and Samsung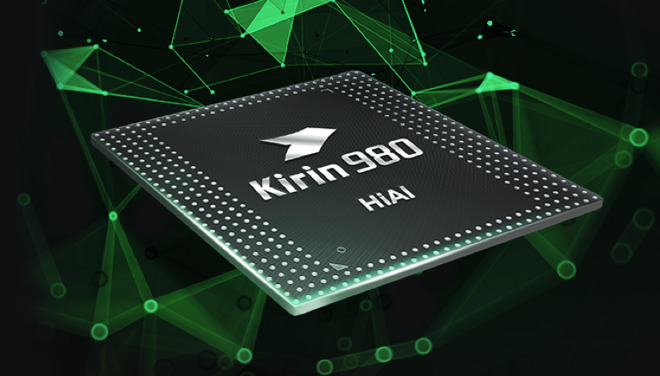 AppleInsider may earn an affiliate commission on purchases made through links on our site.
Huawei may be the second smartphone producer to use processors made using a 7-nanometer process, following Apple's use of the A12 chip in the iPhone XS, with the designed-in-house Kirin 980 processor thought to be using the same production process as Apple.
In an investor note received by AppleInsider anticipating the launch of four new models by Huawei later this month, analyst Ming-Chi Kuo writes some of the arrivals will adopt the Kirin 980, a processor designed by Huawei. According to Kuo, the processor will be produced by TSMC, the same chip company that manufactures Apple's A-series processors and other chips, and will take advantage of the firm's existing 7-nanometer process.
This effectively makes Huawei the second company to include a 7nm-based processor into their smartphones, behind Apple. The use of the processors also applies pressure to the rest of the industry, which employs processors produced by older 10-nanometer methods, or larger, and it may take some time for other producers to catch up.
The Kirin 980 uses the Cortex-A76 architecture and the Mali-G76 GPU, with both boasting performance and power efficiency improvements compared to their predecessors. The processor uses two super cores, two large cores, and four small efficiency cores, switching between different configurations depending on the required usage. The chip also includes a dual-core NPU that is intended for use with machine learning-based tasks, including face and object recognition, and image segmentation for photography.
Qualcomm and MediaTek, two major chip producers, were reported in September to have postponed their own 7-nanometer chip launches until 2019, while UMC is thought to have shifted its investment into "mature" and speciality process nodes, and Globalfoundries has put its own 7-nanometer FinFET technology development on indefinite hold.
Samsung is believed to be working on its own 7-nanometer process, in an attempt to win back orders from Apple that had transitioned away to TSMC over the last few years. Intel is several years behind in its own effort for 10nm, but promises that they will arrive in volume in 2019.
While a move to a 7-nanometer process offers speed boosts and power efficiency savings, two elements that are extremely attractive for mobile device vendors, the capital expenditures needed to shift below the 10-nanometer barrier are quite prohibitive. In one report, HiSilicon advised it was planning to spend a minimum of $300 million on a system-on-chip design using 7-nanometer technology, illustrating the potentially high costs involved in working at that level.
Kuo writes the move to the 7-nanometer Kirin 980 helps Huawei narrow the gap between itself and Apple "in terms of user experience," as well as differentiating its products from other Android-based smartphone vendors.
The Mate 20 Porsche and Mate 20 Pro, both using the Kirin 980, will boast a tri-camera implementation on the rear using 40-megapixel, 20-megapixel, and 8-megapixel sensors, and will feature an optical-based fingerprint recognition system that works through the display glass, rather than relying on a separate designated area. The Mate 20, also using the Kirin 980 and having a tri-camera setup, will use a rear-based fingerprint reader.
The fourth device, the Mate Max, will instead use a Qualcomm Snapdragon 636, have a fingerprint reader on the back, and a more typical dual camera system.