Apple sued over AirDrop technology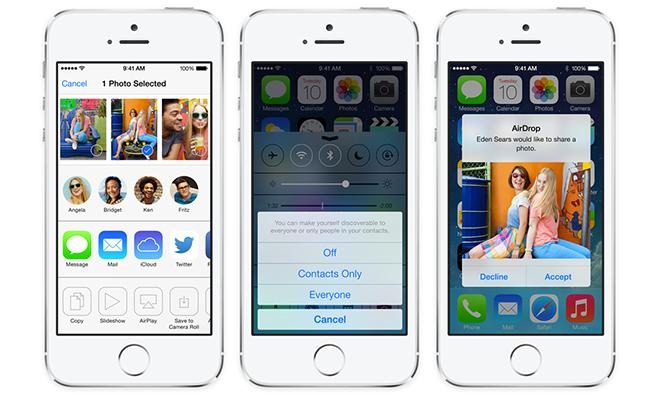 Patent troll Uniloc returned to form on Wednesday after a months-long hiatus from lobbing allegations against Apple, this time challenging the company's AirDrop file sharing technology with a 2006 Philips patent.
Filed with the U.S. District Court for the Western District of Texas, Uniloc's latest attempt to extract damages from the tech giant leverages a single patent first filed with the U.S. Patent and Trademark Office in 2000.
Invented by Jonathan Griffiths, U.S. Patent No. 7,136,999 for a "Method and system for electronic device authentication" details techniques of creating a secure environment for transferring data between two devices. In particular, the IP covers methods of providing authentication over a variety of wireless protocols including Bluetooth.
According to the patent's first claim, an initial authentication procedure is performed over a short-range wireless link. Once authenticated, the two devices are then able to connect when out of range of the first wireless link protocol. As noted in following claims, the devices can exchange initial authentication information — a key or password — via an alternative communications link.
The USPTO issued a grant for the '999 patent in 2006.
The IP has changed hands multiple times since its filing in 2000, first from Griffiths to Philips Electronics that same year. It was assigned to patent aggregator IPG Electronics 503 Limited in 2009, then on to Pendragon Wireless in 2012 before landing in Uniloc's coffers in February 2018. Uniloc Luxembourg subsequently assigned the patent to Uniloc 2017 LLC in July.
Uniloc's U.S. licensing entity, with the recently formed Uniloc 2017, is leveraging the patent-in-suit against Apple and AirDrop.
Introduced alongside OS X 10.7 Lion in 2011, AirDrop is a first-party ad hoc protocol designed to simplify the process of transferring large files from one device to another.
Initially developed to connect two Macs over Wi-Fi, the service first appeared in the OS X Finder. Running AirDrop allowed two Macs to quickly create an ad hoc connection without need for passwords or complex network configuration. Simple drag-and-drop functionality made the system a more attractive alternative to direct link, cloud storage and similar file transfer solutions in use at the time.
Apple later extended — and modified — AirDrop to accommodate its mobile operating system with iOS 7 in 2013. Unlike legacy AirDrop technology, the revamped version employs a dual-link structure that relied on Bluetooth for discovery and token setup, and Wi-Fi for file transfers. Again, users are presented with an easy-to-use interface in Share Sheets that features automatic device discovery and tap-to-send capabilities.
It is this second iteration of AirDrop that Uniloc is targeting in its latest lawsuit.
The non-practicing entity is alleging infringement of claims 13 and 17 of the '999 patent, which relate to establishing a secure link between two devices through exchange of authentication information over two separate communications links. Named in the suit are all devices compatible with Apple's current implementation of AirDrop, including all iPhones from iPhone 5 to iPhone XS Max, fourth- and fifth-generation iPads, all iPad mini generations, all iPad Air models, iPad Pro, MacBook, MacBook Air, MacBook Pro, iMac, Mac mini, Mac Pro, the fifth-generation iPod and fourth- through sixth-generation iPod touch models.
Uniloc in its suit seeks unspecified damages, reimbursement of legal fees and other relief deemed fit by the court.
The AirDrop case is the latest in a string of Uniloc lawsuits targeting Apple technologies. In the middle of 2017, the non-practicing entity went on a spree, filing suit against the iPhone maker almost once a month.
Uniloc is one of the most active patent trolls in the U.S., leveraging reassigned patents or vaguely worded original IP against a number of tech firms including Activision Blizzard, Aspyr, Electronic Arts, McAfee, Microsoft, Rackspace, Sega, Sony, Symantec and more.