Apple's dual-camera iPhones subject of new patent lawsuit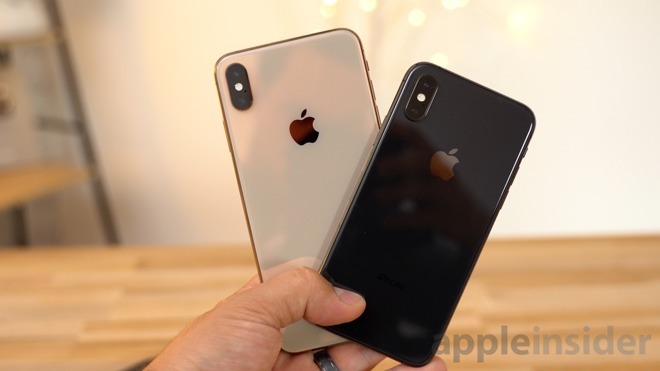 AppleInsider may earn an affiliate commission on purchases made through links on our site.
A lawsuit filed Tuesday claims Apple's dual-camera iPhone technology, deployed in smartphone models dating back to iPhone 7 Plus, infringes on a patent for enhancing digital photographic images using multiple lenses and sensors.
Filed with the U.S. District Court for the Northern District of California, the suit names plaintiffs Yanbin Yu and Zhongxuan Zhang, who allege Apple's dual-camera solution is in infringement of a noted invention the pair developed in 1999.
U.S. Patent No. 6,611,289 for "Digital cameras using multiple sensors with multiple lenses" details methods for improving the quality of digital photographs.
The patent, granted in 2003, describes techniques for capturing multiple images with multiple camera lens and sensor arrays. Up to four cooperative camera arrays are supported by the filing's claims, and indeed the patent focuses of a four-camera mechanism that merges images pulled from monochromatic sensors into a single multi-color image.
At least five patent claims deal specifically with a dual-lens layout in which two cameras are placed in close proximity — along a common plane — to capture distinct "intensity images," one of which is used to enhance the other.
According to the complaint, and echoed in the patent abstract, both sensors are capable of capturing full-color images. Underlying circuitry includes analog-to-digital converters, one each for the two sensors, that independently digitize incoming information in parallel. An image signal processor combines a first full-color image with portions of the second captured image to create an enhanced final product.
Yu and Zhang allege Apple's iPhone 7 Plus, iPhone 8 Plus, iPhone X, iPhone XS and iPhone XS Max infringe on the '289 patent. All handsets feature rear-facing dual-camera arrays with both wide-angle and telephoto lenses used to produce Portrait Mode, Portrait Lighting and digital zoom photos. Apple's iPhone X and XS series devices go further with Portrait Mode and Lighting selfie photo capabilities powered by the TrueDepth camera system.
Apple filed its own patent for a multi-sensor camera system in 2008 with U.S. Patent No. 8,115,825 for an "Electronic device with two image sensors." The IP, granted in 2012, sought to claim "many of the same features" as the '289 patent, the complaint alleges.
Apple was made aware of the '289 property as early as 2011, the complaint claims. That year, a patent examiner issued an office action rejecting 11 claims of what would become the '825 patent as anticipated, or not novel, in relation to Yu and Zhang's IP. Remaining claims were rejected as obvious in light of the '289 patent and other prior art.
Approximately three months after the initial rejection, an unnamed Apple patent attorney contacted the patent examiner to discuss amendments to the claims in hopes of gaining U.S. Patent and Trademark Office allowance. A day later, Apple filed a revised version of the IP with limitations and additions to existing claims, arguing the modifications overcome the '289 patent, the complaint reads.
Further, Apple cited the '289 patent in gaining a grant of U.S. Patent No. 8,681,250, itself a continuation of the same patent application that birthed the '825 patent.
Plaintiffs in the case note Apple invested substantial capital to realize its multi-sensor camera vision, citing the acquisitions of Israeli 3D sensor specialist PrimeSense in 2013 and camera technology company LinX Imaging in 2015. Despite those purchases, Apple did not seek to license the '289 patent and went on to market various iPhone models with knowledge that its technology infringes on the property, according to the complaint.
Yu and Zhang seek damages with the option to treble due to "willful, wanton, deliberate and egregious" infringement and attorneys' fees in their lawsuit.