Apple sued over FaceTime technology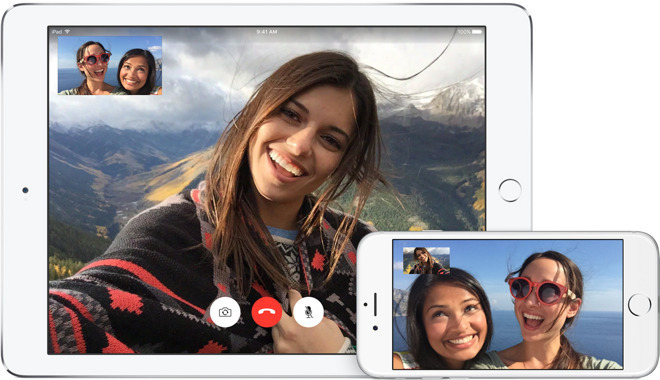 Patent troll Uniloc on Thursday filed a fresh legal claim against Apple — its third in as many weeks — asserting the tech giant's FaceTime technology infringes on an internet telephony invention developed by Hewlett-Packard.
Filed with the U.S. District Court for the Western District of Texas, Uniloc's latest attempt at Apple's cash claims FaceTime's backend systems rely on technology that infringes on a patent covering intelligent-client features in IP telephony networks.
Granted to Hewlett-Packard Development Company in 2013, U.S. Patent No. 8,539,552 for a "System and method for network based policy enforcement of intelligent-client features" details techniques for controlling services in packet-based networks. Described in the IP's main claims are methods for messaging policy enforcement including signaling, authentication and routing to correct services based on stored information.
Filed with the U.S. Patent and Trademark Office in 2003, the '552 patent was assigned to 3Com that same year. The IP was reassigned to HP in 2010, then back to Hewlett-Packard Development Company in 2011 before landing at Hewlett-Packard Enterprise Development in 2015. HP last year signed over rights to Uniloc Luxembourg, which transferred the property to Uniloc 2017 LLC in May.
Uniloc in its suit asserts Apple's FaceTime relies on the same basic communications structure outlined in the '552 patent. Specifically, FaceTime servers communicate with FaceTime-enabled devices over packet-based networks like Wi-Fi or 3G and LTE cellular. The devices then register an address, like an Apple ID or phone number, with said servers for later identification.
When a user initiates a FaceTime call, an encrypted query to connect with another device is sent to an Apple server. If the target is deemed compatible with the FaceTime protocol, a connection is established and the receiving device displays the caller's identification information.
The suit cites iPhone 4 and later, iPad 2 and later, iPad Mini, the fourth-generation iPod Touch and later, and MacBooks "running OS X and later" as utilizing infringing FaceTime technologies.
Uniloc seeks unspecified damages, reimbursement of legal fees and other relief deemed fit by the court.
The FaceTime case is the latest in a series of Uniloc actions targeting Apple technologies. In the middle of 2017, the non-practicing entity went on a spree, filing suit against the iPhone maker almost once a month.
The patent troll already filed two suits against Apple this month, claiming the company's AirDrop and network provisioning technologies infringe on patents once assigned to Philips and HP, respectively.
Uniloc is one of the most active patent trolls in the U.S., leveraging reassigned patents or vaguely worded original IP against a number of tech firms including Activision Blizzard, Aspyr, Electronic Arts, McAfee, Microsoft, Rackspace, Sega, Sony, Symantec and more.
Apple's FaceTime was named in a separate patent suit dealing with VPN network technologies last month.