Apple CEO Tim Cook to receive Anti-Defamation League award in December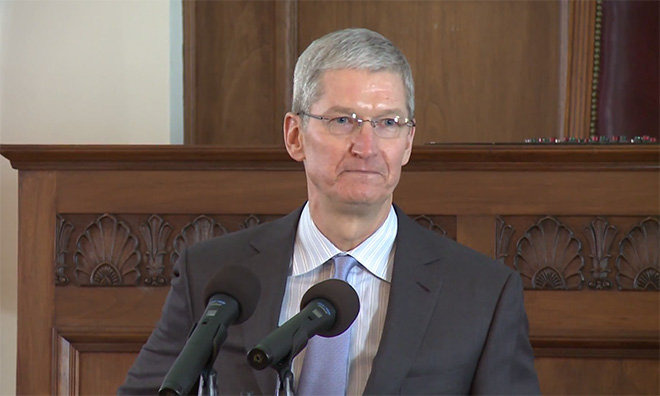 AppleInsider may earn an affiliate commission on purchases made through links on our site.
Apple CEO Tim Cook will this December be the first recipient of the Anti-Defamation League's Courage Against Hate award, an honor bestowed in recognition of the executive's work toward social reform and forwarding human rights, the NGO announced on Wednesday.
The Courage Against Hate award recognizes "courageous and visionary" private sector leaders who use their platform to better the world through action and inspiration.
"During a time where technology is being used to spread hate, Tim has been a trailblazer in combating it on Apple's platforms," said ADL CEO and National Director Jonathan Greenblatt. "He is a staunch advocate for the LGBTQ community and immigrants' rights while denouncing racist vitriol like the events in Charlottesville and we are proud and excited to present Tim with this award."
In its release, the ADL highlighted Cook's various contributions to social initiatives, as well as Apple's official involvement in charitable funds.
As mentioned by Greenblatt, Cook in a letter to Apple employees this year addressed a controversial demonstration in Charlottesville, Va., denouncing hate groups, bigotry and violence. Calling the violent event "repulsive," Cook announced Apple would make $1 million contributions to both the Anti-Defamation League and the Southern Poverty Law Center.
On the topic of nonprofit giving, the ADL praised Cook's decision to create a fund matching program for employees who donate to charities. Apple regularly donates to worldwide causes, often through direct contributions to the Red Cross and local NGOs.
The company in August donated $1 million to aid victims of the Kerala floods in India, and last month gave $1 million to relief efforts assisting earthquake and tsunami survivors in Indonesia. Most recently, the tech giant last week pledged to help ongoing activities related to the California wild fires.
Cook has a long history of speaking his mind on topics ranging from LGBT issues to racism and has in the past received awards for his support of social causes. In 2015, the executive accepted the Human Rights Campaign's Visibility Award for work on LGBT rights and the Robert F. Kennedy Human Rights organization's "Ripple of Hope" award. The Newseum honored Cook with its Free Expression Award for his stance on social issues in 2017, and more recently he received the Human Rights Award from the Birmingham Metro Southern Christian Leadership Conference.
Cook will accept the ADL's award and deliver a keynote address at the annual Never Is Now Summit on anti-Semitism and Hate on Dec. 3 in New York City.
Editor's note: Due to its political nature, comments for this article have been disabled.