Apple CEO Tim Cook says new services coming this year, talks iPhone XR 'flop,' more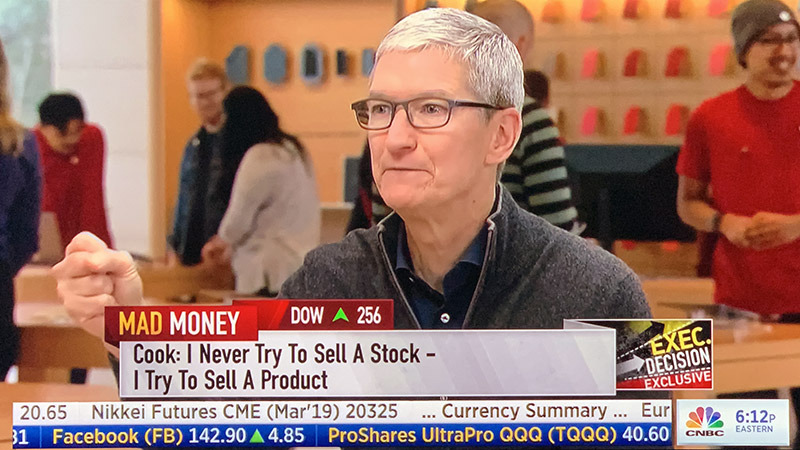 Coming off a bruising week spurred by a negative guidance revision, Apple CEO Tim Cook sat down with Mad Money's Jim Cramer on Tuesday to discuss a range of topics regarding the company's health.
While Cook toed the company line for a majority of the CNBC interview, issuing oft-repeated platitudes on Apple's customer-over-all-else mantra, he did reveal a few facts and figures that shed light on the tech giant's current situation.
Perhaps most intriguing, however, was a vague reference to new services Apple plans to announce in 2019.
"On services, you will see us announce new services this year. There will more things coming. I don't want to tell you about what they are," Cook said. "I believe it'll be material over time. I'm not gonna forecast precisely, the ramps and so forth. But they're things that we feel really great about, that we've been working on for multiple years."
The statement was in response to a question regarding a potential layering of existing services. Cramer suggested Apple could combine Apple Pay and healthcare initiatives like Health Records to maximize its payments services revenue stream.
Cook remained mum on what, exactly, Apple has in store for launch, but did say the projects have been in development for "multiple years."
The Apple chief consistently called out Apple's health initiatives, saying products like Apple Watch are impacting the lives of customers for the better. Cook said he regularly receives emails from users touting the wearable's features, some of which are proving to be lifesavers. For example, customers are saying Watch has fostered a more active lifestyle, while others are using new functions added to Apple Watch Series 4 and watchOS 5, like the ECG feature, to discover they suffer from atrial fibrillation.
Cook went so far as to say Apple will be remembered more for its contributions to health than technology.
"On the healthcare, in particular, and sorta your wellbeing, this is an area that I believe, if you zoom out into the future, and you look back, and you ask the question, 'What was Apple's greatest contribution to mankind,' it will be about health," he said.
iPhone sales
As expected, Cook was bullish on the health of iPhone, Apple's main revenue driver.
Apple stirred the hornet's nest last week when it announced earnings for the first fiscal quarter of 2019 would not meet guidance offered at the end of the trailing quarter. Specifically, Apple is now targeting $84 billion in revenue down from a forecast in November that anticipated results between $89 billion and $93 billion. In a note to investors, Cook blamed the downturn on weaker than expected iPhone demand in China and other developing countries.
Analysts, industry insiders and pundits fired off a barrage of hot takes that sent Apple stock tumbling. Most recently, The Wall Street Journal went so far as to call the iPhone XR, this year's mid-range handset, a flop.
"I say baloney. I call baloney on that," Cook said today. "Here's the truth, what the facts are. Let me tell you how I view this. Since we began shipping the iPhone XR, it has been the most popular iPhone every day, every single day, from when we started shipping until now."
With iPhone XR, Apple addresses the — considerable — market segment unwilling to pay upwards of $1,000 on a smartphone.
"Now, the best phones, we knew that, as we went to the X and then the follow-on of the XS and the XS Max, that everybody would not want to spend $1,000 for the phone. So we made the iPhone XR," he said.
Beyond iPhone XR, Cook said Apple is in the business of serving the customer, which will ultimately translate into device sales. Users who are loath to upgrade from an iPhone 5, for example, are considered happy customers who contribute to a thriving services ecosystem.
"Now, if she's not upgrading for another reason, maybe it's too much of a hassle for her to upgrade. Maybe she's worried about the transfer of data," he said, referencing Cramer's daughter who still uses an iPhone 5. "All of this stuff, we want to help on."
China
Echoing his letter to investors and subsequent interviews, Cook said the dip in Chinese iPhone sales during quarter one can be attributed in part to trade tensions with the U.S. China's economy was already on the downswing during the second half of 2018, but a brewing trade war exacerbated its effects on product sales.
Cook once again expressed optimism that the two countries will be able to find a trade resolution, and relatively soon, despite a bevy of inherent complexities in dealing with two world powers.
"I believe that's temporary," Cook said of China's economic downturn. "Because I think that, when you really look at it, it's in both countries' best interests to come to an agreement. It is a complex, very complex, trade agreement and it needs to be updated."
Qualcomm
Moving on to Apple's bitter legal struggle with Qualcomm, Cook addressed recent high-profile court losses in China and Germany. In December, Qualcomm won a Chinese sales ban against certain iPhone models that contain software in infringement of two owned patents. That court decision was followed by a similar finding in Germany, which resulted in a sales ban on all iPhone models save for the iPhone XR and XS series.
Following the pair of rulings, Qualcomm executives ramped up a public relations offensive, hinting Apple will soon be forced to settle the worldwide court battle. However, Cook today refuted suggestions that Apple is in active settlement discussions with the chipmaker.
"Look, the truth is, we haven't been in any settlement discussions with them since the third calendar quarter of last year," he said. "That is the truth. So I'm not sure where that thinking is coming from."
Cook reiterated Apple's position in the scrum, saying Qualcomm's business practices are questionable. Qualcomm has been under investigation since 2014 over concerns related to FRAND (fair, reasonable and nondiscriminatory) commitments on deemed standard-essential patents, issues that are at the heart of Apple's multiple lawsuits against the chipmaker. Beyond hefty royalty rates, Qualcomm refuses to sell chipsets to manufacturers until they first license the SEPs, often at "extortion-level" rates, Apple has claimed.
Qualcomm's questionable PR tactics are also a bone of contention for Cook. Late last year, reports found Qualcomm contracted a specialized firm to sling mud at Apple and its chief executive in a bid to say public opinion during the still ongoing court struggle.
Facts and Figures
Over the course of the interview, Cook rattled off a number of figures to prop up his argument that Apple is, indeed, in good health.
Though Apple does not break out sales numbers for its wearables division, made up of products like Apple Watch, AirPods and Beats, Cook offered a peek behind the curtain today.
"On a trailing basis, the revenue for wearables is already more than 50 percent more than iPod was at its peak," Cook said. "Also, if you take AirPods and the Watch separately, and you sort of back these up and align it to the launch date of iPod, as well, where all of them have a comparable amount of time, you would find that each one independently is four to six times ahead of where iPod was at a comparable period of time."
Siri is now on more than 500 million devices, with Apple processing over 10 billion queries a month.
India
Finally, Cook commented on Apple's stagnant India business. Cramer suggested Apple partner with Walmart's India-based Flipkart to distribute a budget iPhone. Cook balked at the idea, saying Apple is in the business of making the best products with the greatest value, attributes that do not necessarily amount to "cheapest."
Apple is looking for inroads into the burgeoning Indian market, but have so far been stymied by the country's duties and strict sourcing regulations. After rapidly growing from $100 million in revenue per year to just over $2 billion, Apple's Indian business remained flat over the past two years.
Cook reiterated hope that ongoing talks with local officials will bear fruit, allowing the company to open retail outlets in the region.