Apple's iPhone a big priority for U.S. corporate spending in 2019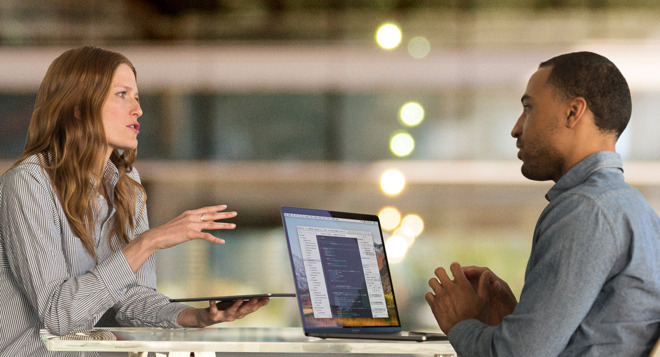 Corporations are preparing to increase their spending on Apple products over the next 12 months, a survey of chief information officers has revealed, with companies set to provide more iPhones to employees than in the last four years.
Apple has recently come under fire from analysts and media alike after advising it expects to miss its financial projections in its quarterly results, in part due to lower than anticipated iPhone sales. Despite the perceived weakness for iPhone sales, a survey by Piper Jaffray suggests that sales will increase in the next year, at least those by corporate customers.
The survey seen by AppleInsider queried 110 chief information officers in 10 different sectors, with the questions concerning devices provided to employees and what mobile platforms were supported. Along with iOS, respondents also provided data relating to other platforms, including Android, Windows, and BlackBerry.
When asked what mobile platforms are supported, iOS came out on top with a 50 percent share, ahead of Android's 29 percent and Windows at 19 percent. The results show iOS has maintained its lead for a fifth year in a row, earning a 37 percent share in 2015 rising to 40 percent the following year, then 44 percent in 2017 and 2018.
By contrast, Windows has largely occupied the same space at between 22 percent in 2015 and 19 percent in 2019, Android grew from 30 percent to 34 percent until 2018 before dropping to 29 percent in 2019, and BlackBerry declined from 9 percent in 2015 to its current score of 1 percent.
For device distribution, more than half of the survey respondents confirmed they intended to provide iOS-based hardware to employees. Approximately 54 percent of the CIOs confirmed iOS distributions for 2019, up from 49 percent in 2018, which is also a higher proportion than the 52 percent recorded in 2017.
In the 2019 results, Android is in second place with 28 percent and Windows is in third with 14 percent. BlackBerry again appears with just 1 percent.
"Apple's iPhone is the primary BYOD (Bring Your Own Device) choice for their workforce," advised Piper Jaffray, but adds the iPhone is not the only product of interest. "One of the CIOs pointed to an ongoing uptick in spending on tablets for both field and corporate employees, for which they have standardized on iPad."
When asked what platforms they wish to increase their investment in over the next 12 months, 54 percent advised they would do so for iOS, followed by Android with 22 percent and Windows with 20 percent. At the same time, 64 percent of the CIOs advised their budgets will increase for 2019, up 2.1 percent from last year.
"While AAPL has dealt with recent weakness, primarily for iPhone in China and other emerging markets," note the analysts, "we are seeing positive trends from the company at the enterprise level."
Apple has, over the years, positioned itself to be more attractive to enterprise customers, including partnering with firms to create apps for employees and other solutions, including working with Salesforce, IBM, and other partners to increase iOS integration in a business workflow.