Tim Cook to deliver Stanford commencement address in June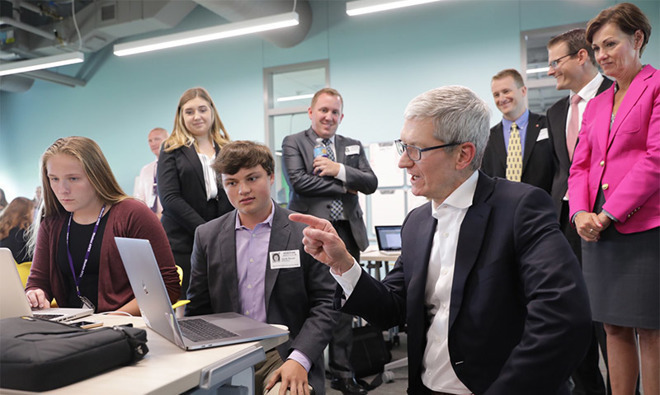 Apple CEO Tim Cook will address graduates of Stanford University at the school's 2019 commencement ceremony on June 16, according to a press release on Thursday.
In announcing Cook as its 2019 commencement speaker, Stanford lauded the CEO's outspoken position on data privacy and other issues that sit at the intersection of society and technology.
Cook's efforts to raise awareness about the wide-ranging ethical issues that impact technological progress go hand-in-hand with Stanford's "Our Vision" planning process for faculty and schools, the university said. Our Vision aims "to infuse our role in the technology revolution with ethics and societal considerations" and encourages research on the "societal and ethical consequences of scientific and technological advances [ ... ] to magnify benefits and minimize downsides," according to a website detailing the program.
"Tim Cook has spoken forcefully of the challenges and responsibilities confronting corporations and our society today," said Stanford President Marc Tessier-Lavigne. "In tackling these, he has led with vision and values - qualities that reflect the culture of our Stanford community, and that are top-of-mind for our students and our country. Tim was a natural choice to challenge and encourage our graduates as they leave our campus and find their own paths in the world."
Beyond a broad list of active employees, including former Chief of the Stanford Center for Digital Health Dr. Sumbul Desai, Apple's ties to Stanford run deep.
Most recently the company partnered with the university to facilitate the Apple Heart Study, large-scale research that allowed Apple Watch users to collect data on irregular heart rhythms. Information from the study was subsequently used to build and gain regulatory approval for an atrial fibrillation notification system.
Stanford is the second university to announce Cook as its commencement speaker for 2019. Earlier this month, Tulane University said Cook will take the dais at its ceremony in May.
The Apple chief delivered similar speeches to graduates of George Washington University and the Massachusetts Institute of Technology in 2015 and 2017, respectively. Last year, Cook delivered the commencement address for his alma mater, Duke University.