Apple might debut first in-house modem in 2021 as it questions Intel's ability to deliver 5G chip [u]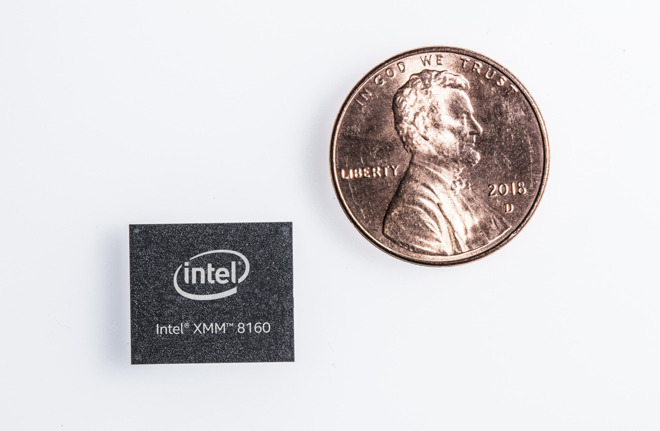 A report on Wednesday highlights Apple's struggles to obtain 5G modem chips for its flagship iPhone by 2020, saying increasingly tense relations with current supplier Intel might delay those plans. That might not matter, as the company is on track to build its own modems that could debut in 2021.
Citing a source familiar with the matter, Fast Company reports Apple's rocky relationship with Intel is at a tipping point as the chipmaker has been missing development deadlines for its XMM 8160 5G modem. Apple has set cutoff points for sample chips in early summer, with a finished design due in early 2020, the report said.
The Apple-mandated deadlines are technically feasible if Intel makes good on its public pronouncements. In February, the firm said it expected to launch the XMM 8160 in the second half of 2019. Despite Intel's promises, Apple has "lost confidence" in the company's ability to manufacture the chip on time, the report said.
"As we said in November 2018, Intel plans to support customer device launches in 2020 with its XMM 8160 5G multimode modem," Intel said in a statement to AppleInsider.
For Intel, Apple's iPhone agreement — a hard-fought win — has become something of a conundrum. The job of managing Apple's project has changed hands three times, according to the source, and Intel stands to gain little from the deal in terms of immediate revenue due to negotiated terms.
The chipmaker accepted the contract to guarantee income as it makes upgrades to its chip fab, but Apple's demands are causing conflict within the company, the source said. Beyond development deadlines, Apple requires Intel to produce its modems first, putting high-margin orders on the back burner.
Apple might soon be free of Intel's internal strife, however, as the company is hard at work on its own in-house designed modem hardware.
According to the source, the Cupertino, Calif., tech giant has tasked between 1,200 and 2,000 engineers, including recruits from Intel and Qualcomm, to the modem project based out of a facility in San Diego. Fast Company speculates Apple's chip designs will be fabricated by current partner TSMC or past silicon collaborator Samsung, with an anticipated arrival date in 2021.
Today's report lines up with rumblings about an Apple-designed modem that have become louder over the past few months. Shades of the project were first seen in 2014 but rumors solidified late last year when Apple was said to be eyeing the area — home to Qualcomm's headquarters — as the cite of its modem development operation. More recently, the company reportedly shifted the modem program from Ruben Caballero, who reported to SVP of Hardware Engineering Dan Ricco, to SVP of Hardware Technologies Johny Srouji.
As for 2020, Apple has few options beyond Intel and supplier-turned-legal-enemy Qualcomm. Apple recently discussed near-term modem supply options with Mediatek and Samsung, but neither firm is in a position to furnish 5G chips for iPhone by 2020, the source said. That sentiment was echoed by UBS analyst Timothy Arcuri in a note to investors on Wednesday.
Considering Apple's ongoing legal struggle with Qualcomm, Intel appears to be the company's only viable source for 5G chips.
Updated with statement from Intel.