Review: 5.11's AMP24 backpack can take your Mac or iPad into the brush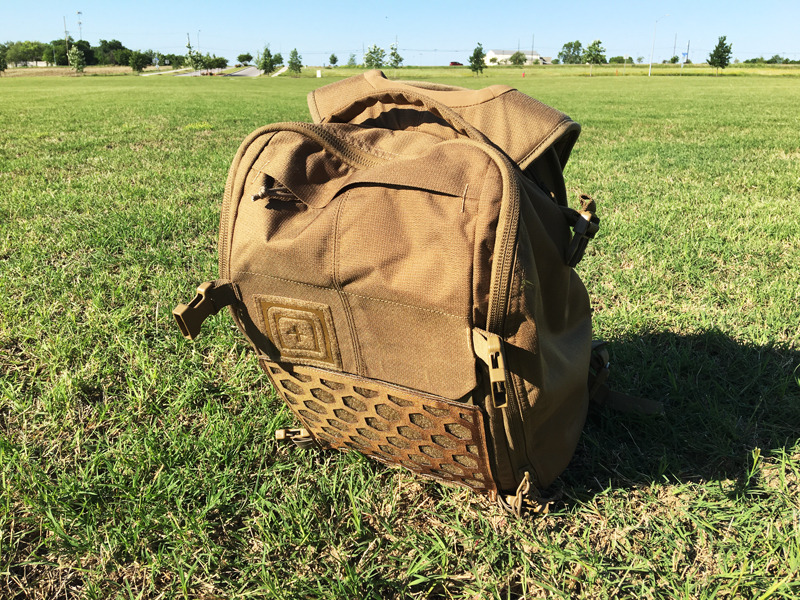 5.11's AMP24 backpack is more concentrated on outdoor adventures — or even combat — than on carrying MacBooks and iPads to the office, but it could also be the last one you ever need.
As I said in my initial hands-on, there's a tendency here in the U.S. for many people to fetishize military-style gear, regardless of whether they need it or even if it looks good.
5.11 caters to this demographic to a degree, but the company actually does sell products to real-world soldiers, police, bodyguards, and emergency services crews. You can see this in the AMP24 — there's a pocket specifically designed for a concealed-carry weapon and holster attachment, and its Hexgrid panel is meant for attaching things like ammo and first-aid pouches at an angle.
Six different color schemes are available: Tungsten, Terrain, Night, Ranger Green, Black, and our choice, Kangaroo (tan). With the exceptions of Tungsten and Black, perhaps, these are all military or hunting colors.
"AMP" stands for "All Missions Pack," and that's evidenced by the backpack's flexibility. It is, first of all, very tough — easily comparable to authentic military gear. The exterior is made primarily of well-stitched, water-resistant nylon, and feels like it would take a sharp knife to rip. If nothing else the pack should be able to withstand years of commuting, camping, and air travel.
The AMP24 has a 32-liter capacity, about 1,953 cubic inches. That may not mean much to you, so let's just say that it's definitely bigger than the average tech bag, but not enough for a weekend-long hike.
There are two options for storing Macs and iPads. The first is the main compartment, which opens like a cavernous maw and sports four zippers instead of just one or two. At first it threw me off, since if you unzip it all the way it's hard to stand the pack upright, and you risk contents spilling out. I gradually realized however that you're not meant to do that, at least most of the time. Quad zippers make it easier to open a portion of the pack and grab small items, while going all the way is only needed for bulkier objects.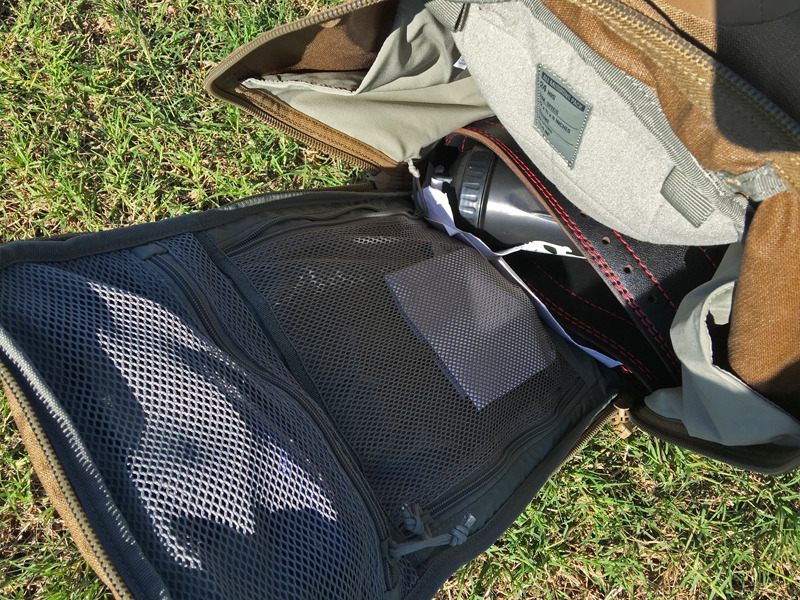 The second option is the dedicated laptop/hydration compartment. 5.11 says this should be able to fit laptops up to 15 inches. I think that's a tight squeeze, especially if you intend to pair a Mac with anything else. iPads and 13-inch MacBooks, on the other hand, should have no trouble.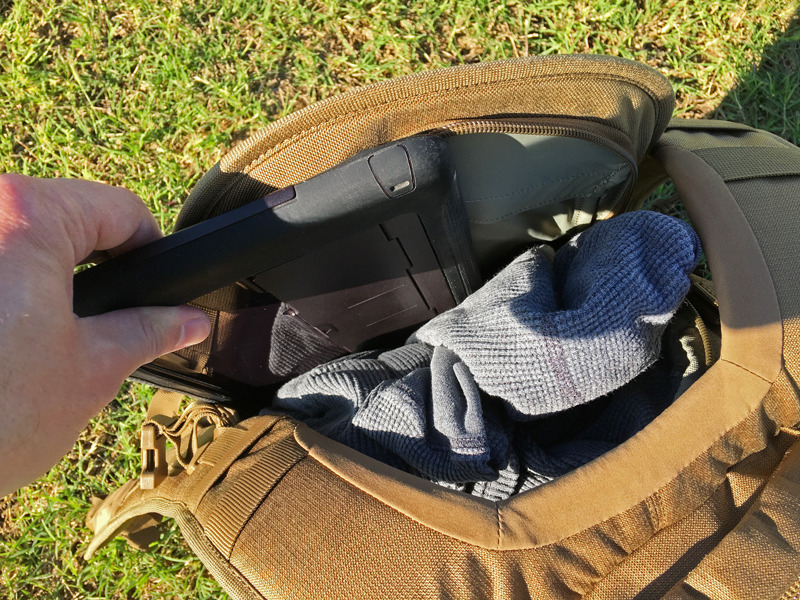 A welcome touch with the AMP24 is its ergonomic back panel. With an active load this tends to tilt the bag forward when you put it on the ground, but the benefit is that objects can't poke you, and you'll get some much-needed air circulation. That's especially important here in Texas, where the temperature's already topped 90 Fahrenheit in some instances.
For an iPhone and accessories, there's a plethora of places things can go. Behind the Hexgrid is a flat pocket, and the top of the bag has a shallower pocket useful for things like sunglasses. I was able to get an iPhone 6s Plus in there, albeit by wedging it in sideways.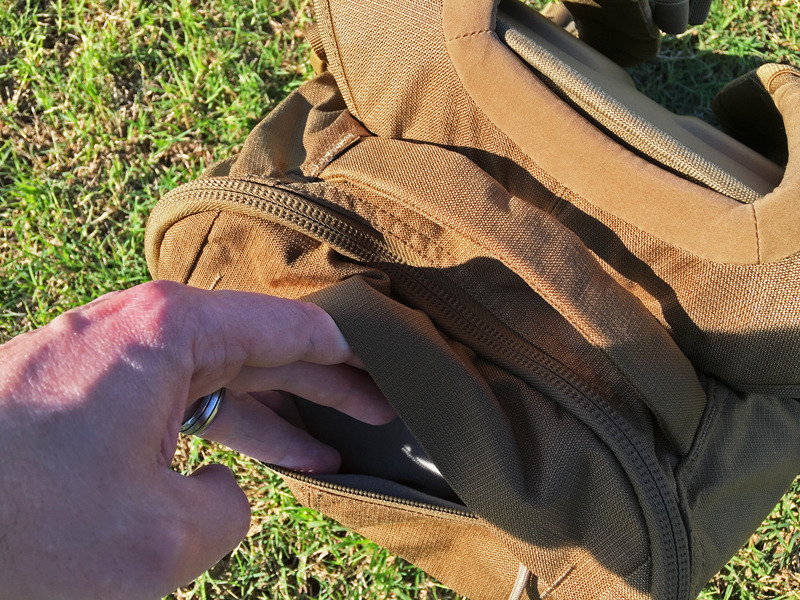 Inside the main compartment are two cloth sleeves — more than large enough for my 32-ounce protein shaker — and two mesh pockets. The biggest of the latter has zippers on either side, so you can unzip part of the compartment and easily fetch things like keys or cables.
If you're concerned about instant gadget access though, this may not be the pack for you. Should you keep a Mac in the laptop compartment, you'll have to navigate your hands around the shoulder straps to reach the zippers. Items can fall out of the smallest interior mesh pocket if you have the bag upright, and there are no exterior sidepockets, which would make it possible to reach things without slipping the bag off.
Something you will find on the side are straps meant to compress the bag when it's full. In practice I found these mildly annoying, since they would flop around or occasionally get in the way.
Conclusions
It took me a few days to adjust to the AMP24's idiosyncrasies, but since then I've come to appreciate what 5.11 was going for and generally enjoy it. Ultimately, what you're really paying for with the AMP24 is durability and maximum storage efficiency. This is the daily pack you get if you never want to buy another, or if you need to take your Apple gear into the wilds.
Score: 4.5 out of 5
Where to buy
Ready to pick up your own AMP24? 5.11 Tactical sells the rugged backpack for $189.99 with free shipping.