Cook: iPhone is 'made everywhere,' but US would be 'hurt most' from tariff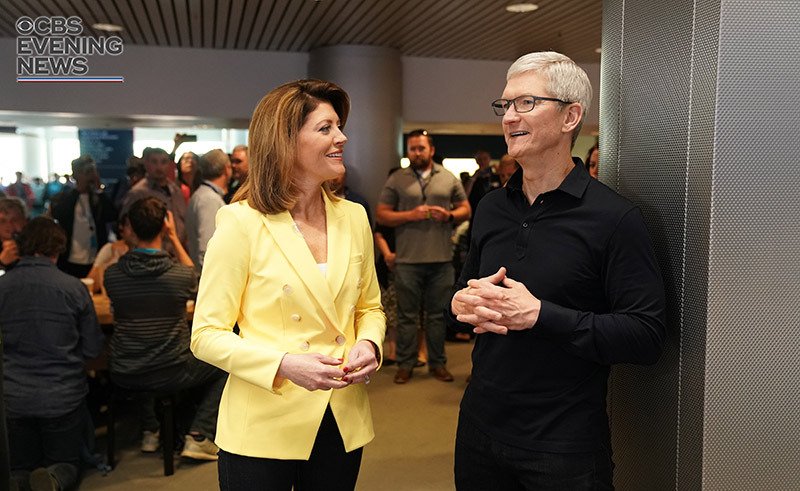 Apple CEO Tim Cook in a CBS Evening News interview aired Tuesday touched on hot-button issues like the U.S.-China trade war, saying his company has not yet been impacted by the international scrum. He also commented on recent scrutiny of Apple's outsized presence in the tech sector, its efforts to curb so-called device addiction and more.
Speaking with CBS Evening News managing editor Norah O'Donnell, Cook noted that while Apple has yet to see negative effects from the trade war, a potential tariff on iPhone would undoubtedly put a damper on sales.
Apple avoided a recent tariff hike on Chinese goods, but the company could get caught up in a another round of proposed levies worth $325 billion. Noting that a 25% tariff on the already expensive iPhone XS would add another $160 to its final price, O'Donnell asked whether such a scenario would impact sales.
"Sure it would. I'm hoping that doesn't happen," Cook said. "The truth is, the iPhone is made everywhere. It's made everywhere. And so — a tariff on the iPhone would hurt all of those countries, but the one that would be hurt the most is this one."
For now, however, iPhone and other Apple devices are for the most part free and clear of President Trump's tariff play. The Chinese have also left Apple untouched.
"Well, it — currently — the Chinese have not targeted Apple at all. And I don't anticipate that happening, to be honest," Cook said.
Cook said much the same in April, noting effects of the trade war were near non-existent. At the time, the executive touted Apple's performance in the important growth market, saying sales were on the mend after a trouncing in late 2018.
It has been speculated that the exemption of Apple products from America's major tariff rounds is in part thanks to Cook's working relationship with Trump. Reports last year claimed the Trump administration promised Apple, and more specifically iPhone, would not be caught up in what has become a brutal trade struggle.
Cook commented on his relationship with Trump during Tuesday's CBS Evening News interview.
"I think we've had very straightforward discussions, many of them. He listens to the comments, which I appreciate," Cook said of Trump. "Sometimes he doesn't agree. But my philosophy on things is that, you always engage, even when you know that you're gonna wind up on very opposite sides."
O'Donnell pointed out that Cook, unlike other tech CEOs, regularly engages with the White House.
"I do. And I'm proud to. I mean, because I don't believe in the 'I disagree with you, and so I don't want to have anything to do with you,'" Cook said. "The way you stop the polarization is to talk. This is sort of like step one. And — I don't want to be part of the problem. I want to be part of the solution."
The Apple chief also responded to criticisms charging the company is a monopoly. As seen on Monday in a preview of the full interview, Cook disagreed with assertions that Apple is "too big."
"No, I don't think so. I think that with — but with size, I think scrutiny is fair. I think we should be scrutinized," he said. "I don't think anybody reasonable is going to come to the conclusion that Apple's a monopoly. Our share is much more modest where we don't have a dominant position in any market."
Cook said in no uncertain terms that Apple is not a monopoly. He also took issue with Sen. Elizabeth Warren's (D-MA) call to break up big tech companies.
O'Donnell quoted Warren, who is running for president in 2020, as saying, "Apple should break up its App Store and other parts of its business."
"Well, I strongly disagree with that. I think some people would argue, if you are selling a good, then you can't have a product that competes with that good. That's an argument more that takes you down the path that Walmart shouldn't be stocking alternative or house brand," Cook said. "And so this is decades of U.S. law here. And we'll be — we'll tell our story to anybody that we need to or that wants to hear it."
O'Donnell asked Cook about Screen Time, an iOS feature designed to help users better manage device usage. Echoing previous comments on the feature, Cook lauded Screen Time's ability to curb device addiction.
"I'm saying we made the phone not so that you'll use it all the time. We made the phone to make your life better," Cook said. "But for me, my simple rule is if I'm looking at the device more than I'm looking into someone's eyes, I'm doing the wrong thing."
Cook went on to reiterate remarks regarding immigration and data privacy.