WWDC19 flexes Apple Watch muscles with HIIT, 5K run and yoga

Beyond its engineering labs and technical sessions, Apple's Worldwide Developer Conference also hosts a series of early morning exercise workouts for ambitious attendees. This year, its high-intensity interval training (HIIT) workout and 5K fun run have drawn incredible crowds of participants, most wearing an Apple Watch.
On Wednesday morning, about 500 runners — nearly 10% of all WWDC attendees — showed up early for the 5K fun run. Yesterday, Apple hosted a 40-minute HIIT workout with Aaptiv, the App Store's top audio fitness title, also bright and early at 7 a.m..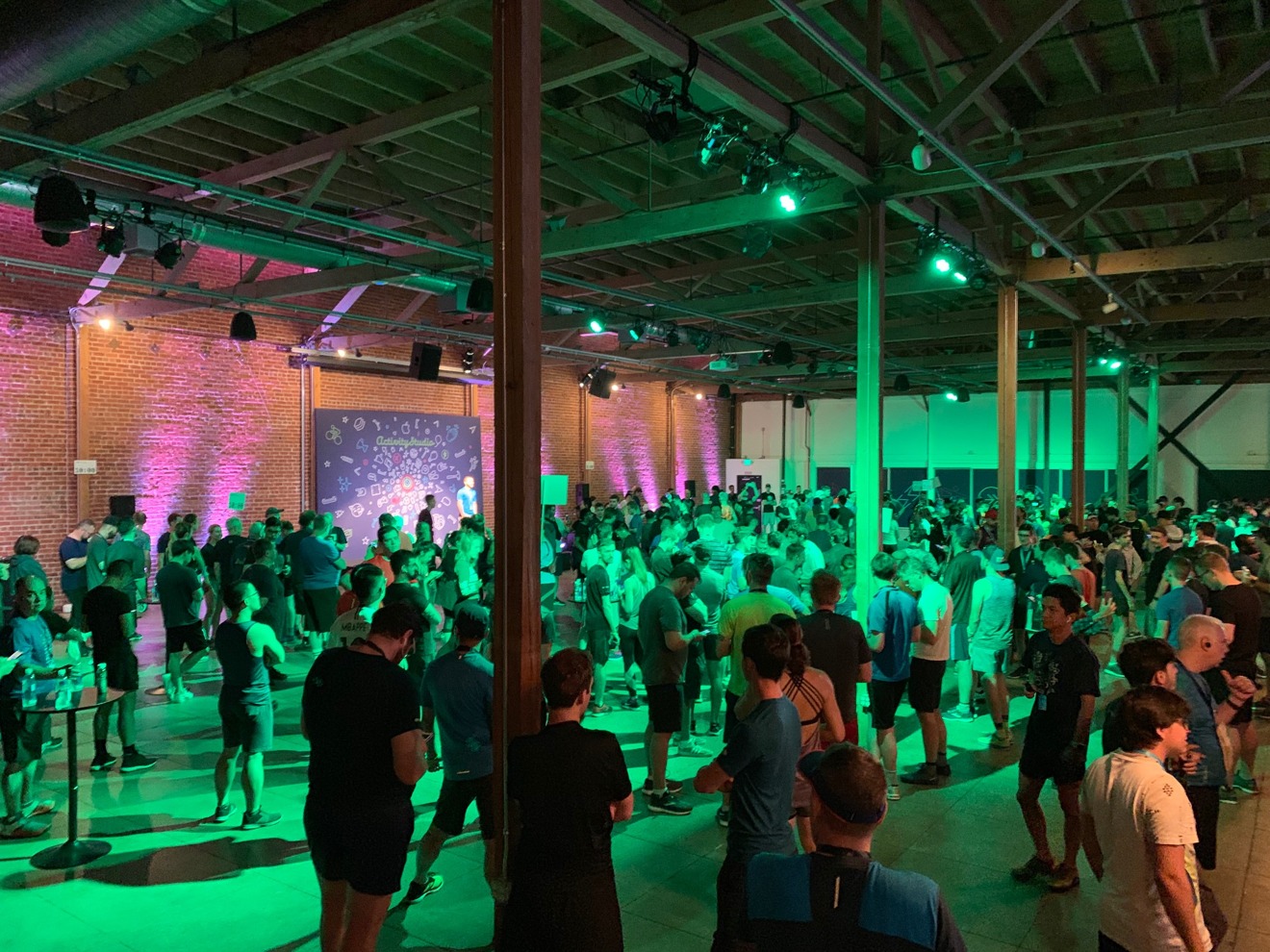 Apple bought out Forager, a downtown San Jose restaurant near the convention center where WWDC is being held, to build out a temporary activity studio for the fitness events. The venue seats 700, but attendees who showed up to sweat filled the floor with little room to spare.
Yesterday I burned 751 calories within the hour, with my heart reaching a reasonable 134 bpm, according to Apple Watch. This morning I set a new record for calories burned on a run. Unsurprisingly, most of the attendees there to work out were also wearing an Apple Watch. There's something addictive about wanting to work harder when you see some tangible results of your work.
Watch where the puck is going
That's been a theme Apple has been pursuing as a strategy since at least 2013 when it hired Jay Blahnik, a fitness guru that had been working on Nike's FuelBand.
At the time, Apple's chief executive Tim Cook had praised FuelBand as a "great product" in contrast to Google Glass, which he predicted wouldn't gain traction as a mass-market product, and at best might end up a niche product with limited appeal.
"The whole sensor field is going to explode," Cook stated in an interview with Walt Mossberg. "It's a little all over the place right now. With the arc of time it will become clearer."
Within a few years, Apple had morphed its fading iPod product lineup into an entirely new class of wearables, with health and motion sensors and advanced capabilities that borrowed from both iOS and the advanced custom silicon powering the relentless advancement of iPhone.
Apple Watch also informed the company's future directions for iPhone X, exploring water resistance, OLED screens, and advanced new sensors, materials, navigation gestures and passive biometric authentication.
But more than anything else, Apple Watch pushed the company deeper into the realm of health and fitness, as Blahnik outlined in 2015 as Apple iterated on its fitness-oriented Apple Watch strategy.
This year, Apple outlined new fitness-related features for watchOS 6 including Activity Trends for tracking your progress over time, direct audio streaming and the extended runtime API for using mobile Watch features independently.
Fit at WWDC
Two years ago at WWDC17, Blahnik introduced scholarship students to Apple Watch and its Activity app in their event orientation, noting how the technologies exploit gamification as a way to encourage users to stay active, sit less and get more exercise.
Last year, Blahnik joined Julz Arney, also from Apple's health and fitness tech team, to introduce the WWDC18 fun run in partnership with Nike Run Club.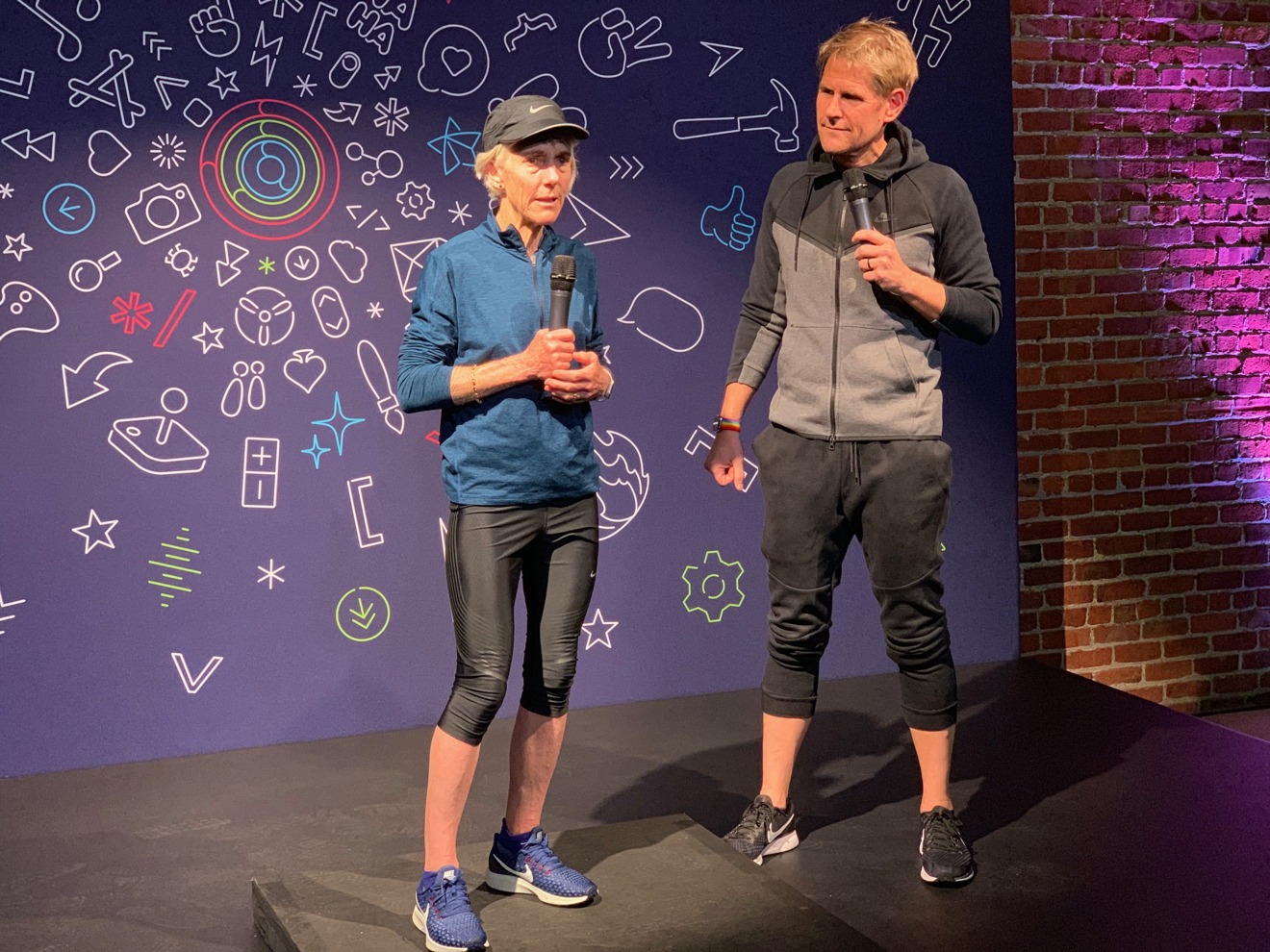 This year, Blahnik and Arney kept the WWDC run going, introducing marathon history maker Joan Benoit Samuelson — a superstar who has run and won marathons around the world across five decades. Samuelson has absolutely destroyed records in the world of running. She was the first winner of a Women's Olympic Marathon event in 1984, at a time when many supposed experts in the field thought that it was not advised or safe for women to run long distances.
The huge turnout for the run finished a 5K course that wound around the WWDC venue and down the Guadeloupe River Trail, passing by the Discovery Meadow area where Apple will hold its WWDC Bash Thursday evening.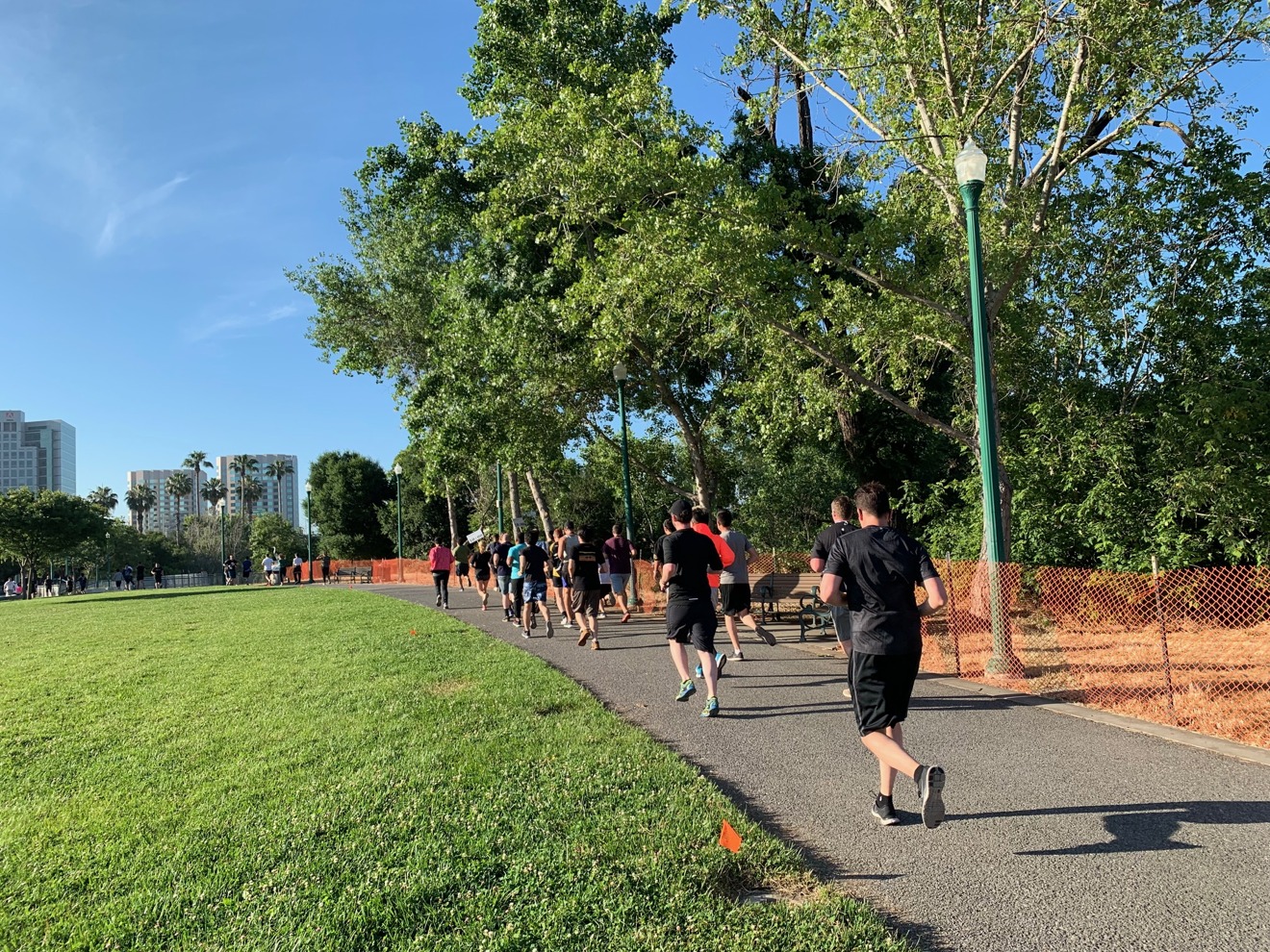 For WWDC attendees who haven't yet participated in a fitness event, tomorrow morning Apple has scheduled a "Yoga Mind Body Reset" in partnership with the popular health and meditation app Glo. Like the HIIT and Run, it will be held at the Activity Studio Apple built inside Forager, located at 410 S First, a couple of blocks from WWDC. Attendees can register within the WWDC app.