Review: WaterField's Tech Rolltop Backpack is a durable if pricey status symbol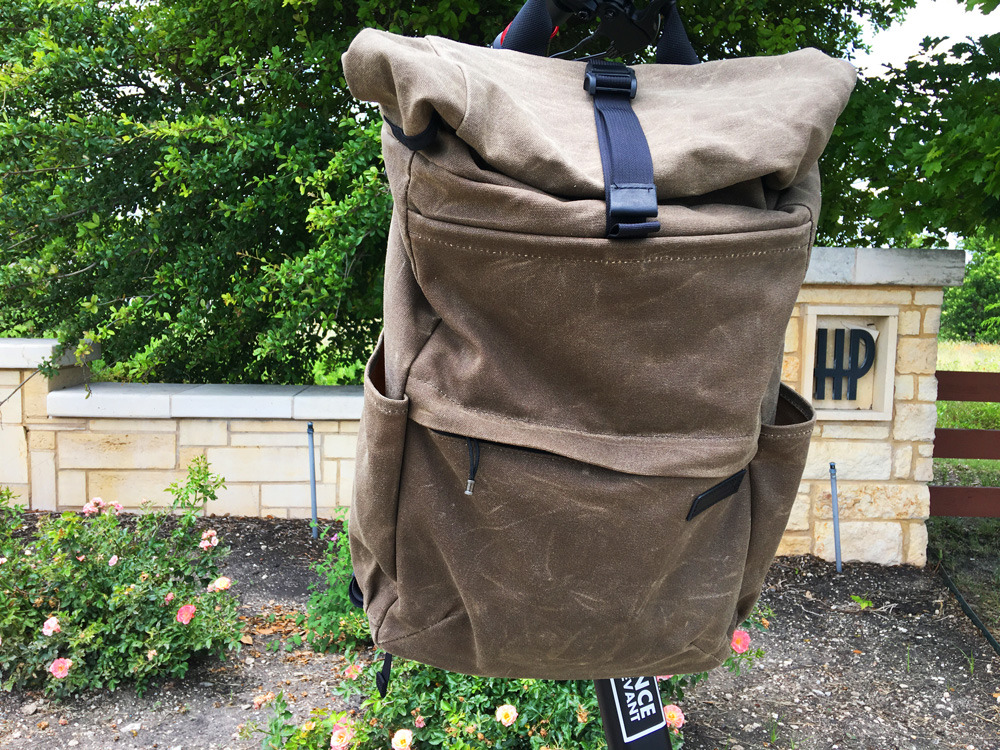 WaterField's latest backpack is a durable and versatile option for carrying your MacBook, iPad or other tech gear, but the price is only worth it if you put style on the same pedestal as function.
Sometimes I feel as if there's a separate, alien world of Apple buyers out there. To an extent I can understand the people who plunk down $1,000 on a new iPhone or $3,000 on a new Mac — you're often spending hours with these machines day-in and day-out. If an iPhone is your primary device, an XS Max may not be far-fetched.
But as Apple fans are probably aware, there are some absurdly expensive accessories out there. Leather-wrapped chargers, Swarovski iPhone cases, Hermes Apple Watch bands, and so on, many of which cost a lot without adding tangible value. The makers of these products count on the fact that someone who can afford a $1,000 iPhone probably has cash to spare.
WaterField, I'd say, falls somewhere in between luxury and pure practicality. Just about all of their products are made of materials like leather, suede and canvas, yet while that's unnecessary it does have value in the context of things like pouches and backpacks.
The Tech Rolltop Backpack is if anything the most utilitarian thing they've made. As its name implies, the signature feature is a collapsible top — this lets you shrink down if space is at a premium, or stuff the bag to the gills when it counts.
The product comes in either waxed canvas or ballistic nylon, depending on the color you want, and in two sizes: "Compact," holding up to 15 liters, and "Full," storing up to 24. We went with the Full option in brown waxed canvas.
The tech focus of the Rolltop is evident is several respects. Two outward-facing pockets include an unsealed one for quick access to things like cards, your iPhone or headphones. A mesh laptop/tablet compartment sits up against your back, and the interior has a padded sleeve compartment that can fit a 15-inch MacBook. Only the Full bag can hold 15-inch laptops within the mesh section.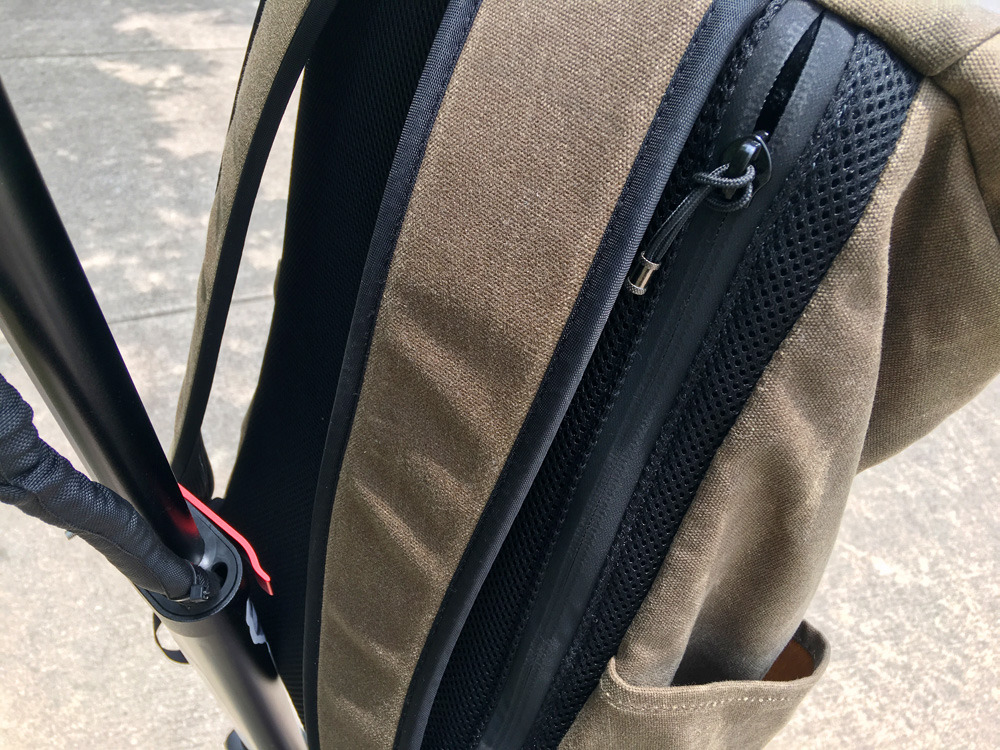 WaterField sees the bag as useful for more than just the office, and along those lines there are two exterior side pockets. They're relatively spacious, so they should be handy for things like GoPros, water bottles, protein shakers or even Bluetooth speakers.
The Full model feels equally spacious when you open up the main compartment. By design it includes just two divisions: a plush sleeve for your MacBook or iPad, and a zippered pocket for cables, chargers, and other small items. Some people might want additional pockets, but I imagine most won't complain.
The sleeve is probably preferable for carrying hardware versus the exterior mesh, which is less comfortable and leaves your devices exposed to the elements. You may need to start with the the former when packing the bag though — I found that if I waited until clothes and other items were in, even a 9.7-inch iPad (in a rugged case, mind) was troublesome.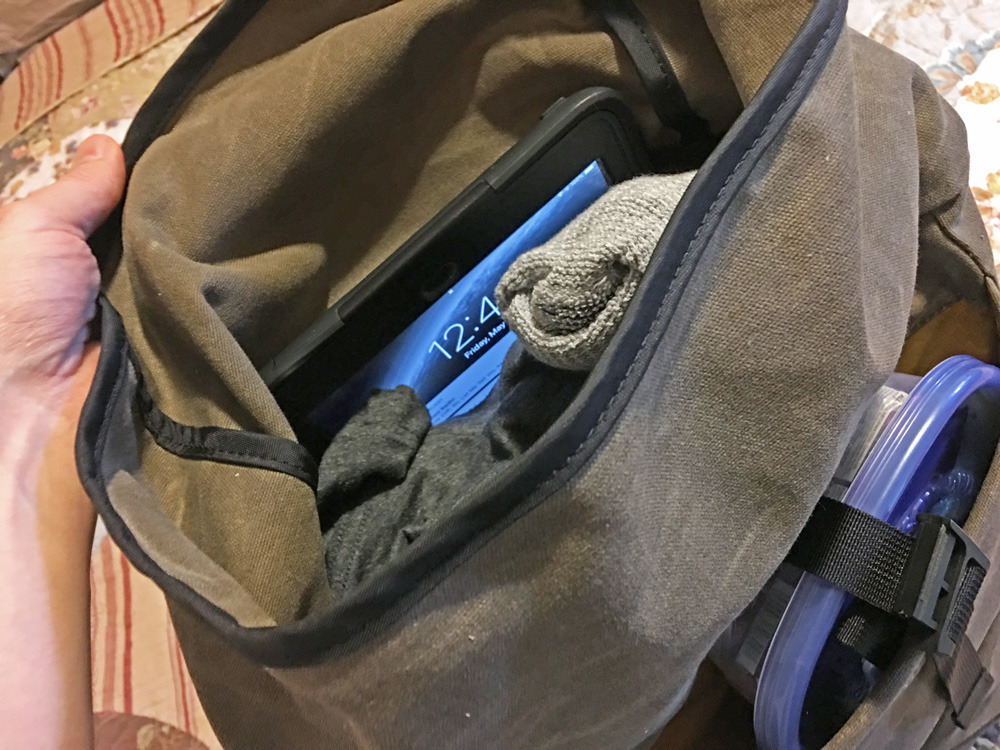 The Rolltop does indeed let you cram in extra versus regular bags, for the simple reason that the top is flexible and opens straight. I tested it under a few circumstances, including using it as a grocery bag — I was able to fit three large boxes of protein bars and four packages of ground turkey with room to spare.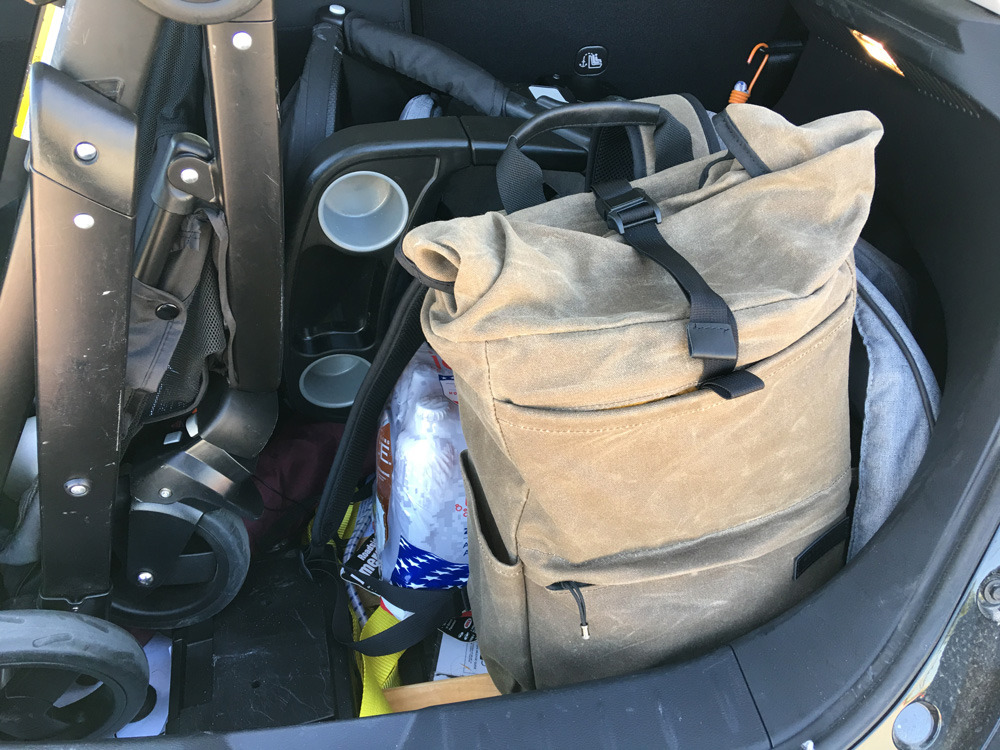 If you're planning to use the product for weekend or overnight trips, you should absolutely buy the Full model. On a brief Houston trip, one night and one day, even that size was just barely enough.
The same goes if the bag is handling both work and fitness. You should be okay if you don't need to bring much to work beyond your tech gear, but it could be difficult to stash lunch, books, shoes, clothing and electronics simultaneously.
All that said, the product is extremely well-made. Stitching is tight and materials are tough, especially the waxed canvas, which seems like it would take a Bowie knife to rip. The canvas and interior lining alike are water-resistant, although you need to leave rolling headroom if you're expecting rain or snow.
Other nice touches include an adjustable magnetic clasp, and foam lining at the bottom that helps preserve the bag's shape when you're loading it.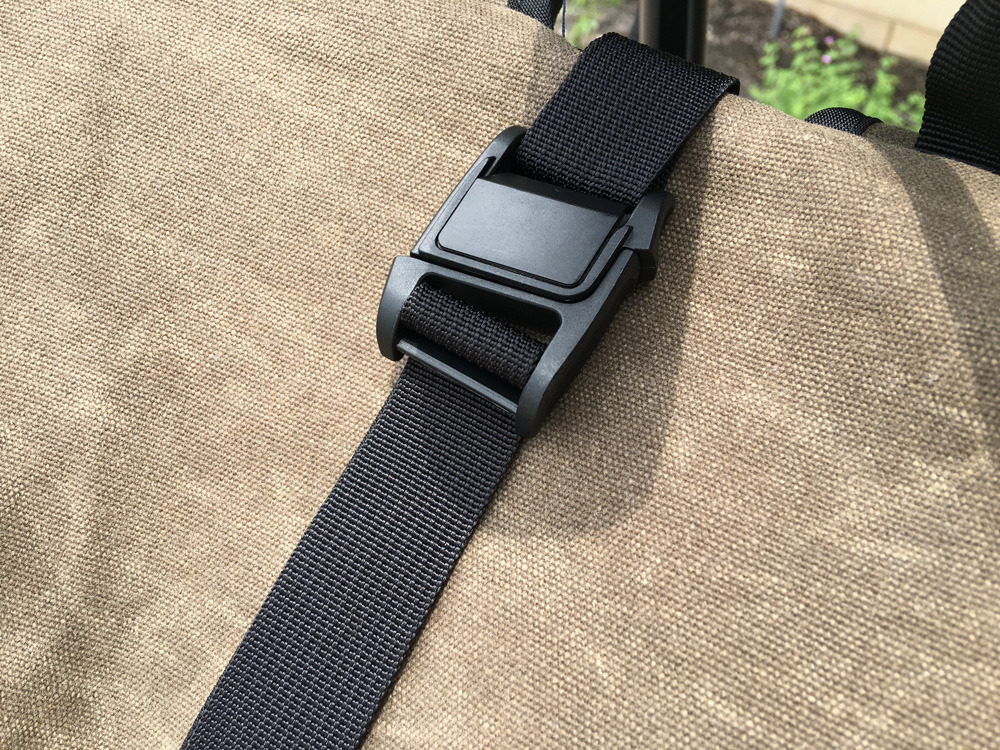 My only remaining complaints start with the potential awkwardness of a rolltop design. If you need to grab something from the bottom you'll have to plunge most of your arm in, which might nudge some people towards alternatives.
The other gripe is price. The Compact Rolltop is $229, and the Full is $249, which is an awful lot to spend on a backpack. When you consider that a bigger, equally durable bag like 5.11's AMP24 is about $190, that's tricky to justify.
Which brings us full circle. This bag is really for people who want a status symbol as much as something useful — whereas a 5.11 product looks like you just got home from a tour in Afghanistan, WaterField's lineup is meant to blend in with the business casual world. In any environment, it'll probably impress your colleagues.
If you can afford it and fashion does matter that much to you, by all means buy the Tech Rolltop — you won't be disappointed.
Score: 4.5 out of 5
Where to buy