Apple to reveal Q3 2019 earnings on July 30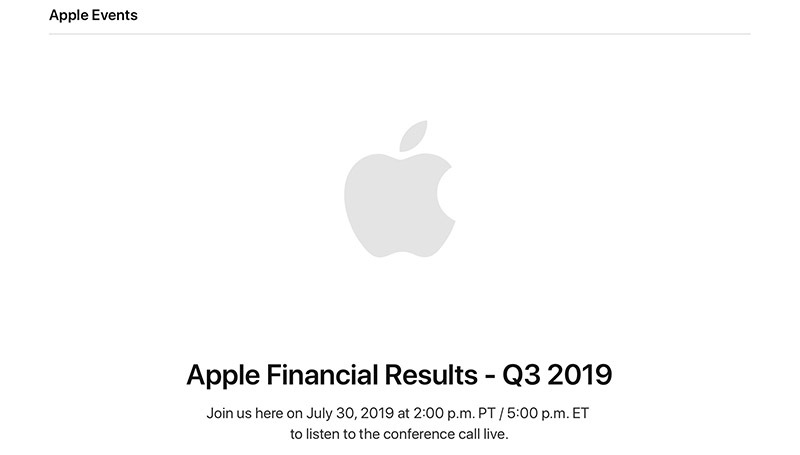 Apple will announce quarterly earnings for its third fiscal quarter of 2019 on July 30, with company CEO Tim Cook and CFO Luca Maestri expected to share details regarding specific segment performance in an investor conference call.
Apple's upcoming conference call was announced in an update to the Apple Events webpage on Monday.
As usual, Cook and Maestri are expected to provide an in-depth breakdown Apple's financials for the three-month period ending in June, as well as answer questions from prominent analysts. While the company no longer breaks out unit sales of iPhone, Mac and iPad, it does offer product line revenue, regional performance and other key financial metrics.
For the most recent March quarter, Apple's revenue ticked down 5% year-over-year to $58 billion on a continued iPhone slump. During the quarter, iPhone generated $31 billion, down from $37.6 billion during the same period in 2018.
Apple's services segment partially made up for the decrease in the company's bread-and-butter smartphone business with record revenues of $11.5 billion, up from $9.9 billion last year.
"Our March quarter results show the continued strength of our installed base of over 1.4 billion active devices, as we set an all-time record for Services, and the strong momentum of our Wearables, Home and Accessories category, which set a new March quarter record," Cook said at the time. "We delivered our strongest iPad growth in six years, and we are as excited as ever about our pipeline of innovative hardware, software and services."
Apple could provide insight into Apple News+, the new subscription news service that debuted this spring. Early reports claimed some 200,000 people signed up for a free trial of the service in its first 48 hours of availability, though long-term retention is as yet unknown.
Apple is forecasting revenue between $52.5 billion and $54.5 billion for the third quarter. Operating expenses are expected to fall between $8.7 billion and $8.8 billion.
AppleInsider will offer full coverage of the earnings call on Tuesday, July 30, starting at 2 p.m. Pacific, 5 p.m. Eastern.