Apple News is beginning to pay off for some European publishers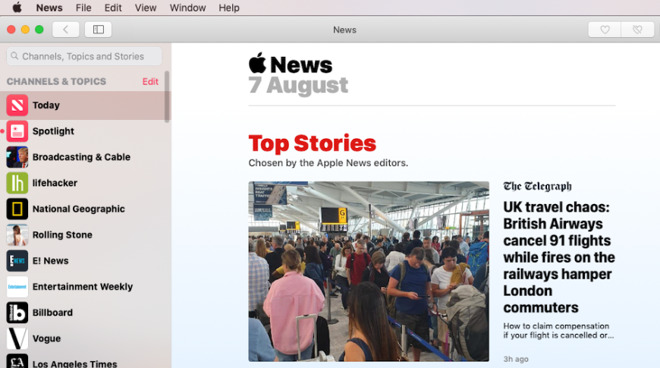 AppleInsider may earn an affiliate commission on purchases made through links on our site.
Even without Apple News+ being available in the region yet, publishers across Europe are reporting notable increases in revenues from Apple News.
According to media and marketing publication Digiday, publishers in Europe are starting to see increased revenues from being on the basic Apple News service. While Apple News+ has not yet launched outside the US and Canada, readership there is on the rise and so is advertising.
Stylist magazine, for instance, says that ad impressions for April to June have tripled and revenue has increased 100%. The company won't reveal its previous figures, but does say that it expects to earn $12,000 per month by the end of this year.
Publishers are reporting that while revenue is not large — "We wouldn't have a salesperson to sell this tiny piece of traffic," said one — the financial figures are starting to become more in line with readership numbers.
"We're seeing quite good traffic from Apple News," said an unnamed publishing executive, "but the revenue is not show-stopping."
He or she told Digiday that their site gets around 9 million page views on Apple News on a good day, with occasional spikes to 20 million when Apple features them in the app's Top News section. This publisher is typically getting low thousands of dollars per month from Apple News.
Similarly, an unnamed other publisher told Digiday that its revenues were up 145% over June to July. Another refused to reveal revenues, but said that in July it had reached over one million page views on per week for the first time on Apple News.
Digiday reports that one perceived reason for the increased revenues comes from how advertisers are searching for what are called cookieless-advertising environments or contextual targeting. In general, ads relying on cookies are declining because of increased use of blocks on ad tracking such as in Safari.
Apple News doesn't provide personal information about users, but it does provide the facility for advertisers to target certain topics.