Nomura predicts poor 2019 iPhone sales, warns over 2020 5G optimism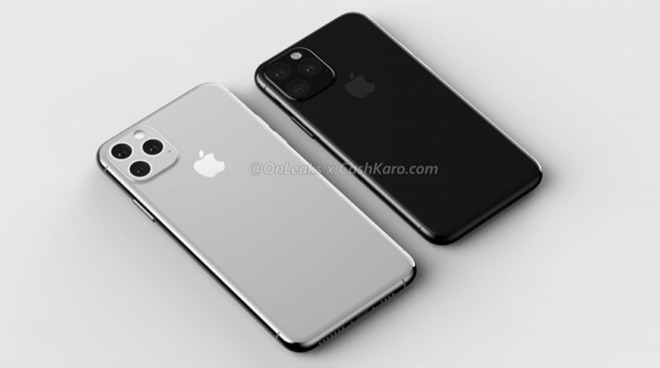 AppleInsider may earn an affiliate commission on purchases made through links on our site.
Apple's 2019 iPhone refresh will be disappointing, according to Nomura Instinet, with financial analysts cutting their estimates to below the Wall Street consensus with the added belief other takes on the 5G-equipped 2020 models are too optimistic.
The upcoming launch of the 2019 iPhones will not improve demand for the product line, an investor note from Nomura states, due to a lack of major updates. "We see risk to December-quarter estimates," the firm warns.
It is currently believed the 2019 iPhones will largely consist of specification-bumped updates to the 2018 iPhone XS, iPhone XS Max, and iPhone XR, but with one extra camera on the back. The triple-camera setup on the OLED-based models will offer an ultra-wide lens, on top of existing wide and telephoto cameras.
As part of the lack of belief in Apple's sales, Barrons reports Nomura lowered the earnings per share prediction for the quarter from $4.59 to $4.30, putting it below a Wall Street consensus of $4.77. The company maintains its $185 target for Apple's stock price.
As for how much Apple will sell, Benzinga reveals Nomura anticipates average selling prices of $745, below Wall Street's anticipated $749 average. Unit shipments are on a par with Wall Street, with both saying 186 million iPhones will ship.
Based on reports from suppliers, it appears that Apple anticipates the sales of the 2019 models will be at roughly the same levels as 2018's collection, ordering a similar number of units from its assembly partners and component providers as previously.
Nomura's dim view of Apple's fortunes extend into 2020, in part due to the high optimism of other analysts that 5G connectivity will invigorate sales. "We believe many investors are looking ahead to the 2020 5G iPhone launches," Nomura believes, before cautioning "iPhone estimates may be optimistic and that the shape of the 5G cycle remains uncertain."
All of the 2020 models are tipped to have 5G connectivity, driven by a deal struck with Qualcomm to supply iPhone modems to Apple. The speculation of supporting the communications standard in the model and the potential for consumers to wait for that model to upgrade has led to some analysts to raise their stock targets, including in one case up to $250.