Apple Arcade available on September 19, play all you want for $4.99 a month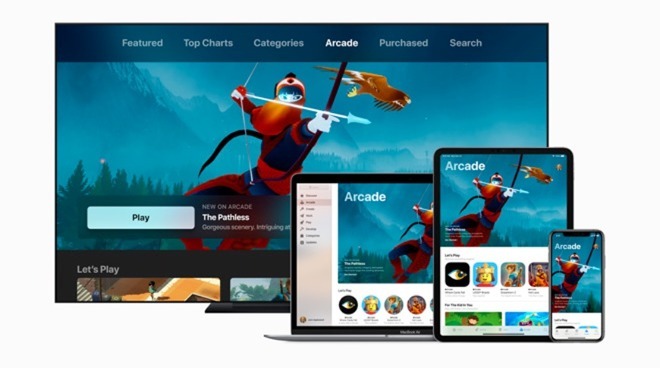 AppleInsider may earn an affiliate commission on purchases made through links on our site.
Apple has launched its new gaming service, Apple Arcade, featuring a play-all-you-want subscription model.
The service brings new and exclusive titles — as well as a few favorites from other platforms — to the iPhone, iPad, Apple TV, as well as macOS. Apple Arcade is available to play in 150 countries globally.
Apple Arcade gives players a chance to check out over 100 exclusive games from over 35 different gaming studios. Studios include Bossa Studios, Disney, Konami, Lego, Sega, and Cartoon Network. Apple says that no game service has ever launched with so many games.
Apple Arcade will cost $4.99 a month, giving users the chance to play as many games as they want without annoying in-app purchases or in-game advertising.
Apple Arcade will be located in its own tab in the App Store, where subscribers will be able to to download the titles they're interested in. Players will also be able to watch trailers for new games within the Apple Arcade tab.
Titles include Frogger in Toy Town, Lego Arthouse, Sonic Racing, The Bradwell Conspiracy, and more. The games span across many genres, from rhythm games to platformers, genre-bending puzzle games to narrative-driven stories, among others. Apple has reportedly spent over $500 million dollars to tap top talents in the gaming industry to create a service that would be widely appealing to users.
Last month, Apple had begun doing an internal load test and allowed Apple employees to sign up for a beta test prior to launch.
Apple has expanded their subscription services in recent years, starting with Apple Music and now with Apple Arcade and Apple TV+.