Hands on with the black Hermes Apple Watch Series 5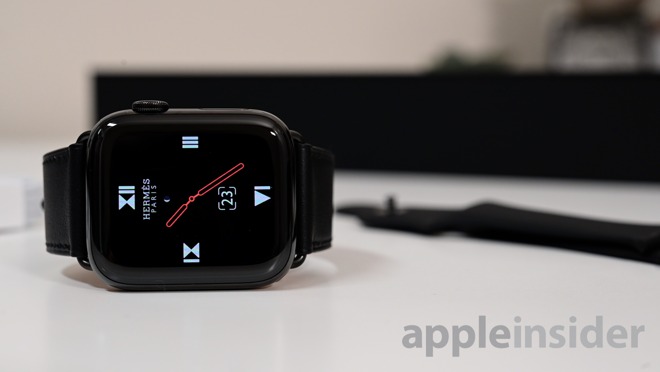 AppleInsider may earn an affiliate commission on purchases made through links on our site.
Hands on with the new space black Hermes Apple Watch Series 5 — a new premium option with a dark appearance, and a higher price tag too.
Apple has a seemingly renewed focus on the premium Apple Watch models this year with the Series 5. The "Edition" line has returned, bringing with it a brand new titanium case material, as well as bringing back the much-loved but previously-discontinued ceramic version.
The longstanding Hermes line continues, too, with Apple offering more options this year. For the first time, the Hermes Apple Watch is offered in a dark appearance, along with matching straps.
As before, you can buy the Hermes Apple Watch with a regular stainless steel case, but now you can also have it in Space Black. If you buy the larger 44mm size Watch then the Hermes strap you get will be what's called a single-tour one, meaning it's a similar length and fastening to most straps.
However, if you go for the 40mm size, you also have the option of a double-tour strap.
What's included
Whichever size or type of strap you buy, you'll find the same standard Apple Watch essentials in the gorgeous new black box. There's a charging puck, a wall charger, getting started material, and of course the bundled band.
There are small tweaks to many of these components that are unique to the Hermes edition, however.
For example, this Apple Watch comes with an additional black Sports Band. It feels and mostly looks like the same regular Sports Band, but it's unique to Hermes. It comes with a stainless steel pin and has the words "Hermes Apple Watch" etched underneath.
The charging puck has a stainless steel covering rather than the plastic coating the aluminium models come with. If you pick up a standard stainless steel Apple Watch, you too will get the steel charger.
The bands
The black Hermes Apple Watch comes with either a single- or double-tour black leather band. this band feels exceptionally soft and pliable and is very comfortable when worn.
The name "Hermes" is etched into the end of the clasp, though it is very subtle. Brown leather encompasses the wrist-worn side of the bands.
If you've liked Hermes bands before, you'll like these new black offerings just as much.
Custom watch faces
As before, these special versions of the Apple Watch come with slight but significant software differences. So rounding out the custom Hermes Apple Watch is a series of exclusive watch faces.
There are technically two to choose from — Hermes and Noir Hermes. The latter is a minimalist face with very limited option to customize with complications.
However, you still get last year's exclusive Hermes face and that one brings many options for complications as well as typography, the dial, and the color.
A premium experience
It's a more expensive Apple Watch with all of the interior hardware identical to every other Series 5. However, Apple Watch Hermes is all about the experience.
It arrives in a dark, black box that is far nicer than what lesser Apple Watches arrive in.
The bands are wrapped in a microfiber pouch that protects them during travel, and a bonus Sports Band is included so users never have to wear the leather to the gym.
Altogether, the single-tour model we tested retails for $1,300, and that's a $550 premium over the standard stainless steel model.
This isn't a case where you can compare specifications or somehow evaluate real-world usage in order to determine whether the cost is worth while. Only you can make that decision, but fortunately you probably already knew from the first glance whether you are in the market for one of these Hermes Apple Watches.
Where to buy