Kuo: 2020 iPhone will borrow from iPhone 4 metal frame design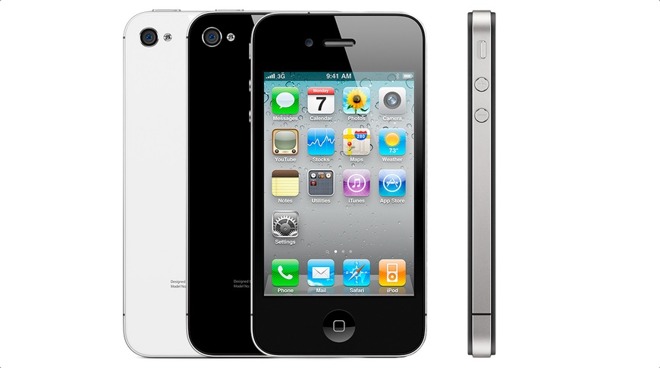 The 2020 iPhone could use a new metal frame for its chassis, a research note from famed Apple analyst Ming-Chi Kuo claims, one that could borrow some of the design ideas first presented in the iPhone 4 nine years ago.
Next year's iPhone, widely believed to include 5G connectivity among other features, could also include a major design change that alters how the iPhone is constructed. The investor note from TF International Securities' Ming-Chi Kuo describes the change as "significant," and will be a major selling point for the smartphone.
The design will include a metal frame with a "more complex segmentation design, new trenching and injection molding procedures, and sapphire or glass cover assembly to protect the trench injection molding structure." Kuo goes on to claim the "metal frame and front and rear 2/2.5D glass are still used, but the metal frame surface will be changed to a similar design to the iPhone 4, replacing the current surface design."
The famous Jony Ive design for the iPhone 4 consisted of an aluminum frame around the edge of the iPhone, with glass to the front and the rear. MacRumors reports that grooving and injecting of the metal into the frame will lessen the negative impact of metal shielding on the internal antenna, which would affect its ability to transmit high-frequency radio signals, such as 5G.
Due to the changes, Kuo believes the cost of construction will increase for the metal frame by between 50 and 60%, while the glass case cost will go up between 40 and 50%. If tempered glass is used for the grooved cover, the metal middle frame and chassis cost could go up by 25 to 35% and 20 to 30% respectively.
According to Kuo's predictions, the new design will help improve supplier revenue and profitability, and could help increase shipments to 85 million units in 2020, 10 million more than the 75 million reckoned to happen in 2019.
The design will only be one part of a number of changes incoming in the new model, according to Kuo. The analyst previously advised of three iPhones arriving for that year, with all three set to include 5G connectivity.