Mac shipments grow slightly, but Apple's PC market share shrinks [u]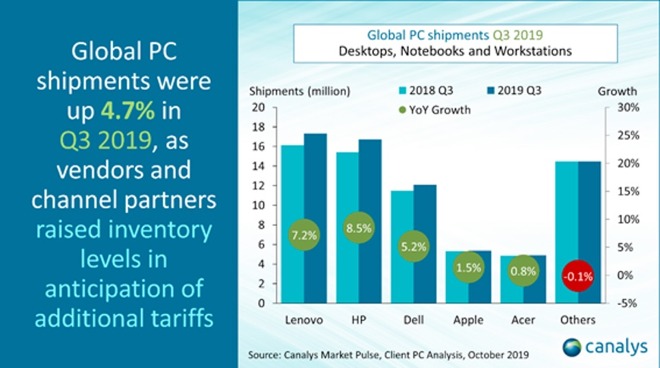 AppleInsider may earn an affiliate commission on purchases made through links on our site.
Apple's market share in the global PC market shrunk slightly in the third quarter of 2019 compared with last year, according to Canalys, despite the company seeing a year-on-year increase in Mac and MacBook shipments.
The global PC market saw considerable year-on-year growth, with shipments increasing 4.7% to 70.9 million units in the third quarter of 2019. Canalys claims this is the best performance for the market since the first quarter of 2012, where shipments grew 5.4%.
Despite the growth, the percentage improvement mostly stems from other PC vendors, rather than Apple. Canalys reckons Apple shipped 5.376 million Macs and MacBooks in the third quarter, a rise of 1.5% from the 5.299 million it believes Apple shipped in the third quarter of 2019.
However, due to the 4.7% growth of the market as a whole, despite Apple's increase, its market share is actually down, from 7.8% to 7.6%.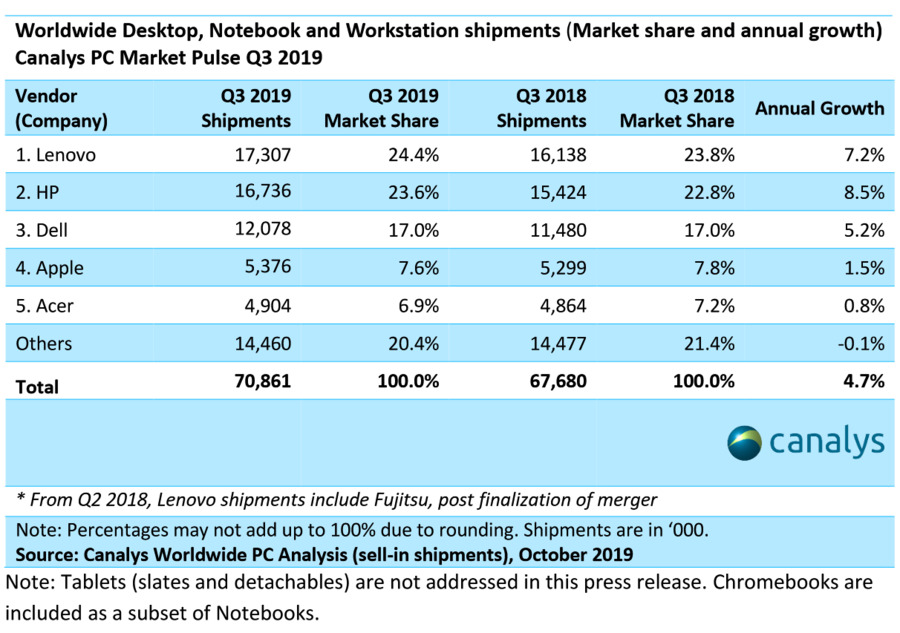 Other vendors on the list saw both unit and market share growth over the period for the most part, with top-performing Lenovo seeing 7.2% growth in shipments to 17.3 million and acquiring 24.4% of the market. Following behind is HP with 16.7 million units, 8.5% growth, and a 23.6% market share, but while Dell saw 5.2% year-on-year shipment growth of 12 million units, its market share remains static at 17%.
In the United States, factors like upgrades to Windows 10 and seasonal inventory stocking for the holidays helped increase shipments, though for some volatile regions, companies had to take "precautionary measures" to hedge against disruption. One example is the tariffs applied by the US against Chinese imports, heavily affecting the market and causing vendors to increase production orders ahead of the December 15 deadline.
For Apple specifically, shipments were up 3.0% year-on-year in the United States, allowing it and HP to increase faster than the market average. However, the uncertainty of Brexit in Europe restricted demand, and Apple was the only vendor in the top five to not see shipment growth for the region.
While Apple isn't leading the market in terms of shipments, it is however in first place when it comes to consumer satisfaction in the United States. ACSI rankings put Apple in the top position for the second year in a row, including for notebook and tablet segments, but was edged out by Samsung for desktops.
It isn't clear how accurate the figures are. Apple doesn't report sales data per unit anymore, making direct comparisons, and quarter-to-quarter corrections impossible. When Apple still reported numbers, Canalys numbers — and every other analysts' — were often well off the mark.
Update: Market research firms Gartner and IDC also released their latest numbers on Thursday. According to Gartner, Mac shipments dropped 3.7% year-over-year to 5.1 million, a figure representing 7.5% of the market. The firm estimates the overall PC market grew 1.1% over quarter three.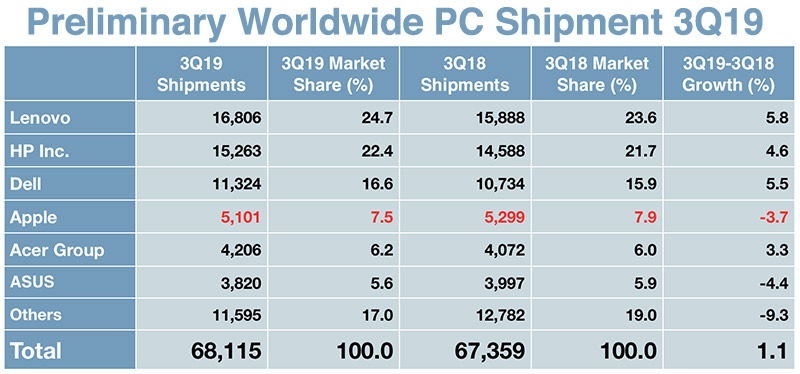 IDC's numbers show Mac at 5 million shipments for the quarter, down 6.1% on the year. Apple managed a 7.1% marketshare as overall growth was estimated at 3%.