Notes of interest from Apple's Q4 2019 earnings report and conference call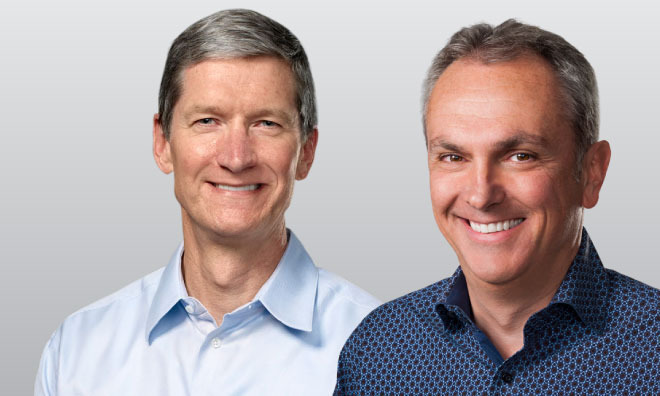 Following the publication of its final fiscal quarter of 2019 results, encompassing July through September, Apple provided additional detail surrounding the particulars of the report during an hour-long conference call.
Apple's fourth fiscal quarter earnings
Apple reported revenue of $64 billion, with a profit of $13.69 billion. Specifically, $33.36 billion came from the iPhone, $6.99 billion came from the Mac, and $4.66 billion came from the iPad. Apple also reported $12.5 billion in services revenue, with an additional $6.52 billion coming from accessories, home, and wearables.
"We concluded a groundbreaking fiscal 2019 with our highest Q4 revenue ever, fueled by accelerating growth from Services, Wearables and iPad," Apple CEO Tim Cook said in a statement. "With customers and reviewers raving about the new generation of iPhones, today's debut of new, noise-cancelling AirPods Pro, the hotly-anticipated arrival of Apple TV+ just two days away, and our best lineup of products and services ever, we're very optimistic about what the holiday quarter has in store."
Participating in Thursday's call were Apple Chief Executive Tim Cook and Chief Financial Officer Luca Maestri.
Refresh this page frequently for the most up-to-date information.
Highlights from the earnings report, and the conference call
Apple is predicting revenue in the holiday quarter of between $85.5 billion and $89.5 billion
Gross margin for the first fiscal quarter of 2020 is expected to be between 375% and 38.5%
Apple executed $18 billion in share repurchases, and doled out $3.5 billion in dividends
For reference, Apple reported $84.3 billion in the first quarter of fiscal year 2019 — after it revised downward - MW
Tim Cook: Greater improvement in revenue trends in Greater China
Massive growth in Apple Pay, with greater growth rate versus PayPal
Q4 revenue records for wearables in every tracked market
17% growth in iPad Pro, ongoing momentum of lineup
Tough compare to last year's fourth quarter because of release cycle, but highest annual revenue from Macs ever over fiscal year
No new info on Mac Pro release
Overall success with annual revenue records in US, Germany, Poland, Canada, Korea, Philippines, Vietnam, and more
Luca Maestri: Foreign exchange negatively impacted revenue by $2 billion
Year over year in China has become more favorable in every quarter in FY19, 19% in first quarter to 2% in fourth quarter
Services gross margin, 61.4%
Active installed base of iPhone all-time high in each geographical segment
Business buyers - 83% plan to buy iPhones
All markets Services grew double-digit percentages
Services is 20% of the revenue mix, 33% of gross margin mix
Double-digit growth of paid Services accounts in every market in the quarter, 450M accounts, versus 330M year-ago-quarter
More than 35,000 subscription apps, largest is 0.25% of total services revenue
Best quarter ever for AppleCare
Over 5000 authorized service centers (including BestBuy)
MacBook Air best product in the quarter for revenue.
More than half Mac purchasers new to Mac
Active install base of Mac at an all-time high
Same for iPad with more than half new to iPad
Wearables, etc grown by AirPods, Beats, Apple Watch
Record revenue in every tracked market
More than 5x the iPhone trade-in volume versus 2018
At 5:29 PM Eastern Time, AAPL is up $4.33 per share after-hours - MW
Over $1B negative headwind in foreign exchange predicted for holiday quarter and incorporated in estimates
Nancy Paxton is retiring after 93 earnings calls, over 30 years with Apple
Questions and answer time!
Katy Huberty: Talk about drivers that will allow to return iPhone to growth
Cook: Thrilled with iPhone 11 family. "Early, but the trends look very good"
Current thinking is in guidance, says Cook.
Huberty: Lots of headwinds, including trade war possibility
Maestri: Higher mix of product revenue main driver of holiday revenue, better commodity pricing, guidance incorporates existing threats
Mike Olson - Piper Jaffray: Is health-related features a primary driver of wearables growth?
Cook: "Acceleration further from the previous quarter, we're thrilled with the results."
Cook: "Totality" of wearables is about what's driving growth. Use-cases vary.
Cook: "There will be a day in the future where we look back and Apple's greatest contribution will be to users' health."
Olson: Why give away Apple TV+?
Cook: "Gift to the users" - allows Apple to focus on maximizing subscribers in the early-going
Amit Daryanani - Evercore: Opportunities for product growth?
Cook: Opportunities abound, make customers happy
Daryanani - Attach rate for AirPods and whatnot to iPhone?
Cook: Not releasing attach numbers. "Nice try to get me to say that."
Cook: About 3/4 of Apple Watch buyers are new to Apple Watch
Cook: "AirPods just keep hitting new highs"
Shannon Cross - Cross research: China, trends & receptions?
Cook: "Very good September." The reception is good for iPhone 11 family
Cook: Significant improvement in China as the year has progressed.
Cook: Combination of things that have turned things around. Trade tension is less, looks positive
Cook: Not all about iPhone in China. Services grew double-digits, key gaming approvals have started
Cross: Operating expense growth faster than revenue?
Maestri: OpEx cyclical. Approach not changing.
Tony Sacconaghi - Bernstein: Why is guidance not stronger for the holiday quarter?
Maestri: Guidance implies an acceleration of growth, reiterates Forex negative headwind
Maestri: Launch timing of iPad Pro, Mac different on a year-over-year basis.
Sacconaghi: Will Apple hardware ever be included in a bundle? How will the free offer be accounted for?
Maestri: The Accounting math on the "take rate" is complex and will not be shared.
Cook: "We look at each service and determine what's best for it and us." Reiterates "gift for users."
Cook: "Not part of a broader pattern" but won't rule out a future free offering.
Cook: Some customers view hardware as a subscription now. It will grow disproportionately. Apple making it simpler to get on financing
Chris Caso - Raymond James: Will you be aggressive on iPhone pricing in the holiday season for elasticity?
Cook: Product is most important, and we like the pricing
Cook: Product first, prices fall out of that. We did decide to be more aggressive in the iPhone 11 pricing
Caso: Tariff impact on Apple pricing?
Cook: We're paying some now.
Cook: "My view is very positive in how things are going, and that positive view is factored into our guidance as well."
Samik Chatterjee - JP Morgan: Engagement on Apple Arcade? Guidance on subscribers?
Cook: Nope, no guidance on conversion rate. "Really pleased with the number of people that entered the trial"
Chatterjee: Upgrade rates on Apple Watch and wearables?
Cook: "We haven't seen enough upgrade cycles to establish a pattern."
Cook: Suspect that the AirPods Pro are a prime target for people that want a second pair
Call ends. So long, Nancy Paxton!