Apple's 'iRing,' AR headset resurface in Augmented Reality filings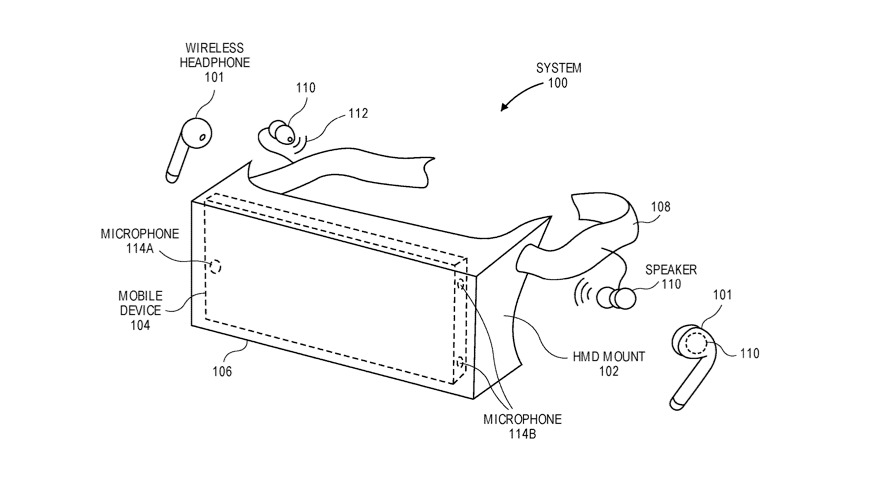 In a trio of new patents about Augmented Reality, Apple reveals that it is continuing to work on using a smart ring to help with detecting a user's motion, as well as new systems for playing relevant audio, and positioning virtual objects in the real world.
Details of certain ways Apple is approaching its forthcoming Augmented Reality system have been revealed in a series of related patents covering key aspects of the technology. The company continues to refine its headsets, this time detailing how the correct audio can be sent to the wearer, and how virtual objects can be consistently positioned in the real world.
Plus one patent proposes using a smart ring instead of a typical Virtual Reality glove. An Apple-designed "iRing" has been previously rumored since 2015 when a patent filing detailed such a device.
This is specifically for a headset where another device like an iPhone is mounted in front of the user's eyes.
"[The headset can be] configured to: determine whether the mobile device is mounted on a head-mounted display (HMD) mount," says the patent, "[then] transmit an audio signal from the device processor to a wireless headphone; and change an audio mode of one or more of the mobile device or the wireless headphone."
So when the iPhone is mounted in the headset, the audio can be automatically routed to that headset's speakers. When it isn't, the iPhone's own speakers are used instead.
A separate filing, patent number 20190346938, covers a "finger-mounted device with fabric."
While previous patents have shown Apple describing various systems using gloves or gloves with rings on several fingers to detect motion, this filing proposes that one smart ring could provide the necessary motion information.
"The use of wearable devices to gather input for controlling electronic equipment can pose challenges," says this patent. "If care is not taken, a device such as a glove may affect the ability of a user to feel objects in the user's surroundings, may be uncomfortable to use, or may not gather suitable input from the user."
Such a ring could contain "components such as force sensors, accelerometers, and other sensors and for haptic output devices."
"During operation, a user may wear the finger mounted units on the tips of the user's fingers while interacting with external objects," it continues.
Part of the need for precise detection of a user's motion is to do with how virtual objects must not only appear to be placed in the real world, but must be consistent, too. The objects need to be fixed in the real world and the user has to be able to locate them.
A third patent, number 20190347846, covers "techniques for locating virtual objects relative to real physical objects."
"Various electronic devices exist, such as head-mound devices (also known as headsets and HMDs), with displays that present users with experiences in which they may be fully immersed in a surrounding physical environment," says the patent.
"These devices often generate experiences utilizing pre-canned (or fixed) content to represent a CGR environment," it continues. "When presented on a display of an electronic device, that pre-canned content provides the same experience regardless of the physical environment in which the electronic device is physically located."