Apple and Salesforce release Trailhead Go education app for iOS, iPadOS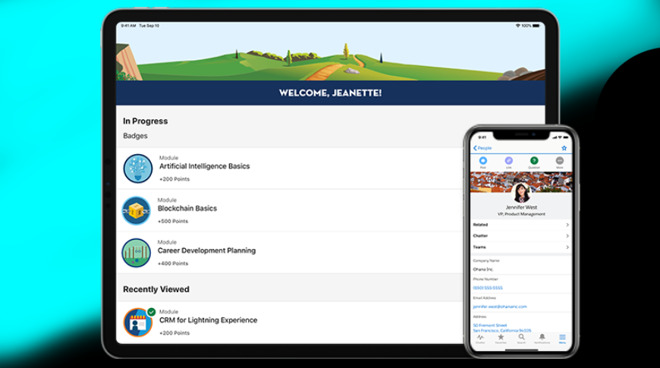 AppleInsider may earn an affiliate commission on purchases made through links on our site.
Tim Cook to talk at event launching a free education app that's solely for iOS and iPadOS, plus how Apple and Salesforce have together updated the mobile version of the Salesforce app and its developer SDK.
Speaking at the Dreamforce 2019 event, business sales platform developer Salesforce has announced new and revised services developed in conjunction with Apple. Chief among them is Trailhead Go, a brand new education app that is solely available on iOS and iPadOS.
Alongside that, there is also a revamped edition of its mobile Salesforce customer relationship management app and the company has updated its software development kit to enable other developers to produce add-ons to the service.
"Working together, Apple and Salesforce have helped hundreds of businesses and millions of developers transform the way they work," announced Susan Prescott, Apple's Vice President of Product Marketing for Apps, Markets and Services.
"With brand new Salesforce Mobile apps exclusive to iOS and iPadOS, and an enhanced SDK that supports the latest advancements in Swift, Apple together with Salesforce offers customers strong privacy, powerful multitasking and the best user experience in business on iPhone and iPad," she continued.
Trailhead is Salesforce's free education service, providing business and technical skills training. The new Trailhead Go app is the first mobile version of the system. It was developed using Apple's Swift programming language and is exclusive to iOS and iPadOS.
"Building natively on iOS and iPadOS also made it seamless to integrate Accessibility features — like VoiceOver and the ability to magnify text — that further reduce barriers to learning," says Reid Carlberg, vice president of Trailhead Mobile.
"Other iOS and iPadOS features that enhance the Trailhead experience," he continued, "include Handoff and iPadOS picture-in-picture view for multi-tasking with video courses and live broadcasts from Trailhead Live."
The revised Salesforce Mobile App also includes iOS- and iPadOS-exclusive features, such as Siri shortcuts and Face ID. It provides Salesforce customers with sales, marketing and service information, and uses Handoff to let them move between iOS and Mac as needed.
Developers can now also create their own apps that leverage Salesforce data, because of a new Salesforce SDK that's been created with Swift and optimized for iOS 13.
The SDK, the main Salesforce CRM tool and the free Trailhead Go app were unveiled at Dreamforce 2019, a four-day Salesforce event. Speakers at the event include President Barack Obama, and also Tim Cook.
Cook will be speaking for 30 minutes in what's being called a fireside chat and Salesforce is live-streaming the event. He'll be speaking with Salesforce's Marc Benioff at 1:30PM Pacific time, 4:30pm Eastern, on Tuesday November 19.