Apple Arcade introduces 'Ultimate Rivals' hockey game featuring sports all-stars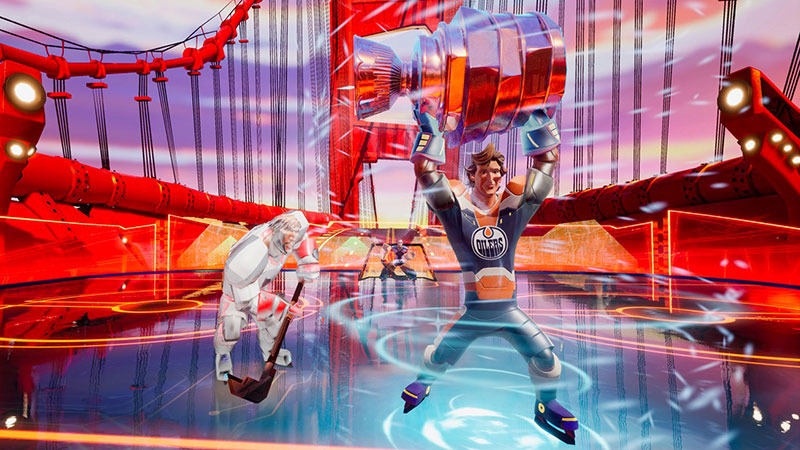 AppleInsider is supported by its audience and may earn commission as an Amazon Associate and affiliate partner on qualifying purchases. These affiliate partnerships do not influence our editorial content.
Apple on Thursday debuted "Ultimate Rivals: The Rink," the first in a series of mash-up games that convenes all-star athletes from a wide range of popular professional sports, and eras, under one officially licensed title.
Developed by Bit Fry Game Studios and launched as an Apple Arcade exclusive, "Ultimate Rivals" boasts two-on-two hockey action featuring 50 superstars from hockey, basketball, football, baseball and soccer. The recipe is a first in sports and gaming, Apple said in a press release.
Players can team up LeBron James with Wayne Gretzky to take on Alex Ovechkin and Alex Morgan, for example. Different pairings unlock unique play styles gamers can exploit to win against AI opponents or real people in online matches. Additional athletes will be added over time.
"We are ripping up the sports video game rule book and re-writing it for a new generation. We're starting with the gamer first and empowering their imagination to create the ultimate team of athletes across sports, in a way only they can envision," said Ben Freidlin, CEO and founder of Bit Fry Game Studios.
In the game, each athlete has a set of skills roughly commensurate with their real-life counterpart. Football stars are slow and powerful, while soccer standouts are fast and nimble but may be prone to easy takeaways.
To realize its vision of, Bit Fry garnered licensing agreements with nine sports organizations: NHL, NHL Players' Association (NHLPA), NBA, National Basketball Players Association (NBPA), MLB, MLB Players Association (MLBPA), NFL Players Association (NFLPA), Women's National Basketball Players Association (WNBPA), the USWNTPA, and Wayne Gretzky.
"Ultimate Rivals: The Rink" is the first in a franchise of sports games. A second title, an NBA licensed basketball game called "Ultimate Rivals: The Court," is expected to follow a similar mash-up style formula when it arrives in spring 2020.
"With Apple Arcade, we are committed to delivering a curated catalog where every title offers players a new, innovative experience that pushes the boundaries of what a game can be. The Ultimate Rivals' franchise does just that," said Apple SVP of Worldwide Marketing Phil Schiller.
"Ultimate Rivals: The Rink" is available now on iPhone, iPad, Apple TV and Mac.