BofA ups AAPL target to $290 amid China concerns, rising 5G expectations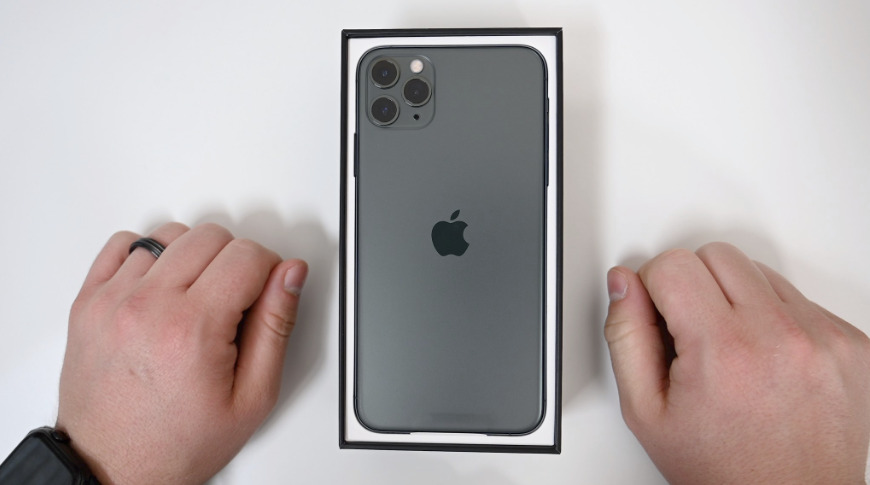 Despite mounting risks in mainland China, Bank of America Securities upped its price target another 7% on shares of Apple this week, saying the international roll out of 5G should help the company sustain consistent sales of over 200M iPhones over the next few years.
In a report issued to clients on Wednesday, Bank of America Securities analyst Wamsi Mohan said the push amongst carriers and customers to upgrade to 5G networks and — and an iPhone 12 with 5G connectivity — in poised to increase and sustain iPhones shipments beyond the 200 million unit mark through 2022.
But unlike the iPhone 6 and iPhone 6 Plus "major cycle," where shipments moved from 169 million in 2014 to 231 million in 2015 before shrinking to 212 million in 2016, the analyst believes iPhone maker's 5G cycle will yield "smoother," more consistent sales of iPhones the 36-month period.
"The launch will likely will come with added cost and higher price," Mohan said. "Thus, we take a slightly more measured view of 5G as a catalyst and expect a steadier multiyear upgrade cycle."
He's currently modeling for Apple to ship 202 million iPhones in 2020, rising to 223.5 million in 2021 and 220 million in 2022.
While benefiting from 5G hype, it is suggested Apple won't actually be racking up that many sales of 5G-enabled iPhones in its first year on the market, with only 20 million — or roughly 10% of its global iPhone shipments — being 5G capable. Still, that's a huge increase over Mohan's previous forecast of just 10 million 5G iPhone shipments in 2020. He partly attributed the increase to Apple's settlement with Qualcomm, which he said "clearly suggests that Apple wants to have 5G capability ready to compete against Samsung and other vendors."
Practically all of Apple's 20 million 5G iPhone shipments during 2020 are expected to be clustered into the final few months of the year, and will amount to roughly 30% of the 60 to 70 million new iPhones that are expected to be sold in the back half of the year. Mohan sees this number rising over time, ultimately topping out at around 70% of all units by 2024.
Part of the analyst's thesis is that Apple is taking "a long-term view" on 5G with its purchase of Intel's smartphone modem business, paving the way for a second source of modems alongside Qualcomm's version. He added that industry checks suggest Apple iPhone 5G launch could have a "staggered launch across regions and SKUs," with the presumably more expensive 5G model being more readily available in some developed or more valuable markets than others. As such, he told clients he's taking a "slightly more measured view of 5G" and expects a "steadier multiyear upgrade cycle" to match.
There will also be some considerable variation between markets, with the United States likely to be the main powerhouse for 5G sales. Mohan reckons Apple will capture 36% of the US 5G market in 2020 with domestic sales of 5 million units, ultimately growing its share to 40-50% "in the long term."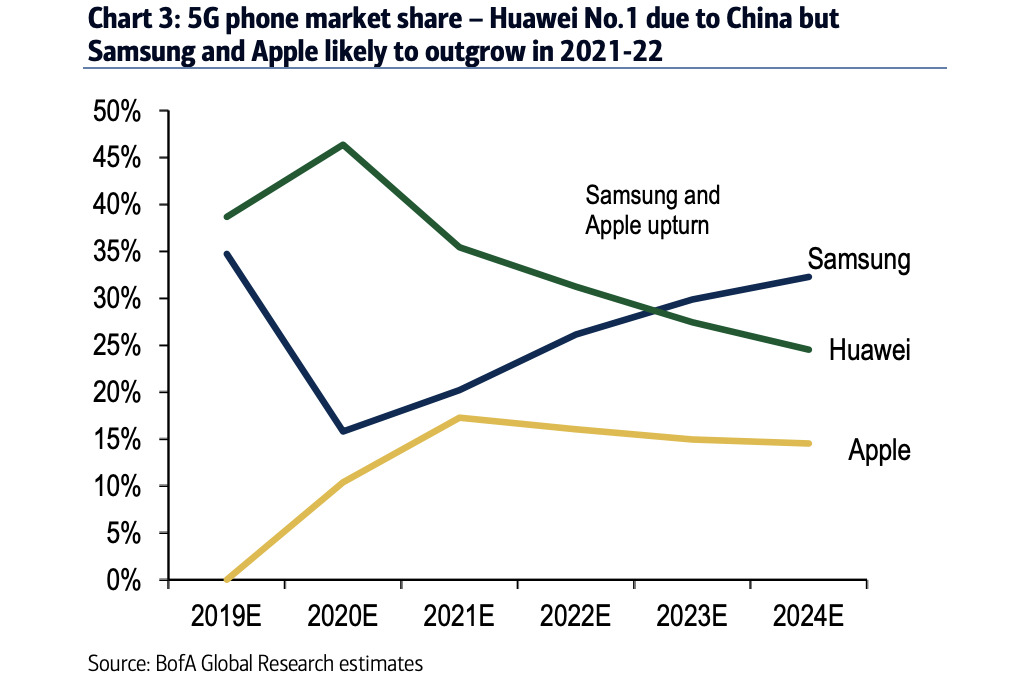 The same cannot be said about China, which is predicted to be a poor market for Apple's 5G ambitions. With a relatively late start behind local rival Huawei and main competitor Samsung, Apple could gain more than 15% of the 5G market, but Mohan thinks Apple may see a small decline over the years into 2024.
The growth of 5G penetration in China across all smartphone vendors is also thought to be generally slower than that of 4G from 3G, due to the cancellation of handset subsidies by carriers. While 4G penetration in 2014 was 44% in China for all device producers, 5G is expected to only achieve 35% penetration in 2020.
Bank of America Securities raised its pricing target on shares of AAPL to $290 from $270, saying its new target is based on a 17X multiple of estimated earnings for the 2021 calendar year of $17.40.
"We believe a multiple at the high end of the historical range is justified given a large cash balance and opportunity to diversify into new end markets, increasing mix and diversity of services, and a cyclically low point in iPhone sales," Mohan said.
The firm's newly proposed target is also based on a mix of two possible scenarios: one where hardware has "low-single-digit" revenue growth and Services growth in the high teens, and another where hardware revenue is flat and Services revenue growth decelerates to the mid-teens level.
Regardless of the pairing, the inferred result is a stabilization of the hardware business, while Services are used as the main driver for overall revenue growth.