'Robust' holiday season for AirPods Pro & iPhone 11 will return Apple to growth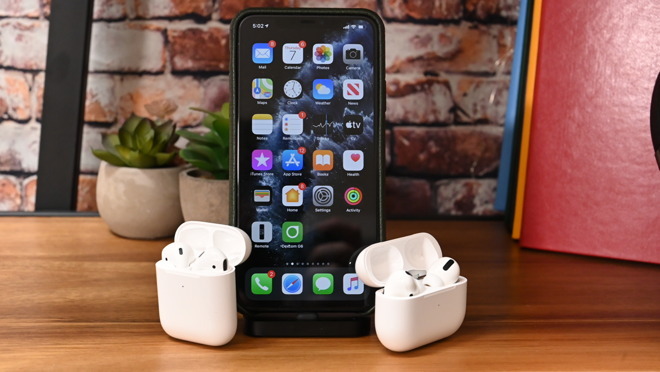 High demand for Apple's flagship AirPods Pro and better than expected sales of the iPhone 11 in China are leading the charge in the holiday quarter, with one investment company setting a target price for Apple stock of $305.
Citing multiple reports on AirPods and iPhone 11 demand, Evercore analyst Amit Daryanani believes that Apple will generate revenue at the high-end of its guidance for the crucial holiday quarter, returning the company to growth. Believing that Apple has baked in low expectations in China for its estimates, he believes that those estimates have been exceeded because of aggressive pricing. Furthermore, carrier promotions in the US will increase iPhone 11 performance in the Americas.
In regards to the AirPods, there is much room for growth. In a pair of notes to investors seen by AppleInsider, Daryanani says that the install base for Apple Watch and AirPods are at 75 million and 50 million, respectively — right around 10% of the iPhone user base for each. Based on the relatively low penetration of Apple wearables as it pertains to the iPhone user base, the growth in wearables is long-term, according to the note.
"Since the release of the Apple Watch in April 2015, Apple's wearables business has grown from ~$6B in FY14 to ~$24B in FY19," writes Daryanani. "We think the Wearables business can sustain a growth rate in the 20-30% range and hit exceed $60B in revenue in FY23."
Daryanani is aware that there will be "muted" iPhone sales after the holiday season, in the buildup to a 5G "iPhone 12" launch. This is predicted to be offset by a shift toward services, recurring revenue from venues like the App Store, and Apple's ability to effectively monetize the user base. Services are predicted to grow by "double-digits with potential acceleration given new revenue streams." This will increase Apple's gross margin for the remainder of the year, as will the relatively higher margin on wearables sales, versus larger hardware like the iPhone or Mac.
Responding to reports on Thursday of a November-only drop in iPhone sales in China of 35% year-over-year, Daryanani notes that the two years are a tough compare, as models were released at different times. The iPhone XR was launched in November 2018, where the iPhone 11 at a lower pricepoint was released in September 2019. Normalized over three months, instead of over a potentially limited data set of one month with extenuating factors, Daryanani believes that the iPhone "trendline" is up 3% year-over-year.
As a result of Apple's observed strengths in wearables and in the iPhone market, Daryanani has increased Apple's revenue predictions by $2 billion to $89 billion. Apple is predicting between $85.5 billion and $89.5 billion for the quarter.
Daryanani has raised Evercore's target Apple stock price to $305, up from previous predictions of $275 per share.