Apple News+ publishers see subscriber benefits amid low revenue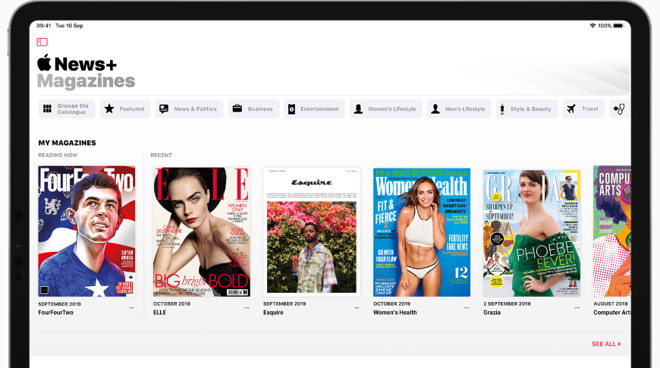 Apple News+ is still not providing enough revenue to publishers, a report claims, but the platform is still assisting content producers in extending the reach of publications.
Over the nine months of the existence of Apple News, numerous reports have suggested publishers are unhappy with its ability to generate revenue. As the end of the year approaches, yet another report offers a similar view, with the service only providing modest income and relatively little in the way of benefit to publishers.
An unidentified magazine executive speaking to Digiday claims "We're happy to be on there because it's another way to increase subscription revenue, but not like it's a huge boon for our business or anything like that. It's not really relevant."
That particular publication is claiming that the $20,000 per month that it earns isn't enough. But, the gain in subscriptions is apparently just enough to keep the firm sufficiently interested in renewing its contract.
The level of success in outreach is where another publisher, Essence, is seeing positive results, with it "encouraged" by how much it has increased subscriptions since joining. The publisher added Apple News+ was also beneficial in helping grow Essence's audience in territories outside the United States.
How publications are presented to subscribers has split opinions, with the unnamed publisher suggesting it was hard to distinguish magazines between properties on the service. Essence chief content and creative officer MoAna Luu offered her magazine appears "as if it were a native Essence property."
Apple's overall control over the service is a problem to the unnamed publisher, specifically Apple's ability to serve advertising with third-party ad tracking. A way to encourage Apple News+ customers to subscribe directly is sought by the publisher — but is unlikely to occur anytime soon.
The primary concern for the publisher is how it could make money via new revenue streams on the service, and it would likely renew its contract for another year.
Throughout 2019, multiple reports have claimed that Apple News and Apple News+ are less than stellar for publishers in terms of performance. Before the launch of Apple News+, one February report indicated publishers were seeing low revenues in part due to a minimal number of ads shown alongside content.
In April, Apple was accused of giving unequal aid to participating Apple News+ publishers, with most of its assistance provided to larger publishers. In June, Apple apparently sought to refine how Apple News+ operated, following complaints from publishers over the service failing to meet promises of increased revenue.
By August, some publishers in Europe were seeing improvements in Apple News revenue, despite Apple News+ not being made available in most of the markets. Some publications saw ad impressions for April to June triple with revenue doubling, seemingly suggesting Apple's changes were working.
However, notable names in publishing like Conde Nast are still waiting for Apple News+ to be a significant earner. Speaking in November, Conde Nast CEO Roger Lynch complained the publications saw an initial burst of new subscribers, but interest failed to continue.
"I hope Apple News+ is wildly successful," Lynch said at the time, "[However] I think the jury is out."