Wedbush predicts $400 AAPL price on power of 5G 'iPhone 12' supercycle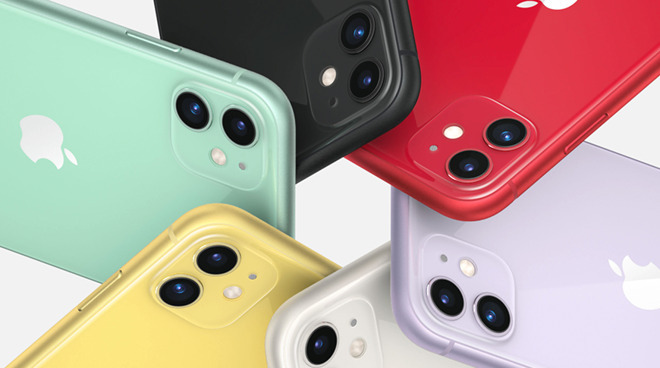 Following iPhone demand checks internationally, and predictions of an incredible 5G 'iPhone 12' debut, Wedbush has set a $350 per-share price target on Apple stock, but believes that $400 is possible if everything goes right in 2020.
In a research note to investors seen by AppleInsider Wedbush analyst Daniel Ives is now the biggest bull on Apple stock price. Between AirPods, Apple's continuing shift to Services, iPhone 11 strength, and the power of the 5g "iPhone 12," Wedbush sees boom times ahead for Apple, with a 2020 year-end stock price of $400 per share, and a $2 trillion valuation by the end of 2021.
Wedbush is currently performing checks world-wide about iPhone demand, and is seeing market strength in Apple's 2019 iPhone lineup. Demand for the iPhone 11 is apparently strong, and will stay strong for some time.
"All indications are that iPhone 11 strength appears to have discernible strength both in the US and China as installed base demand continues to look healthy into the March/June quarters with the drum-roll into the highly anticipated 5G upgrade cycle in September," wrote Ives.
Additionally, that supercycle that has been expected for three years now is imminent, given the expected debut of 5G on the iPhone 12.
"We view only the first part of this massive upgrade opportunity leading to a transformational 5G 'super cycle' with 200 million to 220 million iPhone units now the new line in sand for demand based on our recent Asia supply chain checks," wrote Ives. "Coupling this dynamic with a metamorphosis-like valuation re-rating by the Street around the company's $50 billion+ annual services revenue stream is the 1-2 punch to how we ultimately see a stock in the bull case $400 valuation by year-end."
Ives sees Services itself being up to a $650 billion valuation, given what they see as approximately 925 million iPhones worldwide feeding that business. Of those 925 million, as many as 350 million are in a "window of an upgrade opportunity" and most of whom will be pushed into buying a 5G iPhone.
And, the release of the 5G iPhone is only the beginning.
"Looking out further, we believe by the end of 2021 Apple has potential to be the first $2 trillion valuation given the 5G tailwinds and services momentum potential over the coming years," said Ives.
Ives predicts that Mac and iPad revenue will remain effectively static for the next two years. At the same time, revenue from Wearables, Home and Accessories will slowly grow, continuing to outpace both the Mac and iPad regularly.
The firm has broken down valuation for Apple's biggest two markets — iPhone plus other hardware, and Services. Ives assigns a 8.5x multiple to Services at approximately $500 billion, and the rest of Apple's iPhone plus hardware ecosystem at around $1 trillion by itself with a 4.6x multiple.
Wedbush's 12-month price target for AAPL is $350, but $400 is the bull case and could be hit by the end of 2020. Notable risks to the $350 current price target and the long-term $400 estimate are said to be price pressure forcing increasing competition, the need for iPhone growth to expand services, and further penetration of the Apple installed base. China is a "key growth driver" for Apple, and Ives believes that lower priced smartphones may be a problem, as well as return of tariffs or a re-escalation of the trade war that appears to be coming to an end, with a "Phase One" deal signing hopefully imminent.
In early pre-market trading, AAPL is up to $317.35, a 0.12% climb overnight, after a gain on Monday of 2.1%. A year ago Tuesday, Apple stock cost $150.00 per share.