Foxconn looks to restart half of China production facilities by end of February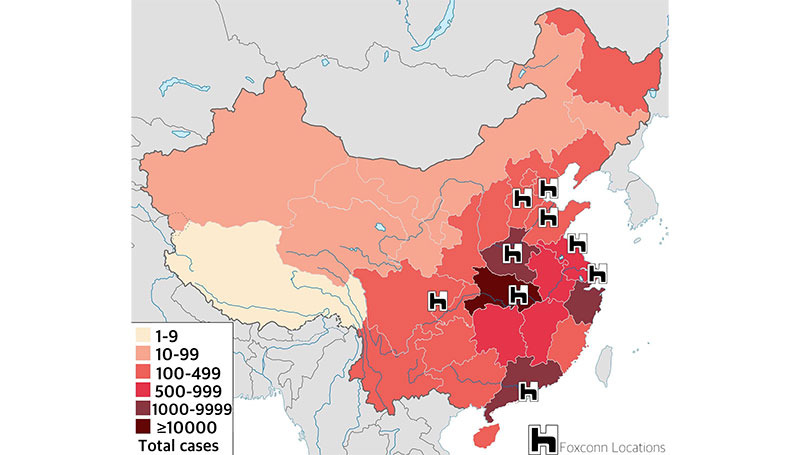 Apple partner Foxconn is reportedly working to return its China-based production capabilities to half strength by the end of February, a move that would bring vital supply lines back to life after being shut down due to the coronavirus outbreak.
Citing people familiar with the company's plans, Reuters on Tuesday reports Foxconn intends to restore 50% of all Chinese operations to active status by the end of the month.
Company chairman Liu Young-Way aims to have 80% of Foxonn's production in China back online sometime in March, the report said.
Like other businesses across China, Foxconn's facilities remain closed or at low capacity in the wake of the coronavirus outbreak that has so far killed more than 1,100 people and infected over 45,000 people around the world. The Chinese government attempted to halt the spread of the virus in January by extending the Lunar New Year holiday, a decision designed to reduce mass gatherings.
Last week, the contract manufacturing giant informed employees not to return to its Shenzhen plant, a facility responsible for iPhone production. Foxconn's Zhengzhou plant, which handles a bulk of iPhone 11 and 11 Pro assembly, is also closed. The firm is reportedly moving some iPhone production to sites in India and Taiwan, though capacities at those plants are supposedly limited.
Another Apple supplier, Pegatron, also suffered setbacks in the region. One of the firm's two iPhone production facilities is reportedly in charge of churning out so-called "iPhone SE 2" devices and was slated to begin manufacturing on Feb. 10. While that date was pushed back, Apple is still rumored to launch the affordable handset in March.
Beyond production woes, Apple shut down all retail stores and offices in China due to the ongoing threat. It is unclear when the company will resume normal operations.