Apple drives both premium iPhone sales, global production in India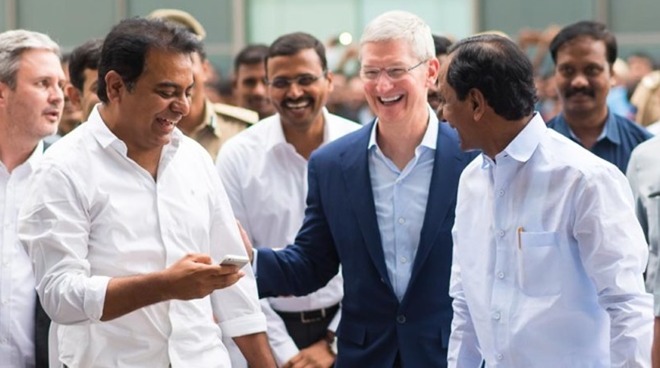 AppleInsider may earn an affiliate commission on purchases made through links on our site.
The idea Apple was failing to establish itself in India — and outsold by Samsung and Chinese brands — has been overturned by new research showing that iPhone ate up over 75% of all premium smartphone sales in the subcontinent in the fourth quarter, while also posting strong iPad, Apple Watch, and AirPod sales. Along with "double-digit" growth, Apple is also expanding its production in the subcontinent for audiences globally.
A rapid shift for Apple in India
At the end of 2018, Apple's iPhone sales in India were reported to be falling behind those of Samsung and China's premium OnePlus brand owned by BBK Electronics, the company that also sells phones under the Realme, Oppo, and Vivo brands.
IDC analyst Navkendar Singh stated at the time that "Apple doesn't have enough confidence... in the Indian manufacturing system right now, to set up plants and move some of the manufacturing out of China." Yet a year later, Apple's fortunes in India have dramatically reversed. IDC's Singh noted that after a "relatively slower" first half of the year, Apple "managed to find growth in the second half," due to the allure of iPhone 11 and discounted pricing of iPhone XR and earlier iPhone models.
IDC is now reporting that iPhones have surpassed Samsung and OnePlus in India to make up 75.6% of all premium sales above $500 (Rs 36,000).
The news followed remarks on India from Apple's chief executive Tim Cook, who noted in the company's most recent earnings call that the company enjoyed "double-digit growth in many developed markets, including the US, the UK, France and Singapore and also grew double-digits in emerging markets, led by strong performances in Brazil, Mainland China, India, Thailand, and Turkey."
Apple's dramatic growth in India is not just limited to phones. Cook also stated that "high level of customer satisfaction and loyalty" "drove the active installed base of both Mac and iPad to new records in all geographic segments," detailing in particular that "for iPad, we saw growth in key emerging markets like Mexico, India, Turkey, Poland, Thailand, Malaysia, and the Philippines and Vietnam."
Noting strong growth in Indian sales of iPad 2018, Singh stated that "as the [Indian] tablet market is consolidating to the top five vendors, it helped Apple to gain the share in the premium segment. Also, this year, Apple was able to win a few large commercial deals, it further strengthens its position in the commercial segment."
IDC also noted strong growth in wearables, stating that "Apple Watch and AirPods have been well received by the Indian consumers. Price reductions on Apple Watch Series 3 and the promotional discounts offered by banks and e-tailer channels on Apple Watch Series 5 made the device a popular purchase among consumers."
Indian manufacturing for global production and a reduction of exposure to China
Apple first began building iPhones for the Indian market in a partnership with assembler Wistron in 2017. Locally built iPhones went on sale in various cities in India that summer, labeled "Designed by Apple in California, Assembled in India."
Last October, Apple began manufacturing its iPhone XR at a Foxconn plant near Chennai, India, with plans to expand production to include the latest iPhone 11 models. Production in India was reportedly able to save over 20% in production costs.
Counterpoint Research analyst Karn Chauhan also stated last summer that Foxconn's Chinese "labor costs are three times higher compared with India."
Apple is said to not only be building phones for the domestic Indian market but also planned to export devices from India to other markets, including Europe, as part of a $1 billion investment in India intended to diversify its production outside of China.
Those plans were hastened by trade war tensions between the U.S. and China that threatened to harm Apple's imports from China, but also give the company additional options to meet global demand for its products interrupted by efforts to contain coronavirus outbreaks in China.
The size and proficiency of Apple's global operations have given it options other manufacturers lack in working around factory closures and other supply chain interruptions.