Second 2020 iPad teardown shows how LiDAR differs from Face ID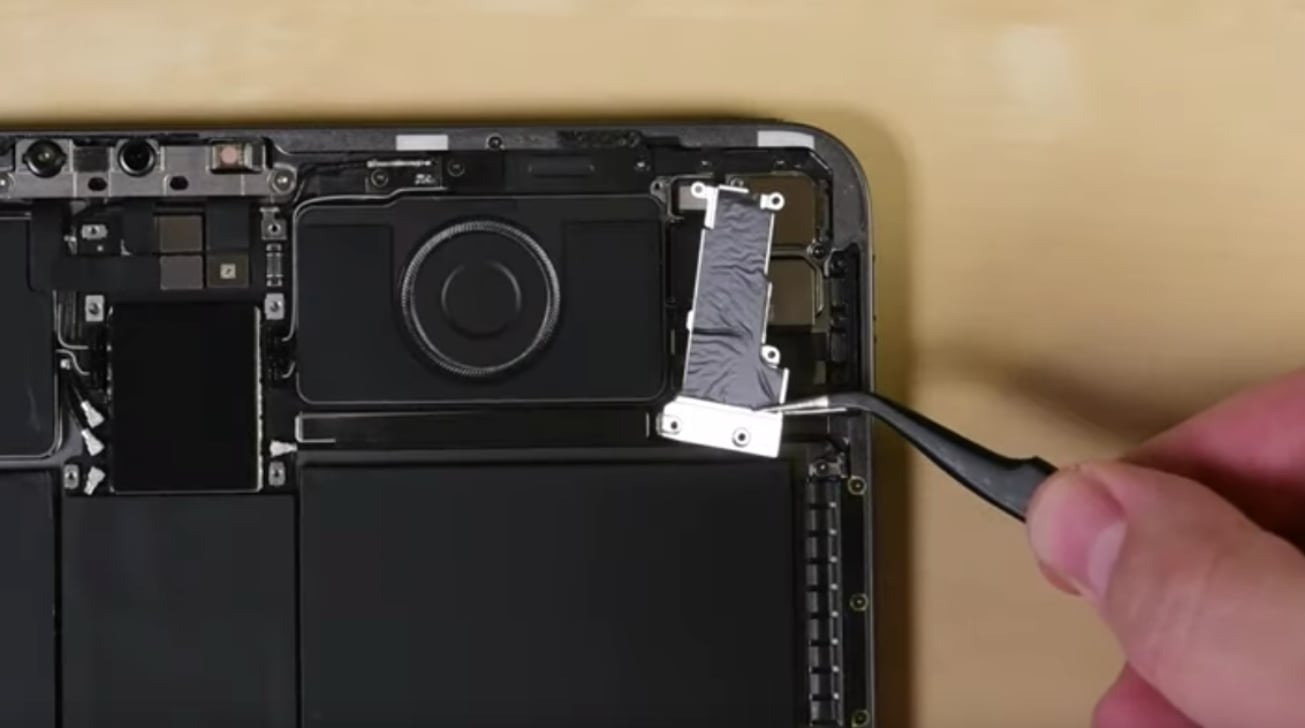 A second teardown of the new 12.9-inch iPad Pro has shown the insides of the latest model are quite similar to that of the previous incarnation, while a demonstration of the LiDAR addition reveals it isn't going to offer the same level of sensitivity as the TrueDepth camera array.
The second within the space of a few days, the latest customary teardown of the 2020 iPad Pro by iFixit is an unusual affair, as it is released primarily on video. Recorded under a lockdown caused by the coronavirus, the teardown is brief, but follows the same procedure as the repair outfit's earlier publications, but with some differences.
Separating the display from the rest of the iPad relied on guitar picks and a hairdryer, rather than the use of a warming pad to release adhesives. As with the 2018 iPad Pro, the rear cover has to be twisted for the removal of cables and screwed-on shields to fully free it.
The new camera module separates via a few screws, with a 10-megapixel ultra-wide module along with a 12-megapixel wide camera, and the LiDAR scanner, which as previously revealed is made up of two lens-capped modules stacked on top of each other. It is speculated the modules consist of a VCSEL transmitter and a receiving sensor, with the former putting out an array of infrared dots that are picked up by the sensor.
By using an infrared camera, the teardown found the LiDAR system emits a regular pattern of dots, considerably fewer than used by the TrueDepth camera. As it isn't meant for Face ID-style applications, it seems this iteration is just for more simplified depth mapping over a wider range, instead of requiring finer measurements of a face.
The front-facing cameras are removed in a single assembly, with similar hardware as the previous module. The USB-C port is still modular at the base, rather than a hard-wired component, making it a prime candidate for easy repairs.
The logic board is, as typical for iPads, glued to the inside with wires running underneath it, and is flanked by the batteries. On the board are the A12Z Bionic chip with 6GB of RAM, up from 4GB in the previous models.
Batteries are held in place with stretch-release adhesive, though regular adhesive is still used for some areas, which still makes it tough to replace them. The two cells have a total capacity of 36.59 watt-hours, the same as the model it is replacing.
In iFixit's summing up of the new model, it is deemed to have "pretty abysmal repair procedures" despite the incremental upgrades for users. The use of adhesives and precarious prying leads to a "repairability" score of just 3 out of 10.