Tim Cook confident Apple will emerge strongly from COVID-19 crisis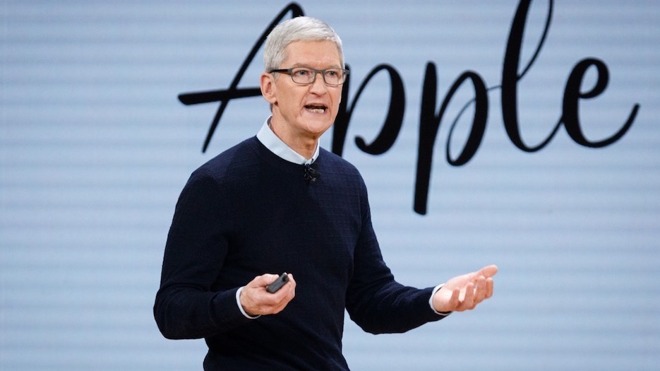 AppleInsider may earn an affiliate commission on purchases made through links on our site.
Apple CEO Tim Cook held an all-hands virtual meeting Thursday to discuss COVID-19's impact and the company's plans to return to normalcy, indicating that its pace on new products hasn't slowed.
While Cook called the pandemic an "uncertain and stressful moment" during Thursday's meeting, he remained hopeful that Apple would emerge strongly from the crisis, employees who attended the conference told Bloomberg.
The Apple executive said that the company entered the pandemic with a strong financial position, and maintained that it would continue to invest in research and development, as well as new product offerings, in a "really significant way."
Recent product launches, like the MacBook Air, iPad Pro and iPhone SE, were also given by Cook as examples that Apple's pace isn't being disrupted by the global crisis.
Jeff Williams, Apple's COO, made some comments hinting at Apple's future plans. While speaking about the elevated importance of Apple's health tech initiatives, Williams said that the company's development in the space isn't "limited to the wrist."
At another point in the meeting, Cook gave examples of the company's ability to recover during crises. In 1998, when he first joined Apple, the company avoided a near-bankruptcy with the debut of the original iMac. Right after the Great Recession in 2010, Apple responded by launching the first iPad.
Cook said that Apple has been impacted by COVID-19, but added that he is focused on running the company for the long-term. He noted that the company's plan is to come out of the COVID-19 pandemic similarly to its recoveries in 1998 and 2008.
When asked about job cuts, Cook reiterated the company's strong financial position and said that Apple is continuing to pay retail employees while stores are shut down. Retail staffers are reportedly starting online training and virtual meetups ahead of store re-openings.
As far as when Apple employees might return to work, Cook said he didn't know but added that when offices and stores do reopen, coronavirus-curbing measures like social distancing and temperature checks will probably be in place. Coronavirus tests are a possibility, but Cook added that there aren't any plans to deploy them at this point.
Cook also explained some of Apple's efforts to help fight COVID-19, including monetary contributions and new face shields. As of Thursday, Cook said Apple has donated more than 30 million masks and shipped about 2 million of its face shields.