Apple's wearables division now size of Fortune 140 company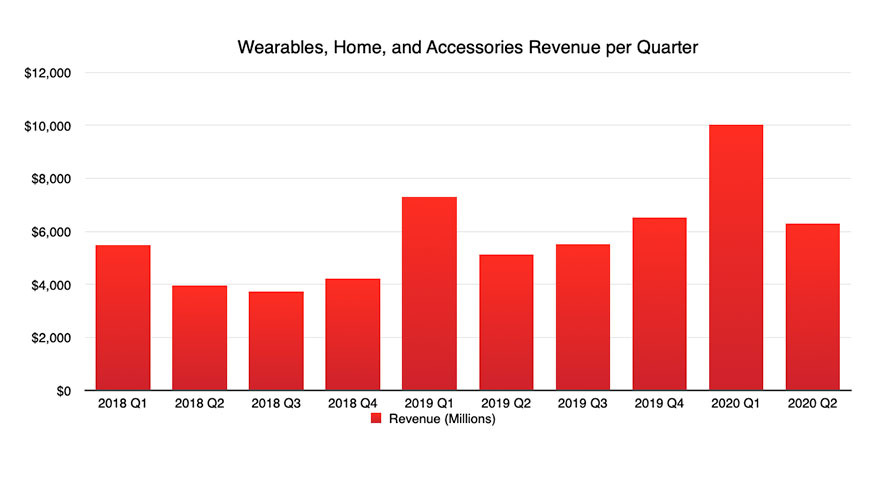 During its quarterly conference call, Apple CFO Luca Maestri shared that the iPhone maker's wearables division continues to see strong growth and is now the size of a Fortune 140 company.
Wearables — AirPods, Apple Watch and Beats — has grown to the size of a Fortune 140 company. During the first quarter 2020 results Apple called out wearables as a Fortune 150 company. During the Q2 quarter, wearables earned $6.3 billion, up from $5.1 billion during the year ago quarter.
Driving the wearables increase is new customers to Apple Watch. According to Maestri, 75% of Apple Watch purchases during the quarter went to first-time buyers.
"Despite COVID-19's unprecedented global impact, we're proud to report that Apple grew for the quarter, driven by an all-time record in Services and a quarterly record for Wearables," said Apple CEO Tim Cook.
The wearables category has now surpassed both the Mac ($5.4 billion) as well as iPad ($4.4 billion) in terms of revenue during the quarter.
Maestri sees a slight downturn in wearables and iPhone for the coming June quarter, a traditionally soft period for those two segments.
"On iPhone and wearables, we expect a year over year revenue performance to worsen in the June quarter relative to the March quarter," Maestri said. "On iPad and Mac, we expect the year-over-year revenue performance to improve in the June quarter."
During the conference call, Cook was asked whether Apple plans to tailor its ECG technology to help detect or manage coronavirus symptoms. While he did not comment on specific plans, Cook said Apple is already working on Apple Watch enhancements that are at least tangential to the ongoing crisis.
"You can bet that we're looking at other areas in this. We were already doing that because we viewed that that area was a huge opportunity for the company and a way for us to help a lot of people," Cook said. "And so you will see us continue on that."