Sonos debuts Dolby Atmos Arc soundbar, updated Sub & Five, all with AirPlay 2 & HomeKit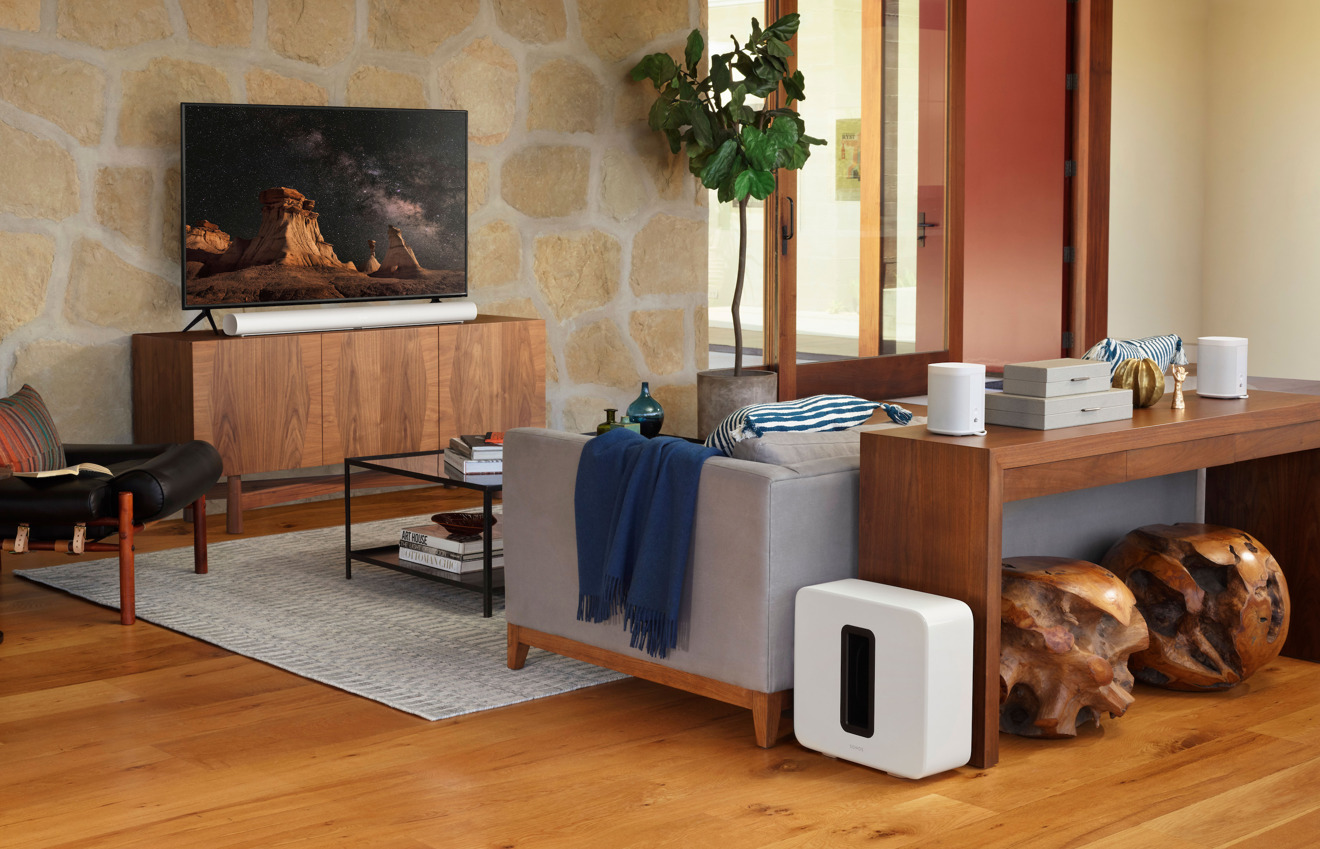 Sonos has a lineup of new products and refreshes that fulfill long-asked customer requests, including the all-new Sonos Arc soundbar, the updated and renamed Sonos Five, and the third-generation Sonos Sub.
Sonos Arc
Sonos Arc is a new premium soundbar offering from the speaker-maker, aimed to those who are looking for something more powerful than the Sonos Beam. It will replace the Playbar and Playbase in the lineup.
It is larger than Sonos' other soundbars and packs eleven drivers for multi-directional sound including support for Dolby Atmos. That is aided by the curved grille that is front and center of the Arc.
The grille is one large piece of curved plastic drilled with more than 76,000 individual holes. A status light on the top of the grille will automatically dim when the room is dim so you can keep the focus on your content.
As the Arc is designed for TV and movies, it has a strong focus on clear dialogue and, like the Beam, can boost dialogue clarity and quiet louder sounds. The center channels are dedicated to dialogue, left and right front channels aid in providing a wide soundstage, while sideways-facing surrounds and upwards facing channels offer more sound immersion and support for Dolby Atmos.
When the upward channels aren't being used for Dolby Atmos, they are repurposed to provide additional lower frequencies.
Like the Beam, Arc connects seamlessly via HDMI eARC or ARC though an optical adapter is included as well for TVs that don't support an audio return channel. It also clearly denotes when Dolby Atmos is active.
Arc can detect when it is mounted to temper bass resonance. It can be tuned using Sonos' TruePlay technology and is able to detect the walls in the room to adjust the device so that no matter the shape of the room audio will hit your ears at the precise time. For instance, if you have one wall to your right very close, it will delay that audio because the left audio takes longer to travel and bounce back and thus hits both your left and right ears simultaneously.
As Sonos is a modular system, it is easy to increase your home theater setup. In addition to the Sonos Sub, two additional Sonos speakers can be paired as rear speakers for better surround sounds.
When a Sonos Sub is paired, the Arc will drastically cut back on its own bass to rely on the sub, freeing up more bandwidth for the speaker to improve the mids and dialogue.
Sonos Arc supports Apple's AirPlay 2 and HomeKit, just as with other Sonos speakers. This means you can cast audio from any Apple device wirelessly to the speaker, or control and automate it via the Home app.
For those using other ecosystems, there is a microphone on board and the ability to use the speaker for Amazon Alexa, or Google Assistant. This is not a requirement for use, however.
The new Sonos Sub
The third generation Sonos Sub retains the same exterior stylings but has updated internals. There is now increased memory and a faster processor in the new model, as well as updated wireless radios. Sub also now has far better Wi-Fi performance than previous generations.
Sonos Five
Sonos Five is the latest generation of the Sonos Play:5. It keeps the same impressive audio but adds additional memory, better wireless performance, and increased processing power, similar to the boosts given to the Sonos Sub.
It has been updated in an all-black design as well as a — for the first time — all-white design.
Sonos S2 app
Arc, Five, and Sub (Gen 3) will all run exclusively on the updated Sonos S2 app. We previewed the app when Sonos announced the transition in March 2020.
The app has an improved user experience and finally delivers saved room groups. It will cut off support for certain older speakers but paves the way for higher resolution audio including Dolby Atmos as we see with Arc.
Sonos will release the new app on June 8th.